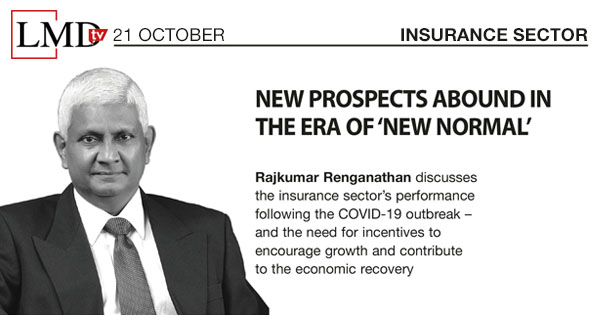 "When the COVID-19 outbreak emerged in China during the latter part of last year, we observed it carefully as we were aware of the chaos caused by the SARS epidemic in Singapore," said the Executive Chairman of Ceylinco Life Rajkumar Renganathan as he discussed the insurance sector's initial view of the pandemic on LMDtv.
Elaborating on the impact of COVID-19 on Sri Lankan insurers, he added: "The pandemic has introduced a new normal within the insurance sector in terms of IT, which brought about greater efficiency among the sales force and operations teams."
With the coronavirus spreading across the globe, there were expectations of an increase in the demand for life insurance solutions. Commenting on this, Renganathan affirmed that a surge in new business was observed between June and September: "There are multiple reasons for this phenomenon, one of which is the increase in awareness driven by the pandemic and growing fatalities around the world."
Moreover, he explained that another contributing factor to this trend was the ease in communicating the importance of life insurance products due to most families being at home in the evenings.
As efforts continue to focus on stimulating the country's economic recovery, he pointed out that the insurance sector is also looking to contribute to this endeavour. Such initiatives include using analytics to identify new business prospects among existing policyholders so that second policies can be offered.
According to UN estimates, almost a quarter of the Sri Lankan population will be in the 60 and above age group by 2041 – this is based on various factors such as migration patterns, and future trends in mortality, fertility and international migration.
In Renganathan's view, the insurance sector is not doing enough to cater to this segment: "In the current scenario, we're witnessing a low interest rate en­vironment and must keep in mind that many pensioners are dependent on interest income to meet their daily needs."
Adding to this, he pointed out that "the reduction in [interest] rates without an appropriate retirement planning process may lead to disaster because the outcome could be that the elderly population leans on government in­frastructure for support."
To address these challenges, the insurance veteran stressed the need to focus on implementing a retirement planning process, which insurance companies could be geared to serve through their product portfolios.
Furthermore, he believes that tax incentives should be offered – while Sri Lankans have traditionally cared for their elders, this is becoming increasingly difficult due to domestic and global migration, as well as both adults in families having to work to meet their day-to-day needs, he explains.
"However, we are aware that many children are looking to relocate their parents to retirement resorts while many elders are considering disposing of their properties to move into such resorts," Renganathan noted.
Citing his more than 30 years of experience in the sector, he emphasised the importance of insurers focussing on the technical aspects of their businesses as pursuing growth for the sake of growth could also lead to disaster.
In addition to this, he advocates the introduction of IT as it could result in greater professionalism among the sales force and operations teams.
As for policies that could support the insurance sector as a whole when it comes to providing better cover for all Sri Lankans, he asserted that new incentives must be offered to pursue additional channels of distribution "especially mobile insurance with due protection for customers."
Offering his outlook for the sector over the next year or so, Renganathan concluded: "As mentioned previously, we observed substantial growth bet­ween June and September, which I expect to continue until the end of this year. However, one must be mindful with regard to how current economic policies will affect disposable incomes."