BOOKRACK
By Vijitha Yapa
The subtitle of the now famous book by Mary Trump – Too Much and Never Enough: How My Family Created the World's Most Dangerous Man – leaves no doubt as to its contents. Its author, a niece of the US President, explains that "today, Donald Trump is much as he was at three years old: incapable of growing, learning or evolving, unable to regulate his emotions, moderate his responses or take in and synthesize information."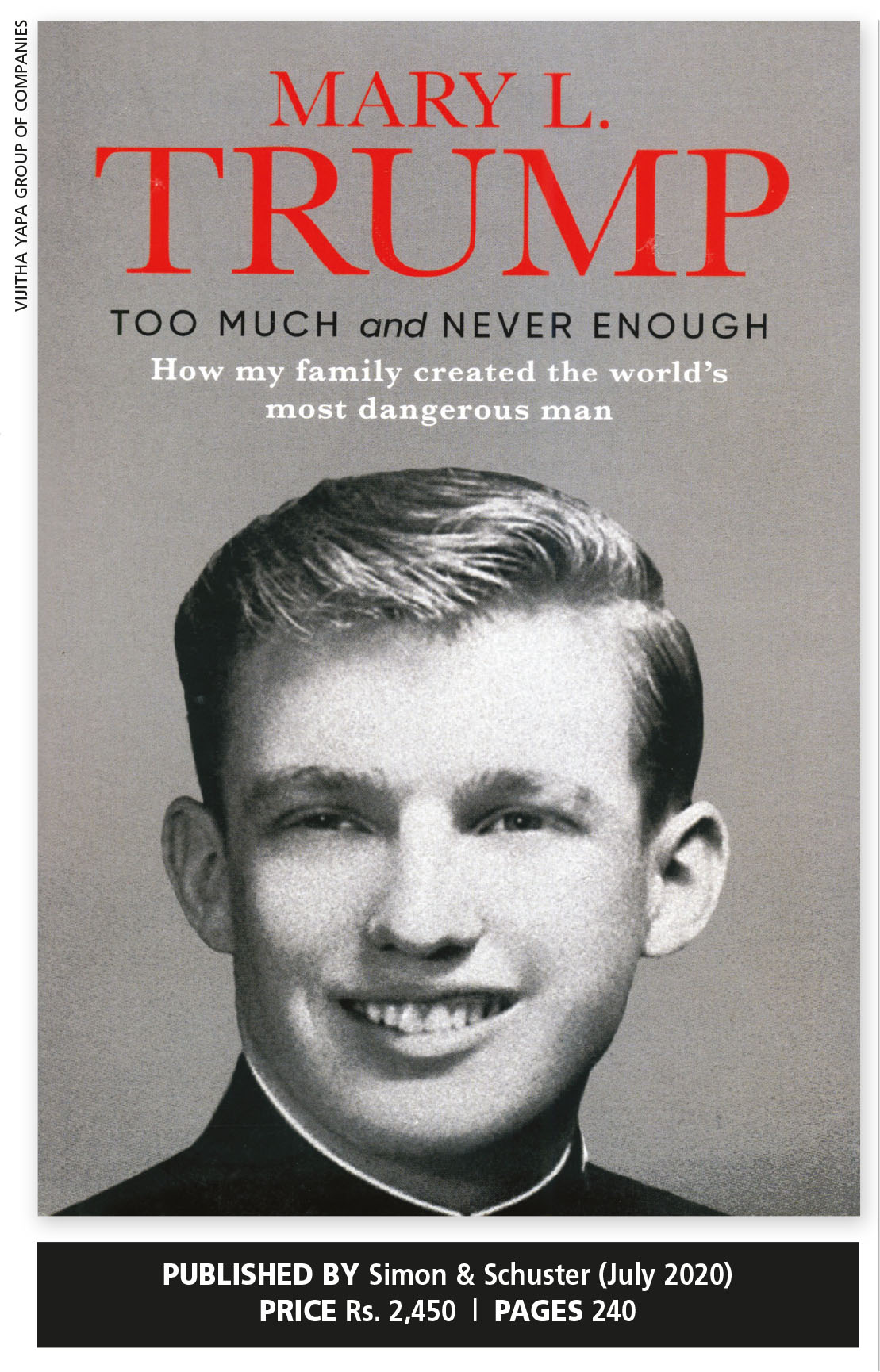 One is aghast to know that she is referring to the most powerful man in the world.
Trump's mother became ill when he was very young and that deprived him of a source of comfort since his father believed that caring for children wasn't his duty. Fred Trump's attention to his progeny reflected his own needs rather than theirs. This was to scar Donald Trump's psyche whose state is due to the deprivations he suffered.
The author holds a PhD from the Derner Institute of Advanced Psychological Studies, and taught graduate courses in trauma, psychopathology and development psychology there. So she understands what Trump went through.
In the book, one sees a never-ending scenario of trauma, destructive relationships, and a tragic combination of neglect and abuse. I like the quotation at the beginning where the author quotes Victor Hugo's classic Les Misérables: "If the soul is left in darkness, sins will be committed. The guilty one is not he who commits the sin but the one who causes the darkness."
Donald Trump, who has led a controversial life to say the least, is up for reelection. He has faced five bankruptcies and didn't flinch; nor has he revealed his tax records. He's a man who has a slew of personal phobias and dislikes, which he doesn't conceal from the public, and stands in complete contrast to the other men who have held the position of President of the United States before him.
He personifies the characteristics that Sir Winston Churchill attributed to Russia in 1939: "I cannot forecast to you the action of Russia. It is a riddle, wrapped in a mystery, inside an enigma; but perhaps there is a key."
And Donald Trump's reckless hyperbole and unearned confidence are what hide his pathological weaknesses and insecurities.
The author says that as Trump grew up, he was forced to become his own cheerleader and ended up believing his own hype even as he paradoxically suspected at a very deep level that nobody else did. She calls him a narcissist because he meets all the criteria outlined in the Diagnostic and Statistical Manual of Mental Disorders (DSM 5).
She adds that Trump's pathologies are very complex and his behaviour so often inexplicable that coming up with an accurate and comprehensive diagnosis would require a full battery of psychological and neuropsychological tests that he'll never agree to take. Charles Pierce in Esquire magazine described Trump as "Frankenstein without conscience."
Many details she provides of the history of Trump Tower, which opened in 1983, offer insights into how he does business. The beautiful and historically significant art deco limestone reliefs on the Bonwit Teller building had to be removed to make way for Trump Tower.
He had pledged to gift these to the Metropolitan Museum of Art but destroyed the items when he found it would cost a fortune to remove them. When accused of breach of trust and taste, he said the sculptures were "without artistic merit" – contrary to the assessment of experts.
Trump's niece cites this as an example of his attitude of knowing everything. "His claims to know everything have increased in direct proportion to his insecurity, which is where we are now," she says.
On 20 October, nearly 8.5 million Americans had contracted COVID-19 and over 225,000 had died as a result of it. Many blame Trump for inaction but he claims that the death toll would have been worse without his actions. As a nonbeliever in science, he has often belittled the advice of American health experts although he himself contracted the virus.
The casinos he built in Atlanta are another example of his desire for more. If one casino was a cash cow, he wanted a herd and created three. But they were competing with each other and cannibalising profits.
Trump rose to the top through his father's fortunes but wanted everyone to believe that it was his brilliance that helped him remain at the top. He borrowed grandiosely and was always in debt. The bankers who lent him money were flabbergasted by the positive media exposure that Trump received as a self-made dealmaker.
The picture that emerges from his niece's forthright book is that Donald Trump's real skills are self-aggrandisement, lying and sleight of hand.