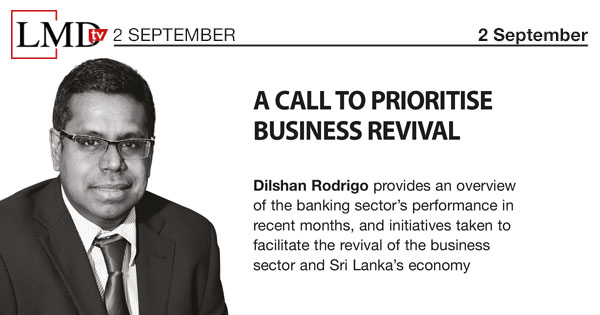 "The banking sector has been resilient under pressure," stated Dilshan Rodrigo – the COO of Hatton National Bank although he noted that banks have experienced challenges when it comes to performance such as shrinking loan books.
Elaborating on this, he remarked: "Larger banks are benefitting from a growth in deposits while 'flight to quality banks' are flush with liquidity due to the Central Bank of Sri Lanka (CBSL) reducing the Statutory Reserve Requirement (SRR), which has led to challenges in identifying lending avenues."
In terms of his expectations for interest rates going forward, Rodrigo believes they will continue to be low in the short term as a result of lower demand for credit along with the ensuing economic contraction.
According to him, interest rates may gradually increase by the middle of next year as the government needs to borrow funds from banks and the economy begins to pick up – although they are likely to remain within single digits.
"The challenge for the country is translating our success in managing the battle with the pandemic to help us recover quickly on the economic front," he opined, pointing out that the banking sector will enjoy success when businesses recover.
Given CBSL's extension of the application deadline for the Saubagya Renaissance Facility, Rodrigo pointed out that banks would have more time to ensure that businesses in need would be able to benefit from the loan scheme.
"No events have brought attention to areas such as social risk management quite like the COVID-19 pandemic," he observed, pointing out that the sector's involvement in helping revive businesses is due to its social awareness.
Rodrigo continued: "Ultimately, our performance relies on companies' performance and this realisation struck the entire sector. Previously, CSR was seen as philanthropy but this is no longer the case as it's about ensuring business sustainability."
An example he cites is the case of businesses with a large bricks and mortar presence questioning the productivity of their office space by the use of technology. This has led to many organisations rethinking their business models and shifting from capital intensive models to more operation intensive methods, which Rodrigo says is more sustainable.
With a large number of migrant workers returning to Sri Lanka without the promise of jobs, he stated that the banking sector has been helping these people take advantage of new opportunities.
"COVID-19 resulted in structural economic changes with a larger focus on strengthening exports, value added agriculture, education, investing in technology, building business and knowledge process outsourcing, and reviving the local IT industry," Rodrigo asserted, noting that this is an opportunity to reverse the brain drain as well.
He explained that a number of loan schemes and financing programmes offer low interest rates, enabling people to borrow and invest in these areas by commencing their own businesses with the knowledge obtained from their exposure to foreign markets.
However, fewer people working overseas is also expected to lead to a reduction in remittance inflows with Rodrigo commenting that "along with tourism, the contribution to GDP amounts to more than 10 percent, impacting related sectors such as transport, and food and beverage."
"In the medium term, there is a need for the country to move towards production, manufacturing, value addition and agriculture, to tackle the benefits of cheap imports and dumping," he asserted.
As for the banking sector's performance over the rest of the year, Rodrigo maintained: "Overall, it continues to report good financial results with profits being recorded and an estimated year on year growth between five and 10 percent."
He summed up: "The most imperative aspect everyone must focus on is reviving businesses because banks have made significant sacrifices to provide assistance but this isn't sustainable."