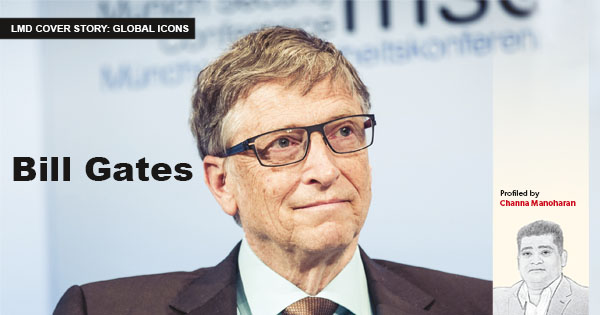 Bill Gates has been celebrated for his business acumen, flexibility and desire to enhance the usefulness of computers in his role at Microsoft, which he helmed as it became a dominant player in the software arena. Gates is also known for his philanthropy through the Bill & Melinda Gates Foundation – which has funded global health programmes, and community and education initiatives in the US – and he cofounded The Giving Pledge with Warren Buffett. Gates has given away US$ 35.8 billion and boasts a net worth of nearlyUS$ 110 billion.
BACKGROUND
DATE OF BIRTH
28 October 1955
BIRTHPLACE
Seattle (USA)
OCCUPATIONS
Business magnate
Software developer
Investor
HIGHLIGHTS
Cofounder of Microsoft
Co-chair and Trustee of the Bill & Melinda Gates Foundation
Founder of Branded Entertainment Network
Chairman and Cofounder of TerraPower
Chairman and Founder of Cascade Investment
A pioneer of the microcomputer revolution in the 1970s and '80s
QUOTE
As we look ahead into the next century,
leaders will be those who empower others
Bill Gates
Q: What characteristics have contributed to Bill Gates' career as a dynamic leader and innovator?
A: Gates established himself very early in life with his technical prowess, writing his first software programme at the age of 13. By 17, he had used an Intel 8008 processor to make traffic counters in a joint venture called Traf-O-Data.
He knew what worked for his career and even chose to drop out of Harvard University to launch his own computer software company, which would eventually lead him to create the first retail version of Microsoft in 1985.
This highlights three underlying and supporting attributes: passion, self-belief and entrepreneurship. Without these pillars to support his career, Gates' technical prowess might have gone to waste and this is what differentiates him from several contemporaries.
Q: What can young people looking to drive global impact and change learn from Gates' philanthropy?
A: Gates demonstrates that you need to look at relevant issues that affect society today and also threaten to impact the future of humanity.
The Bill & Melinda Gates Foundation funds organisations such as the WHO and Global Fund, which are proving to be increasingly important today as the world wrestles with COVID-19.
In addition to healthcare, he focusses on sustainability and education, champions the rights of women and supports innovation in the pharmaceutical industry. He has inspired others to engage in philanthropy as well, channelling millions to worthy causes.
Sri Lankans who yearn to make such an impact must lead by example – seek to support and collaborate with organisations that are active in key impact areas. Giving back to society should be a measure of life's success as much as academic, business or career success.
Q: And what can aspiring Sri Lankan leaders take away from Gates' career?
A: Be committed to your vision and cause. Recognise the power of collaboration to bring together the best brains to contribute to success.
Entrepreneurship, business acumen and leadership skills are as powerful as the idea itself. Be passionate and continuously innovate, and the financial returns will follow.
Channa Manoharan
Advisory Leader
PwC