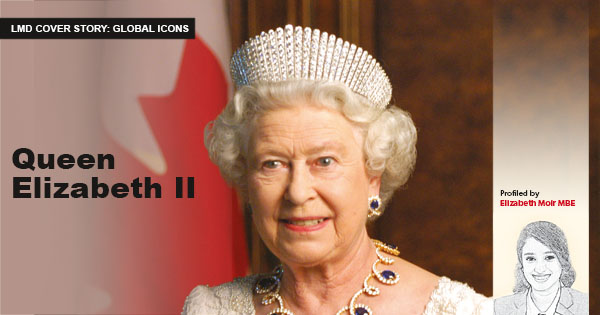 Queen Elizabeth II needs little introduction; as leader of the Commonwealth and matriarch of the House of Windsor, she has steadied the royal ship on numerous occasions, not only outliving many of her contemporaries but also providing a sense of stability and hope for millions of Britons through some of the toughest of times in the kingdom's history. The fact that her life has spawned a hit TV series – not to mention countless documentaries – comes as little surprise as this enduring global icon closes in on the Platinum Jubilee of her reign.
BACKGROUND
DATE OF BIRTH
21 April 1926
BIRTHPLACE
London (UK)
HIGHLIGHTS
Coronation on 2 June 1953
Reigned from 6 February 1952 to date
Longest reigning monarch in British history
Contribution to modernising the monarchy
A much loved and respected figure across the globe
QUOTE
When life seems hard, the courageous do not lie down and accept defeat; instead, they are all the  more determined to struggle for a better future
Queen Elizabeth II
Q: What attributes have defined Queen Elizabeth's reign?
A: At the age of 26, the Queen promised that she would devote her whole life to our service; and at 94, no one can accuse her of not living up to this.
She's faced enormous challenges, stood up to critics, managed criticism of parts of her family and yet, has continued in a role more demanding than anything we could imagine for much longer than almost anyone else. She is resilient and strong, but does not take herself too seriously and has a great sense of fun.
Q: Are there particular lessons that can be learned from her role as a monarch in terms of grace and staying power?
A: The Queen must love her role or she would not be so genuinely good at it. However, it must impose enormous strain on herself and her relationships.
She never lies down and accepts defeat; in fact, challenges make her more determined to keep going, suggesting that she's also confident in her own ability.
Moreover, she makes people believe she's interested in meeting them; when I was honoured by her in 2015, she asked me some well-informed questions about Sri Lanka and cracked a cheeky joke at my expense.
Then after she stood for hours at her age, we were told the Queen went horse riding. For my generation, she has been the one constant throughout our lives. In some ways, she frames who we all are.
Q: What can leaders do to embody the same grace and character in their own roles?
A: For the Queen to stay in her role this long, she must have an incredible rapport with people she works with. Despite their deference for the role, I would imagine she has a relationship with them built on trust, respect and openness.
She always finds ways of encouraging those around her and the people at large; and she inspires people to work together with a common goal. Above all else, leaders need to stay grounded – as my limited knowledge of the Queen makes me believe she is.
Elizabeth Moir MBE
Founder of three schools in Sri Lanka
Head – Elizabeth Moir School