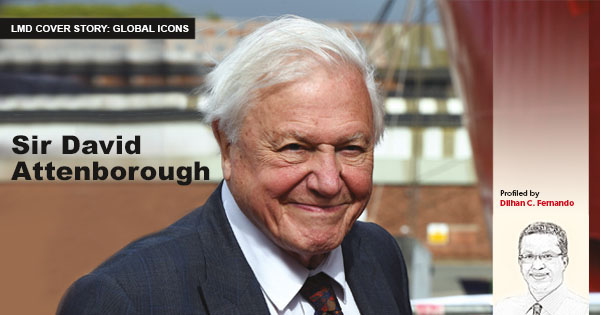 Sir David Attenborough has dedicated over 60 years to global conservation efforts, having written, produced, hosted and narrated numerous award-winning nature focussed programmes. The broadcaster and naturalist is known for programmes such as Frozen Planet, Life on Earth and The Life Collection, all of which have helped shape perceptions of the fragile environment we live in. In addition to senior managerial roles at the BBC, Attenborough served as a pioneer of a style of wildlife filmmaking that offered viewers up close perspectives of nature.
BACKGROUND
DATE OF BIRTH
8 May 1926
BIRTHPLACE
Isleworth (England)
EDUCATION
BA and Master's Degree from the University of Cambridge
OCCUPATIONS
Broadcaster
Writer
Naturalist
Presenter
HIGHLIGHTS
Controller of BBC2 (1965-69)
President of the Royal Society for the Conservation
of Nature (1991-1996)
Renowned wildlife filmmaker
Considered the godfather of natural history TV
Awarded the BAFTA Fellowship in 1980
Green Star Award winner
QUOTE
I just wish the world was twice as big
and half of it was still unexplored
Sir David Attenborough
Q: What makes Sir David Attenborough a front-runner in environmental activism?
A: Attenborough transformed the study of nature from science to joy. He shares his passion and curiosity for nature in an inimitable style, and has changed the way nature is presented. This has kindled awareness and engagement which are critical prerequisites for effective conservation.
Moreover, Attenborough's gentle, respectful and always awestruck tone is unmistakable. I'm drawn to his stories because of his knowledge and passion. He redefined environmental activism by making it impossible not to love the natural world; and he has made everyone a guardian of nature.
Attenborough is a teacher, and his relentless activism is led with knowledge, passion, engaging presentations, example and action.
Q: Are there particular lessons we can learn from his life?
A: His inspiring witness statement at the age of 93, learned pragmatism and constant optimism are the reasons he's respected and loved. Furthermore, his form of environmentalism is not confrontational but respectful, practical and encourages collaboration.
I admire Attenborough's passion and dedication that – much like my father's for tea – has set him apart in his field. His new feature (A Life on Our Planet) displays Attenborough's wonder and love for nature; it makes a compelling argument for why we should protect our environment.
Q: How can Sri Lankans follow in his footsteps in being inspirational?
A: Many Sri Lankans have the same love and commitment for nature because of a strong connection with it throughout our history.
However, the opportunities Attenborough has to share his passion through the media is what we may be lacking. Together with his brother, the late and great Lord Richard Attenborough, he has a gentle yet impactful screen presence – a great asset for anyone who has a story to tell.
As social media changes this context, Sri Lankans have every opportunity to share the incredible biodiversity of our nation while gently and persuasively inviting the world to protect it.
Dilhan C. Fernando
Chief Executive Officer
Dilmah Tea