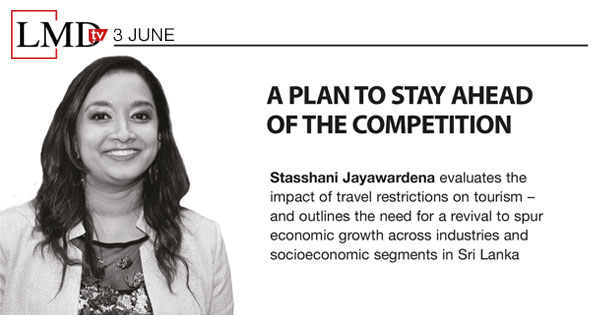 "Of all the economic segments across the world, tourism was among the hardest hit due to widespread travel restrictions in many destinations," observed Stasshani Jayawardena, the Chairperson of Aitken Spence Hotel Management. She added: "These restrictions are likely to remain in place in most countries for several months."
Citing WTO statistics, she stated that global tourist arrivals fell by 22 percent in the first quarter of 2020, and could decline by between 60 and 80 percent over the year compared to 2019.
As the industry gears for a revival, Jayawardena emphasised the importance of all parties working together to reassure travellers – particularly domestic travellers, which will be a vital segment for recovery.
"Tourism is an important industry for the country's growth as it strengthens the local economy by sustaining livelihoods and developing markets for millions across the country," she maintained, asserting that "it is exceptionally critical that tourism be revived to resume its vital role in driving sustainable development."
Efforts to facilitate a revival will include comprehensive operational guidelines for all stakeholders including the need for visitors to submit proof of negative PCR reports prior to departure and checks at airports. Meanwhile, employees at all consumer touch points will have to undergo PCR rapid tests to begin working in hospitality and tourism.
Inordinate delays are expected at airports as the new rules and regulations are implemented. Commenting on this, Jayawardena pointed out that "as long as we increase the use of AI technologies, contactless check in and out processes, touch-less digital menu systems in restaurants and hotels, and equip the labour force with the necessary skills, this can enhance the whole experience and ensure that it is seamless."
In her view, tourism and hospitality possess the unique ability to provide direct and indirect employment on a large scale with many sectors relying on these businesses functioning.
"These sectors drive equality and inclusivity across all socioeconomic segments," Jayawardena affirmed. She cited examples of hotels and restaurants, which attract qualified and award-winning chefs, while also employing "some of the most vulnerable members of society – including those from the informal sector and daily wage earners."
As a destination, Sri Lanka appeals to a cross section of tourists as well, she noted: "We need a balance of all segments – not merely high end tourists – which could serve as an opportunity to establish procedures and regulations to protect our high density of biodiversity and fragile ecosystems."
She called for a forward-looking strategy and consistent policies to account for all tourist segments, in addition to mapped out and regulated tourist development plans, with a clear vision to balance the use of resources and exposure to sensitive ecosystems.
"As Sri Lanka lacks the same capacity to recover from the crisis as other nations and the government faces the burden of limited resources, it is critical for the public and private sectors to work together, incorporating input from various organisational bodies such as the Sri Lanka Association of Inbound Tour Operators (SLAITO)," Jayawardena declared.
To this end, she believes that joint marketing campaigns, tour operators and airlines catering to a variety of consumers would be vital to gaining visibility and traction for Sri Lanka as a destination. With tourism destinations across the world gradually reopening, Sri Lanka will be competing with nations such as Thailand, Vietnam and the Seychelles as they target the same pool of global consumers.
"The visibility granted by tour operators and airlines with strong networks across the globe will spill over to all segments, and help the Sri Lankan economy by providing the direct and indirect employment it needs," she explained in her concluding remarks.