WORLD FOOD PROGRAMME
WFP AND SRI LANKA FURTHER JOINT EFFORTS FOR IMPROVED FOOD SECURITY AND NUTRITION
COLOMBO – The UN World Food Programme (WFP) and the Government of Sri Lanka have signed a Letter of Understanding to further their partnership to enhance food security and nutrition in Sri Lanka. The joint efforts support the government's Vision 2025 and Sustainable Development Goals, and will be carried out under WFP's new Country Strategic Plan 2018-2022.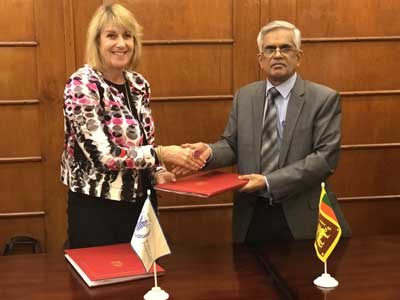 Over the next five years, WFP will support the government on a number of key initiatives tackling hunger and malnutrition, as detailed in WFP's new Country Strategic Plan, which was approved by the agency's Executive Board. The Letter of Understanding was signed by Dr. R. H. S. Samaratunga, Secretary to the Treasury and Ministry of Finance and Mass Media, and Brenda Barton, WFP Representative and Country Director in Sri Lanka.
"We are pleased to continue building on our bold, shared vision of a nutritious and food secure Sri Lanka," said Barton. "The WFP-Government of Sri Lanka partnership, now into its 50th year, is fully aligned with Sri Lanka's national priorities, including Vision 2025."
WFP and the Government of Sri Lanka will continue to address the root causes of food insecurity and malnutrition, while promoting longer-term recovery and resilience for thousands of people. This includes improving the productivity and incomes of smallholder farmers and vulnerable communities, especially women; ensuring that children receive a vital nutritious meal at school; tackling the underlying causes of high and chronic malnutrition rates; and assisting the government to prepare for and respond to climate shocks.
The five-year plan requires USD 46.8 million, and prioritizes new, dynamic multi-stakeholder partnerships, including with the private sector and civil society, which will be vital to delivering on food security and nutrition priorities and achieving zero hunger in Sri Lanka.
The plan was developed through rigorous and comprehensive process, which included a Country Portfolio Evaluation of the last five years (2012-2016) and a multi-stakeholder strategic consultation of the National Strategic Review of Food Security and Nutrition towards Zero Hunger.