USAID
 "Export Outlook Dims amidst Economic Challenges", Says Latest CCC-USAID Export Barometer Survey
May 4, 2022: Findings from the latest bi-annual Export Barometer Survey indicate that exporters are losing confidence in the industry's outlook, as firms face mounting challenges posed by increasing local and global economic risks. This survey was conducted by the Ceylon Chamber of Commerce (CCC) and the United States Agency for International Development (USAID)'s Partnership for Accelerating Results in Trade, National Expenditure and Revenue (PARTNER) project. This is the second in the series, following the successful launch of the first survey report in November 2021.
The survey, compiled in February-March 2022, received responses from 173 exporters of goods and services, including small and medium enterprises (SMEs) and women-owned and/or led enterprises. The Barometer survey series continues to track exporter sentiments on key issues relating to industry competitiveness, such as digitalization, transport, logistics, and facilitation. The survey also explored current challenges caused by the foreign exchange shortage and other internal and external economic factors and strategies implemented by companies to navigate these challenges. The findings drawn from the survey indicate a fall in confidence in exporter outlook for the first half of 2022 as a result of these challenges. The key insights of the survey are as follows:
Strong performance in exports continues despite the increase in underutilized capacity
A majority of exporters saw an increase in revenue during the second half of 2021, in line with the strong export performance recorded by the country during the period. However, there was an increase in underutilized capacity during the second half of 2021, compared to the first half of the year.
Foreign exchange shortage continues to pose significant challenges to exporters
Due to the foreign exchange shortage, exporters faced difficulties in sourcing production and service input, with 72% of export firms having lost suppliers or faced delays in sourcing. The majority of firms, particularly SMEs, were concerned about their ability to export in the future, due to production/service delays or losses in suppliers resulting from forex shortages.
Firms consider cost-cutting measures related to future hiring
A significant number of exporters are considering cost-cutting measures, such as reduction in hiring and freezing contract/part-time employment, due to the ongoing economic climate. Despite this sentiment, most firms in the second half of 2021 have retained their employees, while keeping training budgets unchanged.
Most export orders are B2B and digital adoption stable  
Most exporters continued export orders on the Business-to-Business (B2B) model, compared to Business-to-Consumers (B2C). Similar to the previous survey's findings, firms are leveraging online channels to drive sales, although they continue to provide less than 25% of total revenue for the majority of firms. As such, there has not been a significant improvement in the utilization of the digital landscape for exports during the last six months of 2021.
New export opportunities fall
Only 60% of firms have found new export opportunities, compared to 75% in the previous survey. However, both SMEs and women-owned and/or led businesses have found new opportunities, and this number is higher compared to the previous survey.
Market-determined exchange required to facilitate competitiveness
Exporters stated that they require market access support and improvement in the regulatory process and recommended that a market-determined exchange rate be allowed to facilitate export competitiveness.
Confidence in export outlook dims as local and global economic risks increase
A fall in confidence in export outlook can be observed, compared to the previous survey. However, exporters continued to be more confident about the growth of their export business in the first half of 2022 than in the economic outlook. This export growth is expected to be driven by significantly higher unit prices of export orders.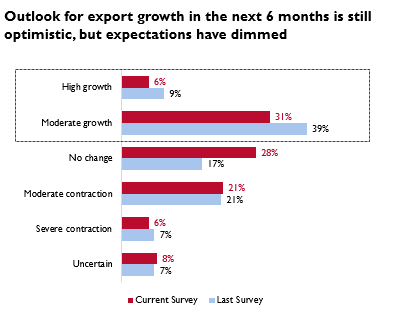 To access the full report please visit Trade Watch or click this link
For more information on the survey findings, please contact Alikie Perera at alikie@chamber.lk or 0115588805.
USAID's Partnership for Accelerating Results in Trade, National Expenditure and Revenue (PARTNER) project helps to minimize bottlenecks to trade, as well as strengthens Foreign Direct Investment (FDI), and the capacity of small and medium enterprises, private sector associations, and chambers of commerce to promote a vibrant private sector in Sri Lanka. This project is one component of the longstanding partnership between the American and Sri Lankan people to support self-reliance and promote a healthy, educated, and employed population. To find out more about USAID's work, please see usaid.gov/sri-lanka.