Typhoon Hagibis: Biggest Japan storm in decades makes landfall
Torrential rain and tornado-like winds are lashing large parts of Japan, as the country endures what could be its worst storm for 60 years.
The eye of Typhoon Hagibis made landfall shortly before 19:00 local time (10:00 GMT) in Izu Peninsula, south-west of Tokyo.
It is now moving up the eastern coast, with wind speeds of 225km/h (140mph).
One man was killed in Chiba, east of Tokyo, when his car overturned, and at least 60 people have been injured.
More than seven million people have been urged to leave their homes amid severe flood and landslide warnings, but it's thought only 50,000 are staying in shelters.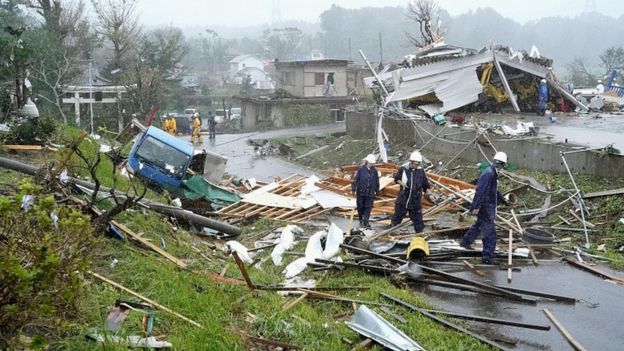 Train services have been halted, and more than a thousand flights grounded. Thousands of homes lost power in and around the capital earlier on Saturday, though some were swiftly reconnected.
Two Rugby World Cup games scheduled for Saturday have been cancelled and declared as draws – England-France and New Zealand-Italy. Formula 1 has also cancelled qualifying races for Saturday's Japanese Grand Prix.
Japan's Meteorological Agency (JMA) has warned that half a metre of rain could fall on the Tokyo area between midday on Saturday and Sunday.
"Unprecedented heavy rain has been seen in cities, towns and villages for which the emergency warning was issued," JMA forecaster Yasushi Kajiwara told a press briefing.
"The possibility is extremely high that disasters such as landslides and floods have already occurred. It is important to take action that can help save your lives."
'A blanket and a biscuit'
Local resident James Babb spoke to the BBC from an evacuation centre in Hachioji, western Tokyo. He said the river near his house was on the brink of overflowing.
"I am with my sister-in-law, who is disabled," he said. "Our house may flood. They have given us a blanket and a biscuit."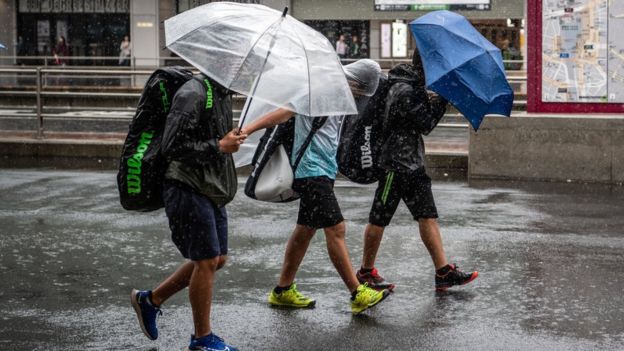 Andrew Higgins, an English teacher who lives in Tochigi, north of Tokyo, told the BBC he had "lived through a few typhoons" during seven years in Japan.
"I feel like this time Japan, generally, has taken this typhoon a lot more seriously," he said. "People were out preparing last night. A lot of people were stocking up."
Only last month Typhoon Faxai wreaked havoc on parts of Japan, damaging 30,000 homes, most of which have not yet been repaired.
"I evacuated because my roof was ripped off by the other typhoon and rain came in. I'm so worried about my house," a 93-year-old man told Japan's national broadcaster NHK, from a shelter in Tateyama, Chiba Prefecture.
What else do we know about the typhoon?
Hagibis, which means "speed" in the Philippine language Tagalog, is forecast to hit the main Japanese island of Honshu.
It could be the strongest storm the country has faced since Typhoon Vera in 1959, which hit Japan with winds of 306km/h (190mph) and left more than 5,000 people dead or missing.
By Saturday afternoon local time, footage and pictures showed many rivers were close to breaching their banks.
Locals stocked up on provisions before the typhoon's arrival on the authorities' advice, leaving supermarkets with empty shelves.