THINK SMART
'EatMealFirst' food delivery service to expand in Sri Lanka
"We play to win. We play fair."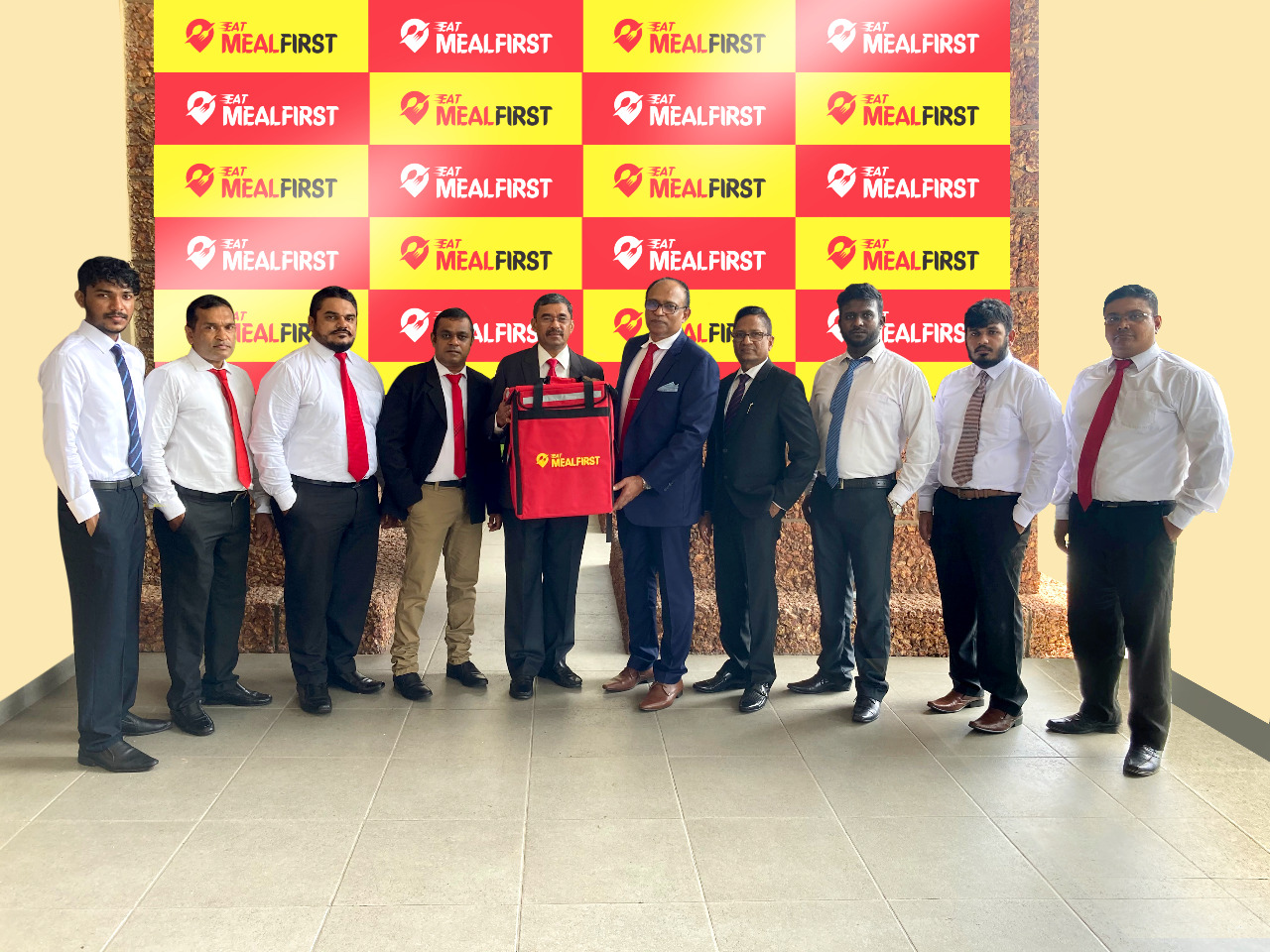 ThinkSmart Solutions Private Limited is a growing end-to-end IT services company, in the sharing economy business platform providing solutions for private and public sector clients from a diverse array of industries across Sri Lanka and Canada. The company launched "EatMealFirst", the most convenient food delivery platform, in Sri Lanka in mid 2019. "EatMealFirst" delivers food from local restaurants to consumers' door-steps, with deliveries carried out by highly trained professional delivery partners. The product was commercially launched after a month of user acceptance testing (UAT) and a successful pilot project. Spurred on by successful commercial operations during the past 12 months, and even maintaining live operations during the COVID-19 period, the management of "EatMealFirst" has decided to expand its services to more areas within the Western Province and Colombo-suburbs and several other areas before the end of 2020.
In light of the global digital transformation taking place across the globe, the "EatMealFirst" digital platform evolved to explore the possibilities and great potential of on-demand economy concepts by developing the delivery service platform.
"EatMealFirst" food delivery platform was developed by a team of highly skilled and talented Software Engineers in Sri Lanka. Both "Android" and "iOS"  "EatMealFirst" mobile applications are currently downloadable from Apps-stores and www.eatmealfirst.com.
Currently, the "EatMealFirst" food delivery platform has been successfully catering to restaurants and customers within Colombo 1~15 and suburbs including Dehiwala, Mount Lavinia, Rajagiriya, Nugegoda and Gampaha and  soon will launch in Kandy. The mobile platform was recently enhanced to cover the delivery of grocery items and household gas cylinders in order to support the nation during the current COVID-19 crisis.
Followed by its successful launch in Sri Lanka, the company introduced the same on-demand food delivery platform in the following areas of Canada, a few months later:  Ajax (Durham Region), Whitby (Yorkshire), Oshawa Ontario) and Pickering (Southern Ontario) making its global footprint with an exciting value proposition for the Canadian on-demand food delivery market. Through its Canadian operations, the company expects to apply industry best practices and carry out continuous research and development to gain a competitive edge over other players in Sri Lanka.
Getting food items delivered using the "EatMealFirst" app is so much easier in comparison with other delivery platforms available, with its series of simple steps that include: download the app, register, pick delivery location, find required items, place order, select payment method (Card or Cash) and track delivery progress. Contactless delivery is guaranteed.
"We believe there is yet a gap in the market for an even higher quality, safer and more cost-effective mode of delivery. Our focus will be on expanding our services to high demand areas even outside the Western Province. We are happy to state that we have already partnered with major, reputed delivery service companies in Sri Lanka and the new mobile application is currently being used by them for online transactions. We are looking forward to bringing more exciting features and making a positive impact in our society. We thank all our restaurant and delivery partners and all our happy consumers and look forward to your continuous support," said Mr Lakshman Joseph, CEO/Director/Co-Founder of Thinksmart Solutions (Former Chief Business Development Officer of SLT, with over 30 years of industry experience) expressing his views on the success of the food delivery platform "EatMealFirst".
"We are proud to acknowledge the dedication and commitment shown by our own Sri Lankan staff in bringing such a wonderful "EatMealFirst" mobile platform to the market within a very short period of time. We are very confident that we will be very competitive with other local and international players currently operating in Sri Lanka. The "EatMealFirst" team believes in our partners getting the highest benefits in the market. With happy partners, we make sure our customers are always happy. We are managing with very low commission rates as a result of low operating costs and also using advanced technologies. Therefore, partner's acceptances to our platform are gradually improving. We truly embrace the motto 'Play to win. Play fair' with many value additions," said Mr Chinthaka Wijesuriya, COO/Founder/Director of Thinksmart Solutions (Former Chief Regional Operating Officer of SLT, with over 35 years of industry experience).
"Today, platform-centred businesses have a major advantage in the data-driven economy. As both intermediaries and infrastructures, they are positioned to record and extract all data related to online actions and interactions among users of the platform. The growth of digital platforms is directly linked to their capacity to collect and analyse digital data, but their interests and behaviours depend greatly on how they monetize those data to generate revenue. Therefore, digital platforms can work for the development of the country's economy in a post-crisis era and create new opportunities for businesses of all sizes to engage in smart trading," commented Mr D W R Wijeweera, CTO of Thinksmart Solutions (Former Chief Information Technology Officer of SLT, with over 35 years of industry experience).
"EatMealFirst" is constantly in touch with restaurant partners and drive partners to ensure improved quality, speed, cleanliness and more to serve customers better and bring restaurants to the customer's doorstep. "EatMealFirst" delivery platform is developed by an enthusiastic group of engineers using state-of-the-art technology governed by micro-service architecture.
About ThinkSmart Solution
ThinkSmart Solution Private Limited is a leading end-to-end IT services company, serving business platform solutions for private and public sector clients from a diverse array of industries across Sri Lanka. The company's technology independence, global talent and extensive partner network help clients harness the power of innovation to thrive on change and guide their digital transformation journeys.
Solutions offer by the company are; "EatMealFirst" is a convenient food delivery platform that food can get delivered to your door step from your favourite local restaurants from our well-trained professional delivery partners. "Easy Gas" is an online Gas ordering platform which will bring customer's convenience to order gas cylinders for domestic, business or industry requirement from gas sales centres. "Smart Voucher" is a gift voucher platform that offers gift vouchers which can be personalized, redeemed in multiple outlets and in multiple occasions. The voucher can be gifted as an e-voucher or in high quality printed form. Smart Voucher can be redeemed in a range of merchant outlets.
Mr Lakshman Joseph, CEO/Director/Co-Founder of Thinksmart Solutions
He joined the Department of Telecommunications in 1982 and served for 29 years as a dynamic character holding various senior technical positions under the Sri Lanka Telecom Corporation and finally at Sri Lanka Telecom PLC. He retired from SLT PLC in 2009 as the Chief Business Development Officer. He was a member of the Senior Tender Board and was involved in many Company transformation projects including the Y2K Project that brought the SLT PLC into the new Millennium, successfully.
Mr Chinthaka Wijesuriya, COO/Founder/Director of Thinksmart Solutions
He is a visionary and a strategic leader who had vast experience in ICT industry and involved in many transformation projects at Sri Lanka Telecom PLC and served in many senior positions finally retiring as the Senior Chief Officer. He gave leadership to many large scale projects in SLT such as NGN, FTTH and 4G.He was the key member in Digital Transformation projects and gave leadership to improve the operational efficiency aligned with the Digital Transformations project. He gave leadership to the consumer and SME sales arm and embarked in several initiatives to enhance customer experience.
Mr D W R Wijeweera, CTO of Thinksmart Solutions
He is a proven visionary result oriented strategic leader who translates business and technological strategies into maximum profits commensurate with the best interest of shareholders, customers, employees, and the public in align with the company vision and mission. An expert and a pioneer in Telecommunication and Information Technology field in Sri Lanka with over 37 years. In his career he has involved with mega IT project implementations in one of the top telco operator in Sri Lanka.