TURKISH AIRLINES
The world's widest reaching amateur golf tournament lands with Turkish Airlines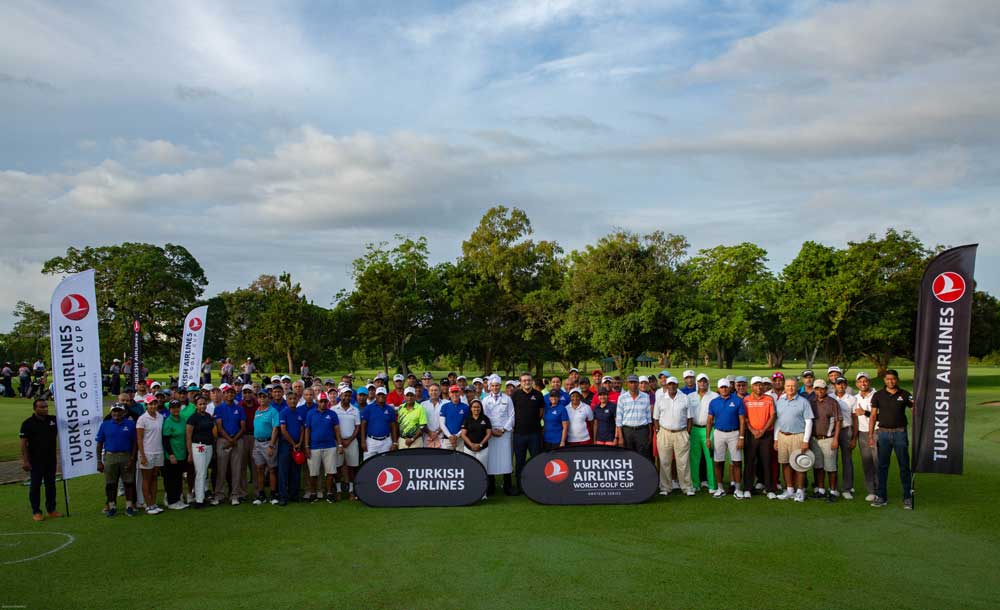 The 7th Turkish Airlines World Golf Cup came to Colombo on 21st September 2019, and is the world's biggest corporate golf tournament.
The airline prides itself on the quality of its products and services, from the freshest seasonal ingredients used in onboard catering to the Stopover Service in Istanbul and bonuses like free transport of sports equipment including golf clubs.
Now in its seventh year, the Turkish Airlines World Golf Cup continues to deliver the highest quality as players, all invited by the airline, will once again play at some of the finest courses in the world.
The event at Royal Colombo Golf Club was one of 103 tournaments in this year's record-breaking Turkish Airlines World Golf Cup – with the victors competing in the Grand Finals in Turkey later this year.
From a global total of 103, those that win will go through to the Grand Finals and have the chance to play in the Turkish Airlines Open pro-am where previously winners have teed it up alongside the likes of Tiger Woods and Rory McIlroy.
Sachin De Silva won the competition with 43 points, going on to represent Colombo in the Grand Finals. Praveen Dias was runner-up, W. A. K. Fernando was third.
The Nearest the Pin competition was won by Usha De Silva for the women and Navin De Silva for the men. Sachin De Silva won the lowest gross score with 64.
Turkish Airlines General Manager, Mr Murat Baydar welcomed all of our guests and Ambassador of Turkey to Sri Lanka His Excellency Tunca Özçuhadar also given speech on huge success about the event.     "Once again, it was a thrilling tournament and congratulations to our winner, Sachin De Silva. We wish him the best of luck in Turkey."
All Turkish Airlines World Golf Cup finalists will fly to Turkey in the luxury of Turkish Airlines' Business Class. Events such as the Turkish Airlines Open and TAWGC have made Turkish Airlines' support essential to Antalya being recognized as an international premium destination for golfers with outstanding facilities.
Turkish Airlines continues its unparalleled and ambitious growth throughout its network of 314 destinations in 126 countries, with a 15 per cent increase in passenger numbers, from 68 million in 2017 to 75 million in 2018, the best year on record.  The newly-opened Istanbul Airport hub will facilitate the growth of Turkey's aviation sector as global aviation shifts eastwards, with Istanbul at the center.  The megaproject will be launched in four phases with the final phase set to be complete in 2028 including six runways, four terminals and 233 aircraft parking positions, with the capacity to serve up to 200 million passengers a year with 500+ check in desks and 225,000 employees.