THE COST OF LIVING
MIXED SIGNALS ON INFLATION
The cost of living index dips ever so slightly – but for little real respite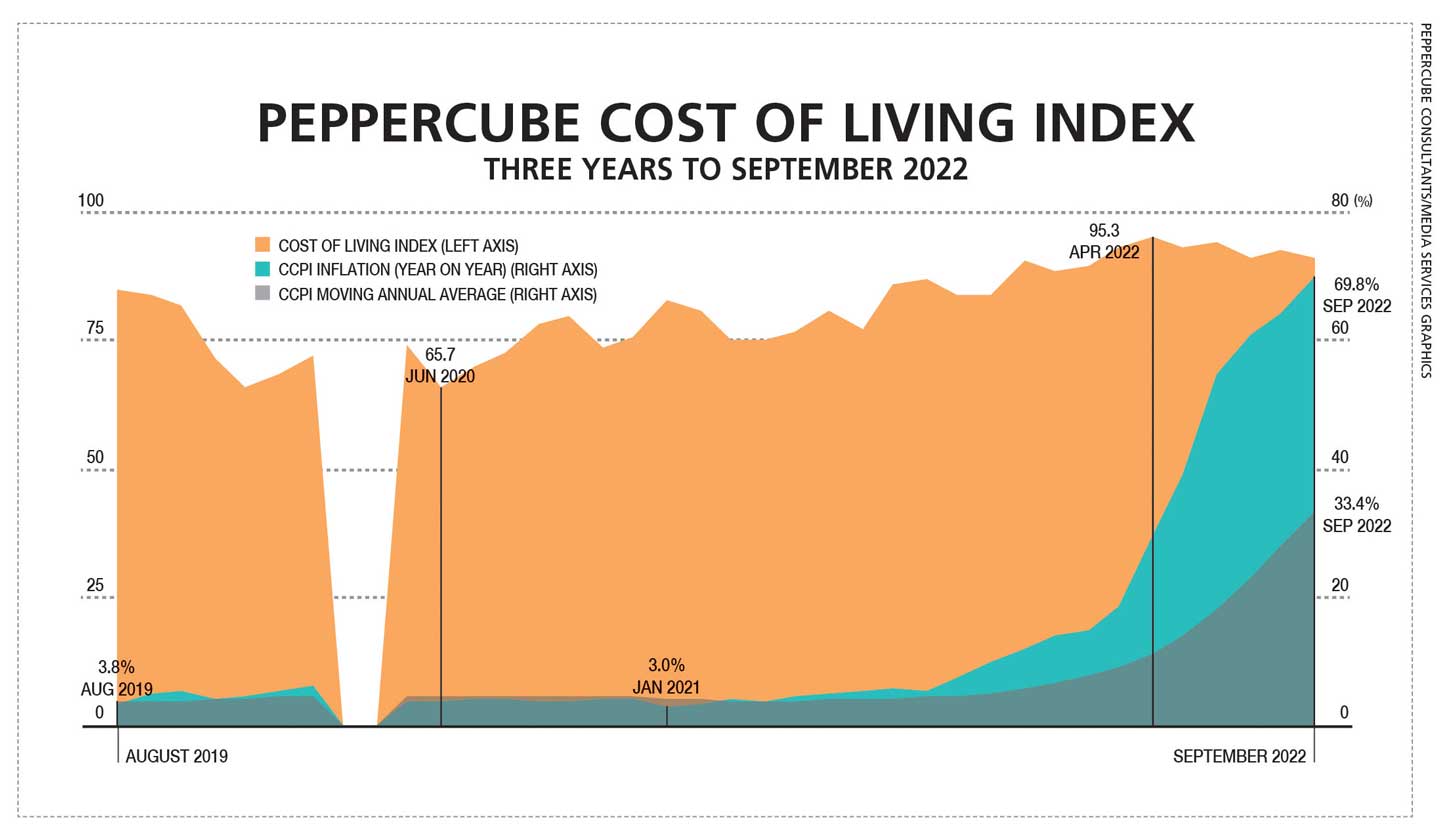 The PepperCube Cost of Living Index (CLI) has dipped marginally from August's 92.6 down to 91.2 in September. That said, it's unlikely that the index will relinquish its hold on the 90s in the months to come.
And once more, the Colombo Consumer Price Index (CCPI) has spiked. Year on year inflation has skyrocketed from 5.7 percent in September last year to nearly 70 percent (69.8%) 12 months later!
The CCPI has risen from 64.3 percent in August, registering the third consecutive month in the sixth percentile.
Almost everyone polled (96%) said that the cost of living in the last 12 months has escalated 'highly' (90%) or 'moderately' (6%), and this opinion has been largely consistent since January with little variation from a year ago (97%) as well.
In August, 62 percent of poll participants said they expect the cost of living to escalate 'highly' in the next 12 months; in September, this number rose to seven in 10 (72%). Fourteen percent expect a moderate escalation, which is a change in sentiment from August (23%) but indicates a shift in opinion into the more dire prediction category.
Once more, 53 percent of PepperCube's sample population believe they 'will not have a chance at all' to purchase non-food goods and services or be able to save in the next 12 months.
Those who said they 'will not have a chance' have declined from August's 33 percent to 22 percent in September with more commenters moving into the 'don't know/can't say' category (from 3% to 12%) considering the rising cost of living and their current financial status.
There's a note of optimism, however: poll participants who anticipate that their purchasing power and ability to save will remain stable has seen an increase – back to July's nine percent from six percent in August.
FOOTNOTE An index based on a monthly survey, the CLI aims to measure and understand perceptions regarding the cost of living as opposed to reported or official inflation.
– LMD