SUSTAINABLE TRADE
WILLING TO PAY
A GREEN PRICE
Greening Sri Lanka's economic recovery – Kiran Dhanapala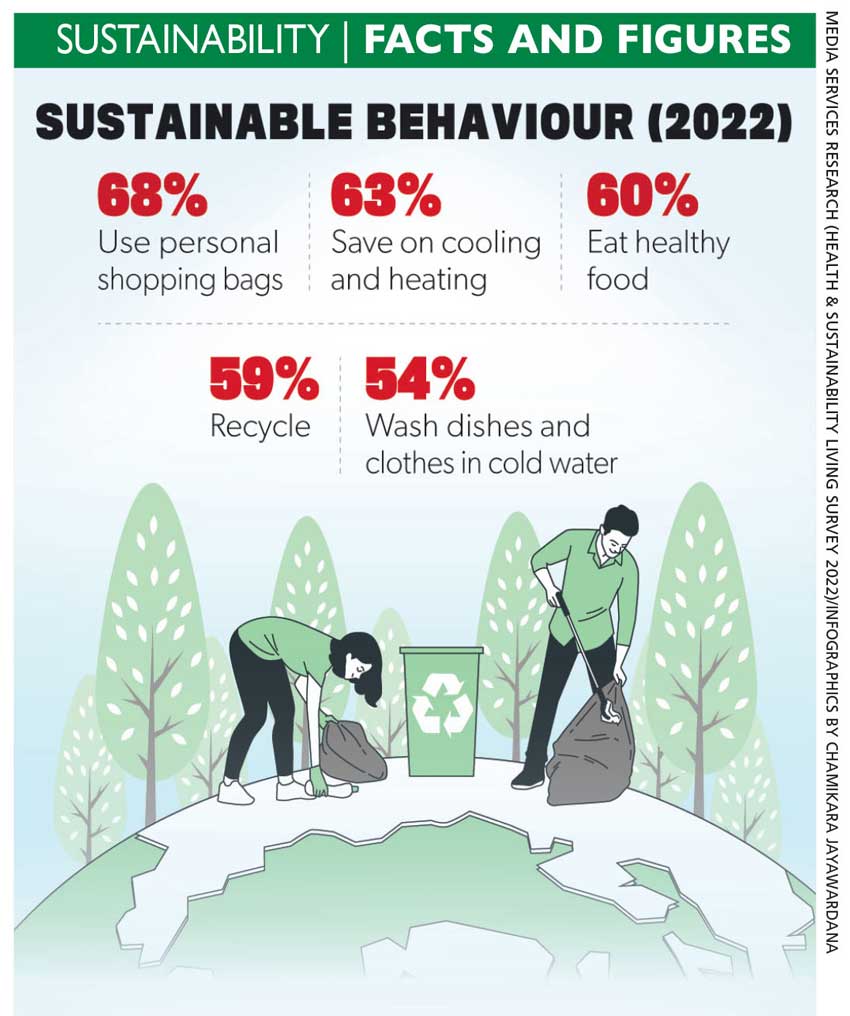 Sustainability is a market differentiator that's useful in international trade – and it is synonymous with competitiveness. Producers use either or both social and/or environmental aspects of sustainability, to differentiate their goods and services.
And there's increased recognition of what sustainability means, and how vital it is to our planet, thereby ensuring that consumers value such goods over those without such features.
The global economic environment – especially high inflation – presents demand-related challenges for increasing trade. The Healthy & Sustainable Living 2022 survey covered 30,000 respondents from across 31 markets including Asia.
Fifty-five percent of respondents in 23 markets tracked between 2019 and 2022 said they 'somewhat agree' to be willing to pay (WTP) more for products or brands that work to improve society and environments. This reflects a dip from 58 percent in 2020/21.
Overall, WTP has reduced in Europe – mostly in Germany, Italy, Spain, Sweden, Portugal and the UK; and in Australia, Canada, Indonesia, Nigeria and Peru too. However, the Indian respondents increased their WTP rate in 2021/22.
The survey found that while people want to do their part, progress has been slow. Some – especially parents – are willing to reduce their consumption. While the aspiration-action gap continues to persist across all markets and demographics, there's a desire to live healthier and more sustainable lifestyles.
In terms of sustainable lifestyle practices, there have been slight increases in composting and recycling, avoiding single-use plastics and using personal bags when shopping.
Sustainable living needs to become the norm to curtail our impact on the planet. Behavioural change will be unlocked only if more people believe that healthy and sustainable living is the way forward. Interestingly, half the respondents felt that most people will be living sustainably in the next decade.
However, consumers in the Global South are more likely to believe that people will live sustainably in the next decade while North Americans and Europeans remain mostly unconvinced. The Chinese are more likely to experience behavioural changes.
Another challenge to trade is balancing the use of natural resource consumption and impacts on society.
Sustainable trade – as measured by the Sustainable Trade Index (STI) – shows an economy's readiness and capacity to participate in global trade in a way that supports the long-term goals of economic growth, societal development and environmental protection.
Its purpose is to stimulate meaningful discussion about the linkages between trade and sustainability.
Economies are scored across three pillars of trade sustainability (economic, societal and environmental) with 70 indicators from a variety of data sources. It only assesses 30 economies – including Sri Lanka.
The economic pillar measures an economy's ability to ensure and promote economic growth through trade such as export diversification while the societal pillar assesses social factors that contribute to an economy's capacity to trade in the long run – political stability, for instance.
And the environmental pillar measures how an economy engages in trade in a way that is environmentally sustainable – for example, share of natural resources in exports and air pollution controls.
STI's top performers are economies that are engaging in technological innovation; have low trade barriers, high life expectancy and better education; and enjoy more opportunities to move up in life, conserve energy at home and respect global climate goals.
Higher income countries have generally higher STI 2022 rankings.
The index also highlights worrying trends such as uncertainties resulting in countries turning inwards to self-sufficiency, rising inflation, slowing growth, and new tariffs rising among larger economies such as China and the US.
Sri Lanka ranks 22nd out of 30 countries in the 2022 STI. Its performance is strongest in the societal pillar (No. 15), followed by the environmental pillar (15th) and finally, the economic pillar (26th). Poor macroeconomic stability, export volumes and FDI inflows, as well as underperformance in technological innovation and infrastructure, feature in the economic pillar ranking.
For Sri Lanka, exports are urgently required for macroeconomically stable growth. Ensuring that these exports are sustainable will also make this growth greener and more likely to gain market entry. Policies need to be crafted and reviewed, to ensure consistency and coherence for exporters.
There are many social entrepreneurs and MSMEs that can be supported to scale up existing production. They can enter global supply chains and/or reach consumers directly using sustainability as a means to access markets.
The recent partnership between the Export Development Board (EDB) and Swiss Import Promotion Programme (SIPPO) to undertake market studies in the EU will aid Sri Lankan exports.