SRI LANKAN ECONOMY AT RISK: OPPOSITION MP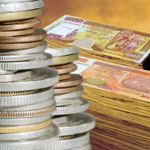 The country's economy has dropped in many global indices as a result of the corruption in the Central Bank and other unhealthy development activities, a member of the opposition alleges.
According to Joint Opposition MP Bandula Gunawardane, several global indices including
Bloomberg's Global Risk Briefing, Transparency International's Corruption Perception Index 2016 and the Global Hunger Index reflect a decline in the Sri Lankan economy, directly affect investor confidence.
He points out that in addition, the Central Bank has issued US$ 100 million to avoid the rupee depreciating at a time the country's reserves are already limited. And he observes that so far foreign investors have withdrawn money amounting to US$ 2.6 billion due to the prevailing economic instability.