PROFESSIONAL OF THE 20TH CENTURY
LMD ARCHIVES (MARCH 2000)
EMBRACING NATURE'S SWEEP
Geoffrey Bawa's spatial explorations in the architectural design of his landmark buildings are triumphs in concrete of a unique expression that is as aesthetic as it is functional – Anoma Pieris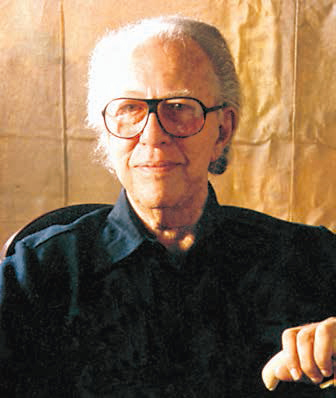 Very few buildings in modern Sri Lanka can arrest the observer by their sheer spatial experience. Most of them rely on glitz or glamour, plush furnishings, marble floors, carpeting, chandeliers and a veneer of imitative Westernisation. The sprouting high-rises and posh hotels that jostle each other in our growing business district market a way of working and living that has been imported, without concessions to place, society or climate.
Yet, as we weave our way down south, this dismal picture of myopic modernisation is favourably interrupted. A few artistically constructed hotels have, indeed, captured that spatial quality that comes from a combination of a convivial lifestyle and tropical climate. The author of these architectural pieces has taken what he sees as the essential ingredients of the Sri Lankan landscape, which include the tranquillity of an agrarian village, the passing of the seasons witnessed from verandas, and the intimate scale of our social interactions. He has engaged these experiences through an evocative architecture. Hotel buildings such as The Blue Water, Bentota Beach Hotel, The Villa, The Walauwa, Serendib, Triton Hotel, The Light House and Kandalama present us with an elevated sense of ourselves, and of our environment.
Geoffrey Bawa, the author of these poetic environments, was born in 1919. He trained as a Barrister in Law until he changed careers midstream and took to architecture. Trained at the Architectural Association in London, he graduated in 1956, and returned to Ceylon to join the firm of Edwards, Reid and Begg, as a partner. The office he designed for this firm has since been converted into a restaurant, named The Gallery, in Alfred House Gardens.
The catalyst in Bawa's career was his experimentation with 25 acres of an abandoned rubber estate, which he turned into his own private garden.
This garden – Lunuganga, in Bentota – evolved over a period of 40 years, into an exploration of the spatial potential
of the landscape that borrowed freely from both Western and Eastern traditions. It is this vocabulary that generated his own specific style of architecture.
Practising in postcolonial Colombo, with its legacy of Public Works Department bungalows and renaissance classical colonialism, our first generation of local architects reacted with experimentation in the European modernist tradition. The introduction of concrete, asbestos and the American style generated a plethora of building aesthetics that competed to meet the aspirations of the young nation. Inspired by the return to local architecture by the building of the Peradeniya University and the Trinity College chapel in Kandy, architects Minnette De Silva and Andrew Boyd experimented, for the first time, with a new regional style for modern domestic architecture. Taking the spatial experiences and decorative vocabulary of traditional buildings, they began to reinterpret them through the modernist idiom. Continuing this line of experimentation with his new partner, Danish architect Ulrik Plesner, Bawa introduced formal courtyard houses into the heart of urban Colombo, breaking radically from its bungalow tradition. His eclectic appropriation of architectural imagery reinforced a plural identity that had been envisioned in the early ideals of secular nationalism.
In his own description of 'A Way of Building' (in the Times of Ceylon Annual – 1966), Bawa states: "I prefer to consider all past good architecture in Ceylon just as that – as good Ceylon architecture; for that is what it is, not Dutch or Portuguese or Indian, or early Sinhalese or British Colonial – for all the examples of these periods have taken Ceylon first into account."
The experiential qualities of Bawa's architecture – although best illustrated in his hotels – has been learned by Sri Lankans through numerous local institutions. Primary school buildings at S. Thomas' College, St. Bridget's Convent, and Ladies' College provide children with child-size spaces, nooks and crannies to play games in and simple architecture that is naturally ventilated. Larger institutional buildings such as The Institute for Integral Education, in Piliyandala, and the Yahapath Endera Farm provide peaceful retreats for religious education.
Geoffrey Bawa, in addition, is perhaps one of the most extensively published architects in South Asia – with a Mimar monograph; a book on his garden, Lunuganga; and numerous articles in European journals. In Sri Lanka – and in Colombo, in particular – a generation of architects embody his approach, although none can truly match the simple beauty of his style, or the impressive range of his works.
Many of us know Geoffrey Bawa through the Parliament building in Sri Jayewardenepura, which sits like a palace in a man-made lake and is designed as a series of large pavilions. While the pavilions imply the openness expected in a democratic political system, the violent history of our nation demands that they remain largely inaccessible to ordinary citizens. Today, as we charge blindly into a Westernised modernity, these earlier versions of ourselves are easily discarded – and reserved for religio-political identities, or pastiche tourism. The values of a way of life that is lived daily in simple buildings and shaped by a place, a climate and a way of living, and are replaced by quick fixes, convenient spaces and global aspirations.
The legacy of Geoffrey Bawa and the Sri Lankan way of building that he supports can only be communicated by the recognition of his place in our history, and our own willingness to preserve and learn from his efforts.