POST-HANOI PLAYBOOK
KIM IS TAKING NO CHANCES
Saro Thiruppathy reviews Pyongyang's plans to counter the failure of diplomacy plus in Hanoi
In spite of the bonhomie in Singapore that underpinned the historic first meeting between a US president and leader of North Korea, it wasn't much of a surprise when the second summit in Hanoi between President Donald Trump and Kim Jong-un ended prematurely.
Sceptics and stakeholders alike were heartened because 'no deal' with Pyongyang was far better than a bad one. However, South Korean President Moon Jae-in was less than comfortable because a jittery Kim is a danger to his nation and the entire peninsula, as well as Japan and the US territory of Guam.
Washington claims that the talks failed because Kim asked for all sanctions to be lifted in return for shutting down and dismantling the nuclear facilities at Yongbyon. The US felt that Yongbyon wasn't much of a bargaining chip.
However, North Korea's Foreign Minister Ri Yong-ho later clarified that Pyongyang had only asked for the lifting of five UN Security Council sanctions enforced in 2016 and 2017. In response, Kim was prepared to shut down and dismantle the Yongbyon nuclear facilities. So perhaps the problem lay in translation and interpretation by the White House's hawks.
Even as Secretary of State Mike Pompeo and National Security Advisor John Bolton were rubbing their hands in glee as they envisioned more crippling sanctions against Pyongyang, Trump took the wind out of their sails when he took to Twitter.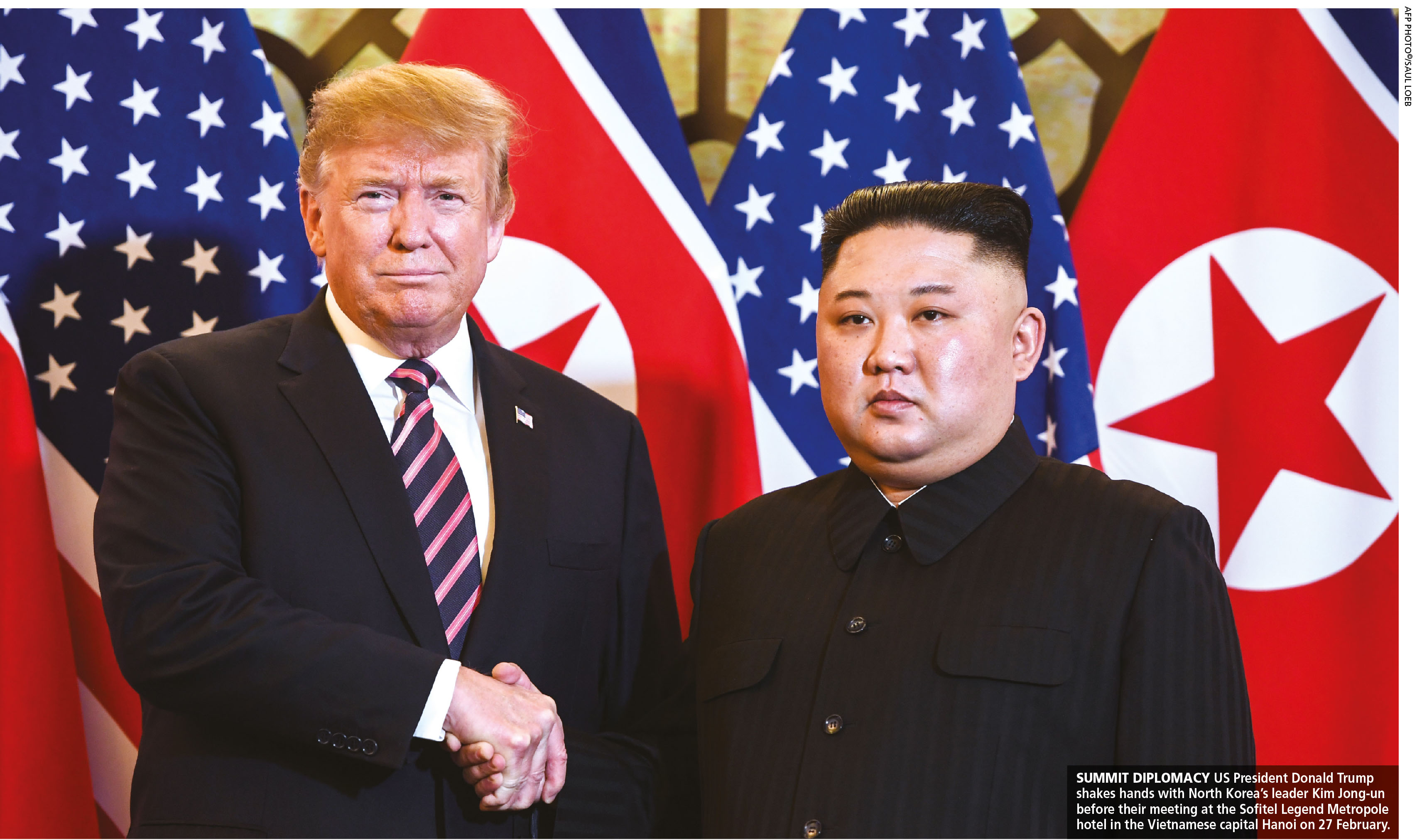 The president tweeted even before new sanctions were announced that he had rolled them back. Apparently, he had decided to personally handle North Korea, leaving his advisers and the US Treasury Department out in the cold. He was sending an overt message to Kim, indicating that "all isn't lost, old pal!"
Trump has also initiated the reestablishment of a back channel through the North Korean mission in the UN and is trying to make progress with Kim, whom he calls his 'friend.' Whether Kim is his friend is anyone's guess but he's certainly not hanging around waiting for Washington in general and Trump in particular to provide economic relief to his country.
Kim had been in close contact with Beijing during preparations for the Singapore summit. China is an old ally and it has stood firm in its support for Pyongyang against US sanctions and UN resolutions. However, when Beijing tires of Kim's obstreperousness, it selectively supports UN Security Council resolutions as punitive action against the hermit kingdom's nuclear activity.
China is keen that the Korean Peninsula stays relatively stable and frowns on Kim's periodic missile tests. Much of Beijing's problems are based on fears that an unstable regime in Pyongyang can collapse and send thousands of North Koreans fleeing, and seeking refuge across the border. So the stability of the Kim regime is a key to peace in China.
In spite of everything however, Beijing is Pyongyang's most important trading partner and together with Russia, it has kept the North from economic collapse.

Meanwhile, Kim has also begun serious overtures to Russia and in March, the North Korean Vice Minister of Foreign Affairs Choe Son Hui and his Russian counterpart Igor Morgulov met in Moscow to ink an agreement. The areas covered include politics and the economy.
The press briefing noted that the two countries had discussed the development of bilateral relations, as well as political contacts, prospects for promoting cooperation in practical areas and handling the situation in the Korean Peninsula. So it seems that Kim was already envisioning Plan B on his long train ride back home from Hanoi.
This year marks the 70th anniversary of diplomatic relations between North Korea and Russia, and their recent agreement also aims to strengthen ties in cultural cooperation. The allies have further concurred on joint projects like a cross border bridge and trading house in Vladivostok. Earlier in March, Russia sent more than 2,000 tons of wheat through the World Food Programme (WFP) to coastal ports in North Korea and is considering increasing food aid this year.
Meanwhile, in response to Trump's decision not to impose additional sanctions on North Korea, Kim decided to return his staff to the inter-Korean liaison office in the northern city of Kaeson.
He had pulled them out of liaising with their counterparts in the south following the failed Hanoi talks, possibly to pressurise Moon to compel Washington to relax the sanctions. But Trump's subsequent generosity in the sanctions arena had a ripple effect and the status quo in the liaison office resumed as North Korean officers returned to work.
It seems that Kim is taking no chances with the United States. The Americans maintain that work on the Sohae satellite launch facility has been continuing irrespective of UN sanctions on space launches.
In addition to diplomatic efforts with the Chinese, Russians, South Koreans and Trump, Kim is also pursuing the rapid rebuilding of a long-range rocket site at the Sohae satellite launching station. Commercial imagery shows that two days after the Hanoi breakdown, renewed activity was visible – possibly to show Pyongyang's determination to proceed with its agenda despite a rejection by Washington.
As diplomacy continues unabated, Moon met with Trump in Washington D.C. in April to discuss a way forward for peace in the unstable Korean Peninsula.