NATIONAL CONSTRUCTION ASSOCIATION OF SRI LANKA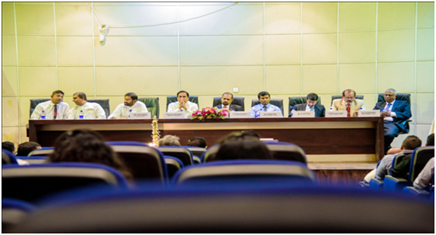 The 35th Annual General Meeting of the National Construction Association of Sri Lanka (NCASL) for the Year 2018/2019 was held grandly on March 09, 2019 at the Grand Monarch Hotel, Talawathugoda, amidst a huge gathering.
Mr. SusanthaRanjithLiyanarachchi who was the 1st Vice Chairman of the NCASL and a reputed construction businessmanwas elected as the Chairman of the Association for the year 2018/2019.
We are pleased to inform that Mr. Susantha Ranjith Liyanarachchi will be taking over the reins of the Association at 10.00 am on March 21, 2019 at the NCASL Secretariat at the "Idikireem Madura", No. 350A Pannipitiya Road, Pelawatte, Battaramulla among a distinguished gathering of Cabinet Ministers viz Hon. Daya Gamage, Minister of Primary Industries & Social Empowerment, Hon. PiyasenaGamage, Member of Parliament, Galle District, Hon. Akila VirajKariyawasam, Minister of Education & Hon. WajiraAbeywardena, Minister of Internal & Home Affairs and Provincial Councils & Local Government. Most of the hierarchies in the state and private sector organization also have confirmed their participation at this felicitation ceremony.
Mr. Susantha Liyanarachchi isa resident of Elpitiya in the Galle District and his father was a construction businessman and a member of the Provincial Council. Mr. Liyanarachchi took over his father's construction company and due to his hard work became a reputed construction businessman in Sri Lanka. He has an extensive background in the field of construction due to his many years of experience.
He Joined the Southern Branch of the National Construction Association in the year 1992 and maintained his membership continuously to date without a flaw. He held many key portfolios in the Executive Committee of the NCASL and subsequently became the 15thChairman of the Association.
Mr. Liyanarachchi is a vibrant and a kind hearted personality, all out to help anyone in need. The NCASL membership is overwhelmed by his Chairmanship and wish him all success during his term of Office.
We hope that under the dedicated Chairmanship of Mr. Liyanarachchi, the Association will reach another milestone in the coming year.
May the blessing of the Triple Gem be upon him.