MOBITEL
Mobitel's mCash partners with The Open University of Sri Lanka for convenient student payments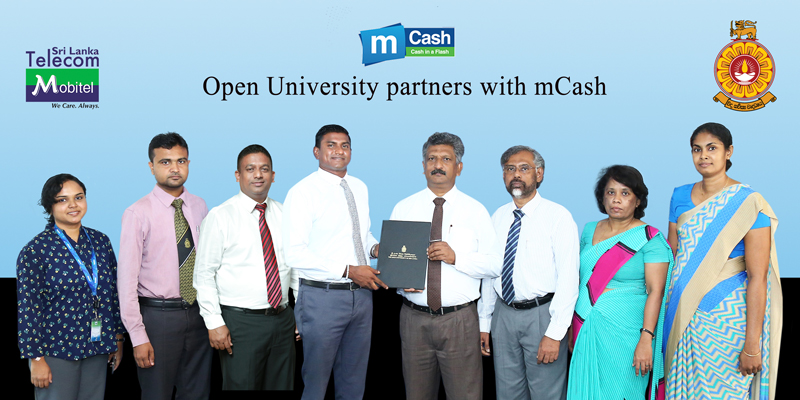 Monday, 04th June, 2018, Colombo: The National Mobile Service Provider, Mobitel, has partnered with the Open University of Sri Lanka (OUSL) to provide yet another service through Mobitel's mCash.
Now, Open University students who are mCash users can make their student fee payments through the mCash mobile money service. Students can skip the tedious form filling at Banks and other payment points by simply making a direct payment to the Open University through their mCash account, using only their mobile phone.
Through this partnership between Mobitel and the Open University, students can make multiple payments through mCash: university admission fees, examination fees and other university-related fees. Students can simply visit to Open University Website and logging into their MYOUSL account via https://payment.ou.ac.lk/ and select mCash as the preferred payment method, to pay all their fees and university expenses.
Mobitel is determined to make the mCash service an inclusive one, which provides the ease of transaction and flexibility of mobile money payments to everyone across Sri Lanka, no matter where they live or their social or economic circumstances. Based on the firm belief that access to the emerging technologies and social benefits of mobile communications is a benefit which should be enjoyed by all Sri Lankans, Mobitel has been growing the services provided through mCash as well as expanding its network of vendors and service points in the country.
The Open University of Sri Lanka is a national university that is the only university in Sri Lanka to offer programs of study which lead to Certificate, Diploma, Degrees and Postgraduate degrees up to PhD level through the distance learning system. With five distance learning centres across the Island, and the main campus at Nawala, the Open University provides tertiary education to thousands of students each year.
To register for mCash simply dial #111# from your Mobitel or Etisalat phone to get started. Mobitel, has also recently partnered with JustPay©, a secure, real-time payment service, to enable Mobitel mCash customers to top up their wallet directly from their preferred Bank Account for the first time in Sri Lanka. In addition to that, Students and the parents can top up their mCash account using the mCash extensive retailer network of 16,000+ touch points Island wide including Mobitel Branches, SLT Teleshops, Singer Mega outlets, Singer showrooms, Abans showrooms, Amana Banks, Sanasa Development Bank PLC and they can top up via online using Commercial Bank, HNB, PABC and Cargills Bank.