LIGHT A FUTURE
'Light a Future' host Art Sale to support the education of 100,000 children
Colombo, Sri Lanka, January 2023 – The 'Light a Future' initiative announced the launch of an exclusive Art Sale with donated pieces by eight [08] locally renowned artists – an initiative conducted in partnership with Atlas, Sarvodaya, Buzzer, My Tickets, Ernst & Young and Emerging Media. The exhibition, which was held on December 13, 2022, at Barefoot Gallery, Colombo, Sri Lanka raised over LKR 750,000 and was attended by Chief Guest – Mrs Caroline Jurie.
The 'Light a Future' initiative aims to enable 100,000 children from the most vulnerable families in Sri Lanka to stay in school amidst Sri Lanka's largest humanitarian crisis, by providing them with essential learning tools for the school year. Proceeds from the Art Sale will go towards fulfilling this pledge.
Commenting on the success of the event, Director Marketing of Atlas Axillia (Pvt) Ltd- Kaushali Kusumapala stated: "This crowd funding initiative hopes to support children with school essential to continue their education. We thank our local artists for dedicating their time and who purchased the art to make the art sale a success. Children are the future of a nation, and we are committed to support their development"
Commenting at the event, Chief Guest – Caroline Jurie noted: "The initiative is a truly remarkable one that has found an innovative and creative way to shine a light on the needs of our nation's children. It is an honour to attend as the Chief Guest where amazing talent of our local artists are portrayed and utilized for a great cause. I wish the teams behind the 'Light a Future' initiative the very best."
Artist – Prageeth Rathnayake stated: "As an artist these are little things, we can do to help our community. I am happy to donate our art towards the 'light a future initiative".
Concluding, Artist – Prasadini Kumari said: "In tough times it's important we support one another".
The 'Light a Future' initiative continues to rally global citizens around the project that aims to raise funds  in order to provide essential school supplies required for the new school year in 2023, and invites those interested in the cause to visit www.lightafuture.com  for more information and to donate.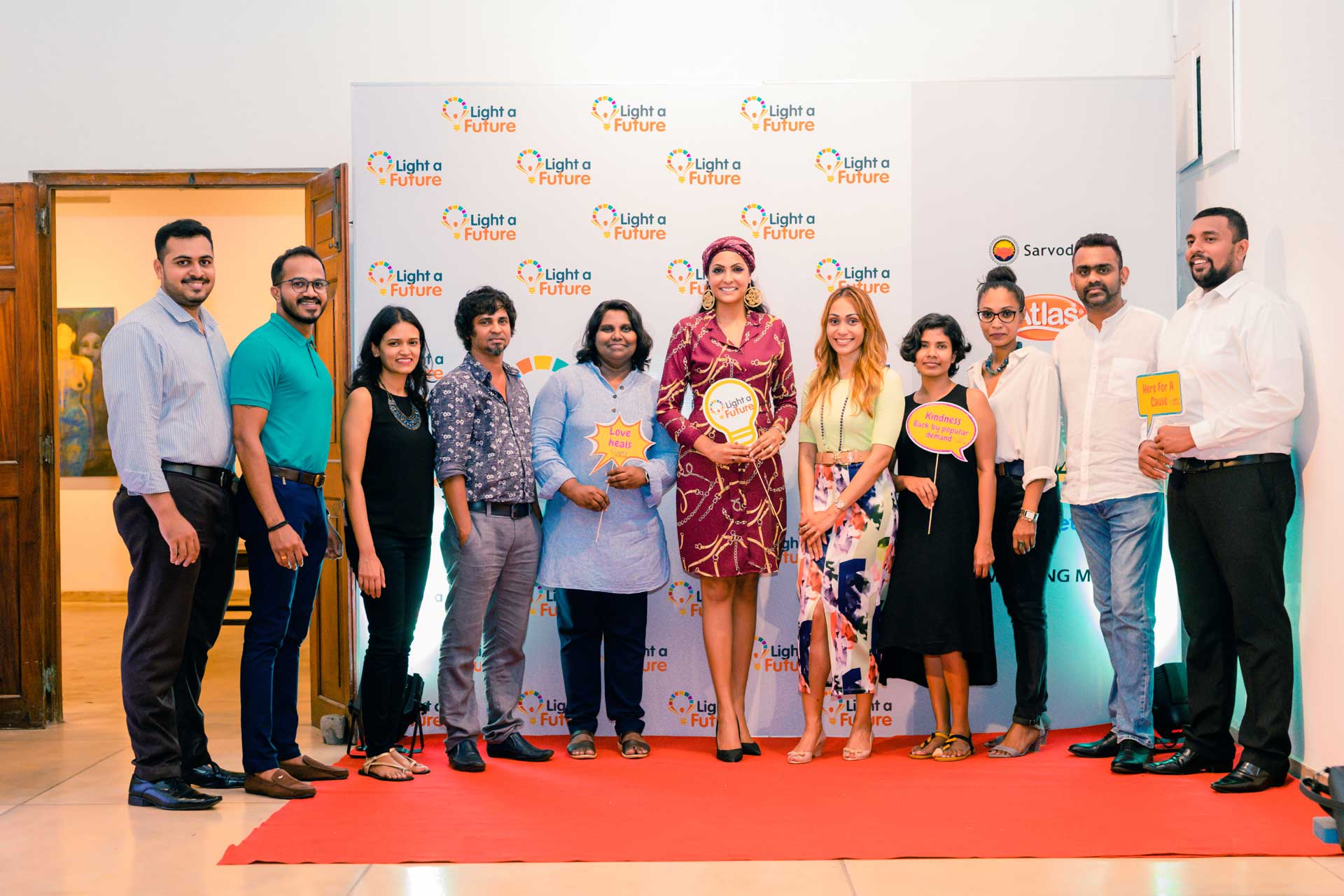 Light a Future volunteer team with Caroline Jurie, Prasadini Kumari and Prageeth Rathnayake