LIFE
Chandi Dharmaratne
In conversation with Ruwandi Perera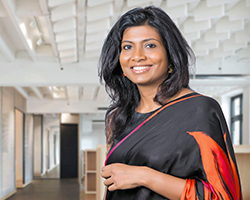 Could you describe a typical day at work? There's nothing called a 'typical day,' in a global IT organisation! Every day is an adventure, and it brings on a new challenge.
What was your childhood ambition? I've always enjoyed cooking and, at one point, wanted to be a chef. Teaching was another one of my passions.
Your alma mater is…? Visakha Vidyalaya
If you were not involved in this profession today, what would you be doing? I have a degree in Economics and an MBA. So if I was not in HR, I would probably have continued to work in marketing and research, or becomean entrepreneur.
Tell us a little about your family… I am married to Shankar, who is a very supportive husband and loving father to our children. Anitra, my elder daughter, is one of the most compassionate, intelligent and hardworking 10-year-olds I've come across. Shayah is a free-spirited little girl, who keeps us amused and on our toes!
My mother has always been my pillar of strength, and my late father was very generous of spirit. And my parents-in-law, Shankar's brothers, their wives and my nephews – are also part of my loving and supportive family.
What is the most outrageous or extreme thing you've ever done? Packing up and leaving Manhattan, in 2001 – having spent over a decade in the US – to return to Sri Lanka at the height of the war.
Your favourite memory is…? The day I was told that my first-born was a baby girl
If you had six months off work, what would you like to do? I have a fascination for Sri Lankan cuisine and its variations. If I had the time, I would amalgamate all of these recipes into a coffee-table book that turns age-old recipes into the urban kitchen.
How do you handle difficult situations, Chandi? By focussing on the outcome I desire, and ensuring that I take control of the situation, rather than becoming a victim of it.
What are your favourite places to visit in Sri Lanka? South Point Villa, Galle; Mirissa Hills, Mirissa; The Hill Club, Nuwara Eliya; Amaara Forest Hotel, Sigiriya; and Water Garden Sigiriya.
Your favourite overseas holiday destinations are…? Manhattan, New York; Oyster Bay, Long Island; Spain; and all the lovely places that I have visited in India.
What are your favourite brands? This depends on my mood, and the wallet. But I do insist that the design suits me, irrespective of the brand.
Where do you shop, most often? In Sri Lanka, L'Atelier Touché, Aashkii, Trunk, Charles & Keith and MANGO. But as a working mum, I do most of my shopping stuck behind a trolley, either at a Keells Super, Cargills Food City or Arpico Supercentre!
And how do you relax? By visiting the spa. I also enjoy spending time with, and cooking for, my family and close friends.
What are your hobbies? I have always been passionate about mentoring young undergraduates and professionals. I also enjoy playing tennis and cooking.
Could you tell us what's been your greatest sense of professional achievement, so far? Knowing that I have had a positive impact on at least one person
What don't you enjoy doing professionally, but must do because work demands it? I think the true sense of being a professional is in not shirking your duty for any personal qualms.
And what do you like most about your job? I love that my job challenges and takes me outside my comfort zone. This means that I'm constantly learning and exposing myself to new experiences.
Your all-time favourite movie is…? It used to be Cinema Paradiso; but thanks to my daughters, life now revolves around animated tales by Disney and Pixar.
What's on your reading list, these days? The Storyteller's Secret – by Carmine Gallo
Is there a song that moves or best describes you? Most songs by Rod Stewart, Roxette, Bruce Springsteen and U2!
Is there a phrase you use often? My father used to say this to me in Latin: 'floret qui laborat,' which means 'let the one who labours flourish.'
Your favourite colour is… and why? Turquoise – it truly signifies serenity and balance
What is your next goal in life? To pursue my dream of entrepreneurism
If you could change one thing about your life, what would it be – and why? I wouldn't want to change anything, since all 'bad experiences' and 'challenging times' have provided me with the courage and confidence to move on, and appreciate everything that I now have.
Describe yourself in one word… True
Could you tell us something that few people know about you? I love to sing, but I can barely manage Happy Birthday!
Chandi is the Senior Director – HR of VirtusaPolaris