LIFE
Harpo Gooneratne
In conversation with Ruwandi Perera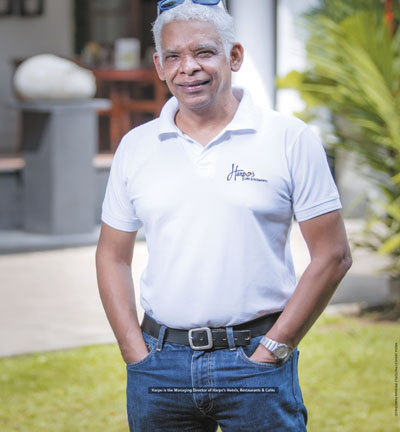 Your alma mater was…?
Thomas' College
Briefly describe your family…
My wife is a professional beautician and teacher. My daughter has completed her studies in hospitality and works with me. And we have our Labrador!
Who or what did you want to become when you were a child?
I always wanted to do something with people since I'm a people person. But having spent most of my school vacations on estates, I also wanted to be a planter because it seemed like a very cushy life!
What is the most outrageous thing you've ever done?
Personally, in college you do tons of outrageous things such as cutting classes and going to watch movies. I was almost never in school – and the warden once told my father to take me out of school or I'd be sacked.
Professionally, I am happy to be the first to have launched the 19-inch pizza – my staff thought I was mad. Then I went a step further and came up with a 22-inch pizza.
Could you describe a typical day at work?
My typical workday is filled with meeting people, visiting my restaurants and juggling various other matters. I'm in office at around 10 o'clock in the morning and clock in around 12-14 hours a day. I find the time to visit the gym at about 5 p.m. after which I return to do my rounds.
This has been my life since the 1980s when I was a DJ while studying at hotel school. The music and hospitality sectors don't have specific times, and I've always had late evenings.
Why food?
Why not? Everybody likes food!
Could you share your two favourite memories with us?
When I travelled to Israel with my family; and a Caribbean cruise on the MS Oasis of the Seas.
What was your most embarrassing moment?
Once, I was the pillion passenger when my friend and I were biking down from Nuwara Eliya.
We saw a bull crossing the road and my friend accidently hit it – bang in the stomach. I was thrown over the bull and landed on the pavement, right in the middle of the Ratnapura junction. The bull then began shitting on me!
If you have six months off work, what would you like to do?
I'd love to travel – spend time in wineries, see wildlife and simply enjoy myself.
How do you handle stress, Harpo?
I face stress; but I don't let it get to me because I tackle it.
What are your favourite places to visit in Sri Lanka?
Arugam Bay, Nuwara Eliya and the hill country.
And your favourite overseas holiday destinations are…?
Europe (in general), Switzerland (in particular), Canada, the US (in summer) and Bali.
What are your favourite brands?
Zara and Hugo Boss
Where do you spend most of your free time?
At home watching TV, reading and hanging out with my family. I also enjoy hitting the gym and going for a walk.
Where is your 'happy place'?
My bed
What gave you the greatest sense of professional achievement?
When I opened my first stand-alone pizza parlour, which was a first for local pizza brands. I also recently launched an online pizza ordering platform – another first.
Setting up a special entertainment venue at the Hilton Beijing when I was in China is another achievement of which I am proud.
What don't you enjoy doing professionally but must do because work demands it?
Honestly, nothing. I like what I do and I do it with passion.
And what do you love the most about your job?
I love meeting people and innovating.
Your all-time favourite movie is…?
One Flew Over the Cuckoo's Nest
What is your favourite dish and drink?
Fresh aglio e olio pasta and red wine
Who are your role models?
People like the late Gabo Peiris and Gamini Fernando had a significant influence on my life – I learnt a lot from them.
Today, I look up to people like Sir Richard Branson – he was once selling records but see where he's now. He is a great innovator and people person. And he's a great believer that his staff are the people who have made him what he is today.
What is your next goal in life?
Building a small chill-out pad in Arugam Bay.
Harpo, if you could change one thing about your life, what would it be and why?
I wouldn't want to change anything in my life… because I'm happy.
Are you a spiritual person?
My personality probably doesn't portray it; but yes I'm spiritual. I believe in God – and I give thanks for what I have.
Your motto in life is…?
'Never a dull moment.'
Describe yourself in one word…
Friendly
Could you tell us something that few people know about you?
I'm a shy person. I make friends but don't like to be in people's faces.
Harpo is the Managing Director of Harpo's Hotels, Restaurants & Cafes