HONG KONG IN 48 HOURS
Ruwandi Perera knows how to take in the sights and sounds of  this harbour city in two days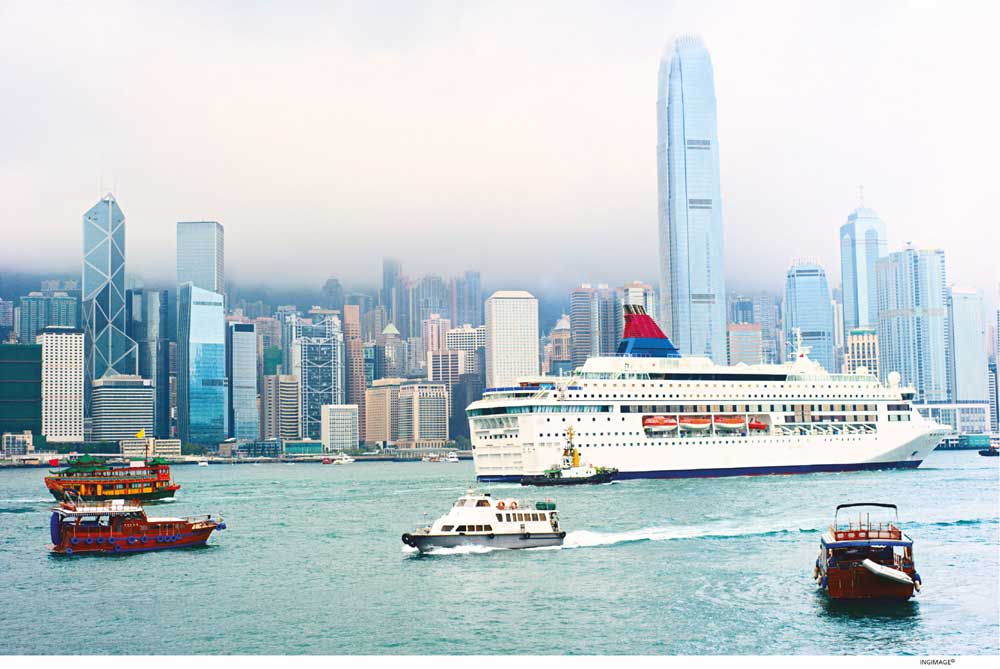 Busy. Bustling. Brilliant. Hong Kong is one of the hottest destinations in the world. It's an active business hub with so many things to do, see and eat, all conveniently located within a land area of 2,754 square kilometres. Whether you decide to fly to this city by air or take a train from Beijing, Shanghai or Guangzhou, spending 48 hours in Hong Kong is a 'must do' for anyone travelling to the region.
To enjoy every minute you spend in Hong Kong, begin your exploration on a high and early note. Get out of bed by 3 a.m. and start a hike to Tai Mo Shan, Hong Kong's highest peak. Soak in the morning light as it spreads through the city carpeting the many skyscrapers; then descend to Chuen Lung village to tuck into a delicious local dim sum breakfast.
Not that keen on walking for up to six hours? There is an easier way to take in the views of Hong Kong. Hop onto the Ngong Ping cable car and enjoy the panoramic views of Ngong Ping Village as well as the seated Big Buddha, a massive bronze statue at Po Lin Monastery. Afterwards, you can even take a boat ride through the Tai O Fishing Village to gaze at the stilt houses and water alleys before sitting down to a seafood breakfast.
For more of a cultural tour of Hong Kong, spend some time at Yau Ma Tei in Kowloon. If you're lucky, you might make it in time for a Cantonese opera or even a movie.
Getting around Hong Kong is best done with the city's Mass Transit Railway unless you prefer to bike it. With everything located in such close proximity, walking is also an option but it might take more time than you bargain for.
Once you've been sightseeing, it's time to get serious about shopping. Head over to the Ocean Terminal located smack in the middle of Canton Road at Tsim Sha Tsui in Kowloon, where you can view many attractions such as the Star Ferry, Clock Tower, Hong Kong Space Museum and Avenue of Stars. This shopping complex also overlooks the harbour where you can gawk at luxury cruise liners such as the Princess, Regent Seven Seas, Royal Caribbean and Cunard lines.
For a thriftier shopping experience visit Mong Kok – which is also known as the Ladies' Market – to shop for clothes, trinkets, footwear and everyday items. One of Hong Kong's hottest night markets, Mong Kok has many dai pai dong (street stalls) on offer. So while brushing up on your bargaining skills, tantalise those tastebuds with some noodle soup, fish balls, yum cha and maybe even some jerky… then down it all with a hot cup of Hong Kong style milk tea.
Foodies can also look for Ichiran Ramen in Causeway Bay, which serves some of the best ramen in the world. A food tour wouldn't be complete without some tender juicy roasted Hong Kong goose with crispy skin.
It might be tempting to ride The Abyss at Ocean Park in the Southern District of Hong Kong or take a tour of Tarzan's Treehouse at Hong Kong Disneyland but this will require a full day. While it isn't filled with the joyous cries of Mickey Mouse and Donald Duck, there's animal activity to spot at Hong Kong Wetland Park in Yuen Long. This large park is ideal for birdwatching so take your binoculars and camera along.
Rich in culture, teeming with activity, as well as abundant shopping and food options, Hong Kong really is a city that's got it all.