FLAG CAREER TO REINFORCE PRESENCE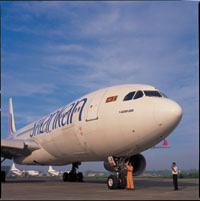 SriLankan Airlines is set to gain further impetus in the Middle East amid growth in the island's tourist figures. The airline is hoping to make fresh forays into the Middle Eastern region, which is one of Sri Lanka's most significant source markets.
The national career believes it is uniquely positioned to serve as a seamless connector between the Middle East, India, the Far East and Southeast Asia, capitalising on Sri Lanka's strategic location.
It operates daily flights to Dubai, Abu Dhabi, Doha, Riyadh, Muscat, Bahrain and Kuwait, and is also looking at increasing connectivity to other parts of the Gulf, depending on demand.