DIVI MAGA DINANA MAGA
"Divi Maga Dinana Maga"- Sinhala translation of "Who Moved My Cheese" Debuts Today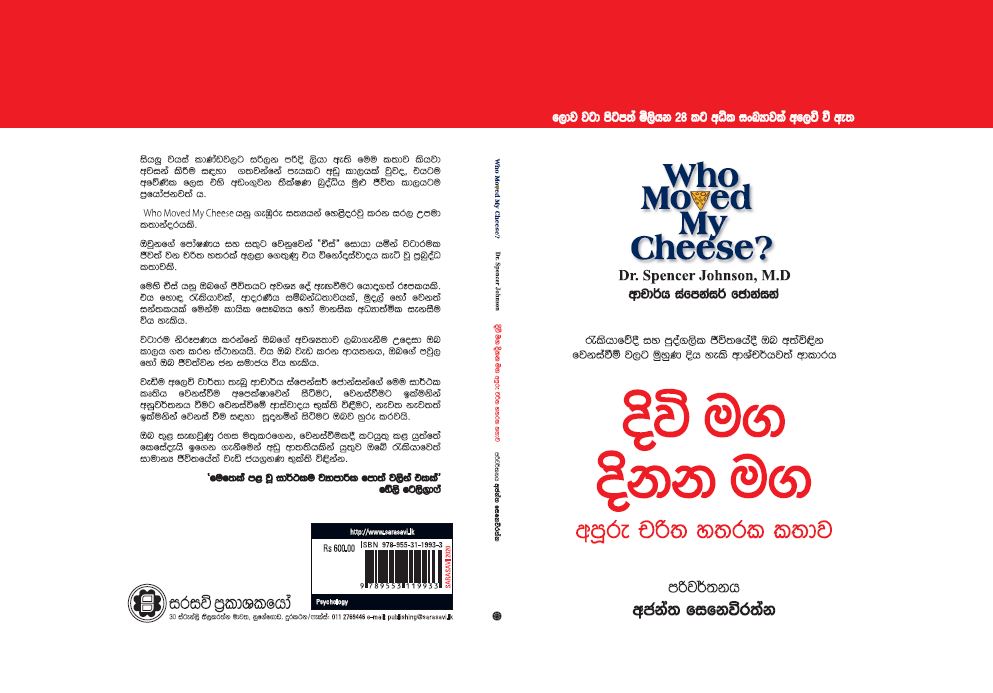 Change is inevitable. All what you can do is to face the change. "Who moved My Cheese", one of the most successful business books ever by Dr. Spencer Johnson with over 28 million copies sold worldwide is a great guide given to manage the change in all circumstances of life.
"Divi Maga Dinana Maga" is the Sinhala translation of "Who Moved My Cheese "compiled by Mr. Ajantha Seneviratne – Author, famous Poet and an Engineer. The new release of "Divi Maga Dinana Maga" has been published by Sarasavi Publications and released to market for all enthusiasts in challenging the change. A revolutionary book translated to 42 languages worldwide sees light in Sri Lanka with its very own perceptive translation. A special insightful discussion will be held today at the Sri Lanka Foundation Institute to discuss the different paradigms of change in life and to face them positively, at the launch of "Divi Maga Dinana Maga" by the Guest speakers, Mr. Dilith Jayaweera – Attorney-at law and Dr. Anuruddha Padeniya.
"Divi Maga Dinana Maga" by Mr. Ajantha Seneviratne, intends to help fulfill the gaps of individuals and nurture them with strategies to adapt to change successfully.