DIMO
DIMO takes a step forward in cultivating gender diversity
Diesel & Motor Engineering PLC (DIMO) took a step forward in enhancing gender diversity within the organization by launching the DIMO Women's Network; a collaborative Employee Resource Group for female employees of the organization. The network was launchedrecently under the patronage of Ranjith Pandithage Chairman & Managing Director – DIMO.
The DIMO Women's Network is an extension of DIMO's commitment to increase gender diversity. The primary objective of the network will be to provide mentorship and professional guidance for female employees to achieve their career aspirations. In addition, the network will focus on providing assistance to handle workplace issues such as harassment or discrimination and collaborate on resolving business issues with gender smart solutions.
At the launch of the event, Dilrukshi Kurukulasuriya Chief Human Resource Officer – DIMO mentioned that, "Being in industries that are traditionally male dominated DIMO's male to female ratio has always been in the range of 9% -10%. However, we realize that our customer base includes a cross section of Sri Lankan society and there is a large female talent pool in the market that we have not tapped in to yet. Therefore, few years ago we actively began to increase gender diversity within the organization and promote an inclusive work culture for all."
Since it's challenging to attract and retain women for non-conventional jobs such as automobile technicians and other technical jobs, DIMO initiated a program to recruit two special batches of female students after G.C.E. O/L to be educated in automobile technology for 18 months. This program provided the recruits with internationally acclaimed employment opportunities. The company also provided an allowance as encouragement for them to continue the program. Today the students graduated from the program work in several unconventional areas such as automobile spare parts sales, as auto technicians and as service advisors within DIMO and outside, encoring and setting an example for women in Sri Lanka to go beyond stereo types and win their lives.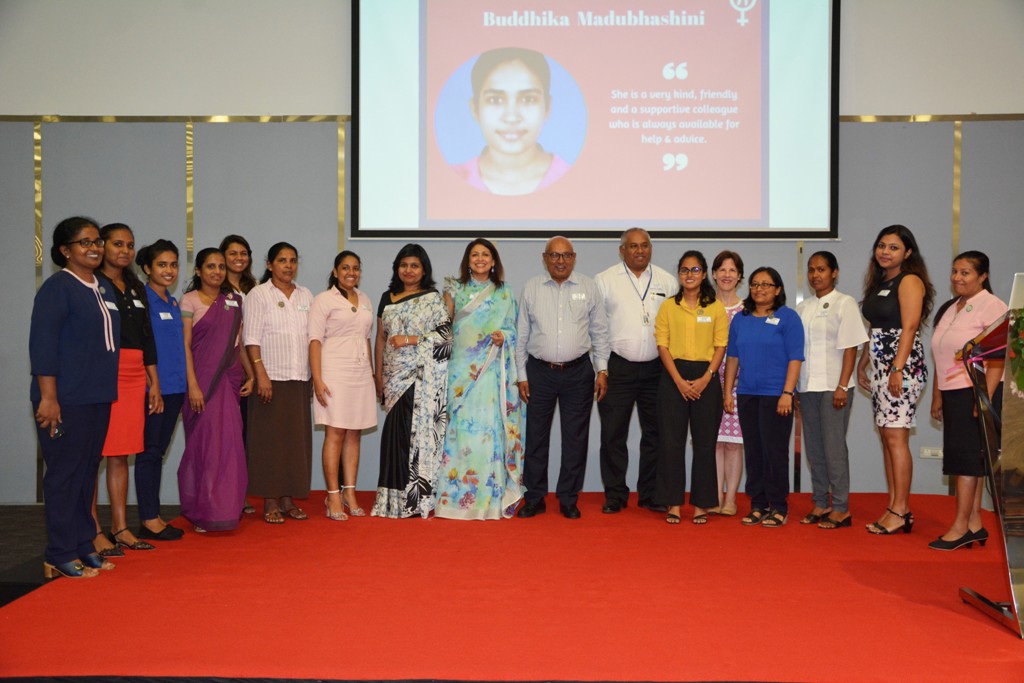 DIMOalso recently amended their Parental leave policy, increasing the quota of maternity leave for mothers and introduces paternity leave for fathers to promote healthy work-life balance and encourage mutual responsibility of bringing up a child.
Another initiative to support the female employees was to appoint three senior female managers to the Career Ambassadors pool to mentor staff members on achieving careers aspirations. Through such employee development efforts DIMO has succeeded in increasing the number of women in its leadership talent pools from 13% in 2016 to 36% in 2018.
Gahanath Pandithage – Group CEO, Suresh Gooneratne – Executive Director, Asanga Ranasinghe – Executive Director/CMO and Samantha Gunawardena – General Manager – Building Technologies Department, who represent the senior leadership team of the organization will be the sponsors of the Women's Network and the Executive Committee will consist of sixteen male and female employees who have pledge their support to create a gender smart organization.
DIMO is one of the 18 Sri Lankan organizations who are members of 'SheWorks' Sri Lanka Private Sector Partnership, which is part of the Women in Work Program of the IFC. Representing the 'SheWorks' and IFC,. Carmen Niethammer – Women in Work Program Manager and AarthyArunasalam – Women in Work Employment Lead, also attended at the event. DIMO and SheWorks are working together to implement a variety of employer-supported strategies, approaches and policies to boost women's participation within the organization.
Another highlight of the event was the recognition of DIMO Wonder Women. On Women's day 2018, DIMO tribe members nominated twenty female role models within DIMO. These Wonder Women were felicitated at the event and their life stories were shared with the entire organization in orderto inspire more ladies.
As a corporate who leads with practical approaches, DIMO shares how they have identified Diversity should be strategically aligned with business goals.Through all these initiatives, DIMO aspires to set an example to every organization in Sri Lanka to create an environment that offers women better opportunities; enabling them to train and sharpen their skills for better-paying roles, reshaping social norms and attitudesand supporting work–life balance. More such initiatives from DIMO will be set forth in the future to achieve sustainable Gender Diversity and higher productivity.