DEMONETISATION
AN IMPOSSIBLE DREAM?
Zulfath Saheed critiques India's currency demonetisation initiative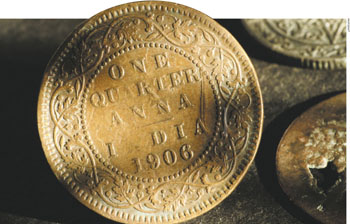 The idea of a cashless society whereby there's a hypothetical move by society to do away with cash for financial transactions in favour of other means of exchange has been mooted by some quarters, particularly in the wake of Prime Minister Narendra Modi's efforts to demonetise certain denominations of the Indian Rupee.
Indeed cashless societies have existed in the past such as those based on barter transactions. And cashless transactions have also been made possible by the use of virtual or digital currencies like bitcoin.
But questions have been raised regarding India's hopes of shifting to a cashless society given the argument that it would be an 'impossible dream' for a nation in which many citizens do not even have access to a bank and where the majority of workers in the informal sector are remunerated in cash.

DEMONETISATION DRIVE On 8 November last year, the Government of India announced the demonetisation of 500 and 1,000-rupee banknotes with effect from midnight on the same day, making these notes invalid with the stated aim of checking undeclared black money.
In addition to combating black money, the purpose of the demonetisation drive involved checking fake currency that often finances terrorism and corruption.
Accordingly, a newly designed series of 500-rupee banknotes as well as a new denomination of the Rs. 2,000 banknote have been in circulation in India since 10 November. The redesigned series was also expected to be introduced for the banknote denominations of 1,000, 100 and 50 rupees.
EARLY INDICATIONS Following the demonetisation, banks and ATMs across India faced severe cash shortages that are reported to have had an adverse impact on the nation's agriculture sector, transportation and many small businesses. Meanwhile, people looking to exchange currency notes faced lengthy queues with even a number of deaths being blamed on the rush to exchange cash.
Moreover, following the Indian PM's announcement, both the BSE SENSEX and NIFTY 50 stock indices slumped for two consecutive days.
While the demonetisation garnered support from some bankers and international commentators, the move was condemned by Indian opposition party members. This led to debates in both houses of parliament, and prompted protests against the incumbent administration at the gates of the parliament and other locations across the country.
COPING MECHANISMS Not many rural dwellers in India have credit or debit cards nor are they able to make digital payments. As a result, they're resorting to age-old practices when it comes to cashless payments.
In response to the sudden scarcity of paper currency that is being experienced in many parts of India, rice has become a popular medium of exchange. Essentially, a bartering system has emerged with rice being traded for the likes of lentils, potatoes, cooking oil, salt and even clothing.
MOBILE PAYMENTS On the other hand, the cash crisis has represented a silver lining for the mobile payments space in India. Businesses  both large and small are turning to the digital economy to avoid incurring substantial losses. The Indian government is also supporting such moves in the hope of creating a cashless economy.
During his monthly radio address to the nation, Modi reportedly asserted that "once we embark on our journey to create a 'less-cash society,' the goal of a 'cashless society' will not remain very far."
Last year, the Government of India also launched a mobile payment system – the Unified Payment Interface (UPI) – that allows users to link their mobile phones to bank accounts through a unique identification.
SECURITY CONCERNS The lack of cybersecurity is cited as a major concern in the shift to mobile payments given the possibility of credit-card skimming at ATMs, as well as by product and service providers.
Moreover, India does not have adequate regulations to safeguard consumers in the event they lose funds through online transactions while it could potentially take months to recuperate this money from banks. So safety and connectivity are key factors that warrant consideration.
LOCAL EXPERIENCE Across the Palk Strait in Sri Lanka, there's been some apprehension about travelling to and facing currency issues in India following the recent demonetisation drive.
It is worth noting that Sri Lanka also dabbled in demonetisation 40-odd years ago when it declared the 50 and 100-rupee notes to be invalid. The minister of finance at the time N. M. Perera initiated the move in a bid to address the large quantity of currency notes that remained outside the country's banking system.
But unlike the recent Indian experience, it was reported that ordinary citizens in Sri Lanka responded positively to the demonetisation efforts of the 1970s with only the wealthy who hoarded funds facing issues.