CLASSIC PRANKS
Have a Little Fun Online
Ruwandi Perera browses the internet archives for April Fools' day pranks
It's the one day of the year when fooling around is tolerated, allowed (to an extent) and even anticipated. Believed to have originated in the Middle Ages, playing jokes on one another has been a long-run tradition on the first day of April.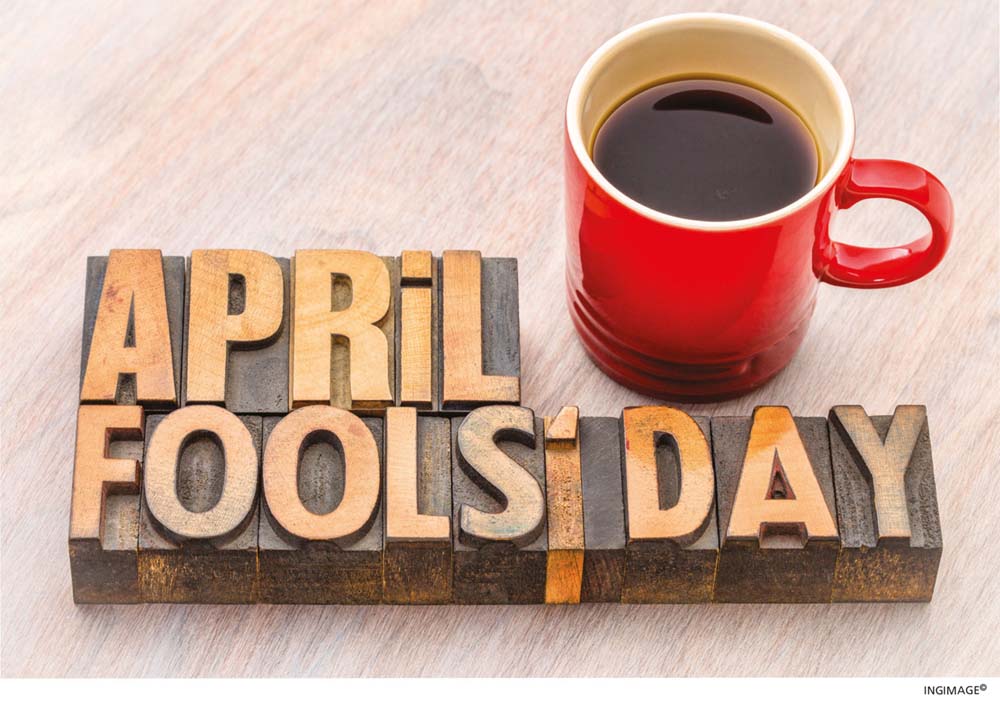 Today, where everything is digitised and people post all sorts of content online, pulling off practical jokes can be very impractical especially since some folks believe anything they see online.
All jokes aside, it's quite a trip down memory lane to see how pranks have progressed (or not) through the years.
Advancement in communications has always inspired creativity when it comes to April Fools' day. On 1 April 1905, a German newspaper called the Berliner Tageblatt reported that the US Federal Treasury in Washington D.C. had been robbed.
Taking things to the airwaves in 1992, the US' National Public Radio broadcasted on its Talk of the Nation programme that President Richard Nixon was running for office again. This announcement caused quite an uproar among listeners until the truth was revealed.
And on the TV front, even the BBC jumped on the bandwagon with its famous 'spaghetti harvest' story on 1 April 1957. The channel aired a video segment where women in the Swiss canton of Ticino were picking strands of spaghetti off trees and claimed that it
was because of an "exceptionally heavy spaghetti crop."
With the internet becoming everyone's go-to source of information, many brands took things up several notches as they reached wider audiences like never before. For instance, on 31 March 2009, The Guardian reported that it was switching all content releases to Twitter completely "after 188 years of ink," mentioning in the subheading that the newspaper would only be available on the messaging service.
National Geographic played a cute prank in 2016 by tweeting that it would "no longer degrade animals by showing photos of them without clothes" and posted pictures of cutely dressed up puppies and kittens.
And in 2012, YouTube released a video claiming that it was publishing all its content on DVD and asking people to place their orders for their own set of YouTube videos in physical form.
Perhaps one of the most prank loving men of our time is Sir Richard Branson and he has several headline making jokes to his credit. In 1989, he took off in a hot-air balloon that had been made to look like a UFO and landed in a field in Surrey on 31 March, successfully spooking scores of Londoners.
In 2014, Nest Labs cofounder Tony Fadell and Branson released a 1.31 minute video, which announced the introduction of total temperature control onboard Virgin America. It would allow passengers to control individual seat temperature with a Nest thermostat.
We are more or less programmed to believe Google as a deliverer of truth and facts, most of the time. So when the search engine starts pulling pranks on its users, it always manages to take the world by storm – at least for a few hours on April Fools' day.
In 2004, Google posted job opportunities at Copernicus, a research facility on the moon; and the following year, it announced the launch of Google Gulp – a beverage that optimises a drinker's intelligence by adjusting the brain's neurotransmitters.
It seems the search engine likes to mix up its fake launches with actual product releases to amp up the hype. In 2004, Google announced the launch of Gmail, which came with 1GB space. It was an email service that was simply too good to be true… or so thought many internet surfers – until the double fake was revealed by Google later on.
However, even Google has taken jokes too far and confessed to having done so later. For April Fools' day 2016, it launched a feature called mic drop on Gmail, which allowed users to insert a GIF of a minion dropping a mic at the end of an email. Little did users know that the joke behind the minion was that after using mic drop, the entire email chain would be disabled and the conversation would end.
While some considered it funny, many were angry at having important mail threads disabled – especially since the send and mic drop buttons were next to each other, confusing several unsuspecting users.
The web is a truly amazing space that's filled with facts, myths, ruses, fake news, hoaxes and misleading information. Pulling off an impressive prank is equally easy and challenging at the same time; it makes everyday a probable fools' day.
And the best way to survive is to take everything with a pinch of salt, or else the joke's on you!