CORPORATE BANKING SECTOR

Aruni Goonetilleke
RISK OF LOSING WALLET SHARE
Why banks must offer world-class quality to be competitive on a global scale
The corporate banking sector today
Highly competitive with the constant risk of losing wallet share. State banks have a critical role to play in the national development agenda with clients comprising public and private entities.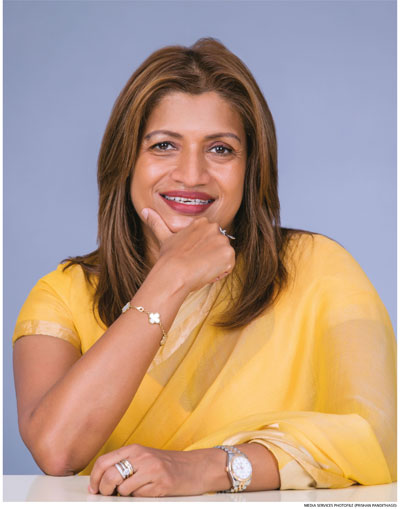 This means
We must relentlessly connect with clients to find new revenue streams and support the ecosystem – i.e. the entire supply chain.
Barrier to sector growth in Sri Lanka
The lack of a simplified and efficient legal system, to enforce contracts and recover debt; and the lack of risk based pricing.
Another key challenge
Underdeveloped capital markets, resulting in higher risks to local banks because of a lack of refinancing and alternative methods of financing.
The future of the local corporate banking sector
It plays a pivotal role in the country's development and a social role in financing all segments – in collaboration with foreign investors, multilateral agencies and credit insurance providers.
Strengths of Sri Lanka's corporate banking sector
It remains well capitalised with healthy liquidity levels. The return on equity is in the high teens – therefore, it's still attractive.
Weaknesses of the corporate banking sector
Asset quality deterioration has been exacerbated by the Easter Sunday attacks and political uncertainty.
Impact of economic uncertainty
The distressed economy results in high impairment charges – this means lower profitability and a price war for good assets.
Opportunities in the local corporate banking sector
SME lending – banks must step up risk assessment and monitoring instead of relying on fixed asset collateral.
Main threats to the corporate banking sector
Continuously expanding balance sheets for lending will be challenging with regulatory requirements and lower returns.
How to address this
We must continue seeking value added and fee generating income.
Three new prospective customer segments
Local companies expanding abroad; housing and apartment loans especially for the growing middle class; and high-tech millennials and young entrepreneurs.
The local market in a nutshell
Despite political uncertainty and the blow to the market in April, there is low unemployment, higher incomes and people have better lives.

Market opportunities
There are opportunities for growth if manoeuvred creatively and prudently, because the market is undeveloped and volatile. State banks play a vital role in economic development and inclusive financing.
The global market in a nutshell
Changing rapidly with disruptive technologies emerging in every sector. We must improve to stay in the game as there are significant growth opportunities.
Evolving consumer trends or behaviours
Instant gratification, a lack of brand loyalty, the need to protect the planet's future and contribute to society, and the desire to bank anywhere at any time.
Productivity is affecting industrial and economic growth
Yes – productivity must improve, and Sri Lanka has more to do to compete on quality, delivery timelines and price in the global market.
Corruption is affecting industrial and economic growth
Yes. Economic growth is largely impacted by crippling bureaucracy, corruption, and a lack of transparency and rule of law. 
The future of the global corporate banking sector
The sector will remain the largest source of debt funding for companies but it is changing rapidly. It must reinvent itself to keep pace with disruptors. Agility is a key. 
Competition drives innovation
Yes – competition requires a forward-looking mindset, constant reinvention and innovation. 
Sri Lanka's competitiveness
We have some way to go to achieve world-class service, quality, infrastructure, an efficient legal system and a master plan that is followed to fulfil the long-term vision. 
The corporate banking sector in five years' time
It will continue providing companies with debt and working capital financing, thereby supporting economic growth. 
This will look like
Advanced transaction banking and cash management solutions, which will help companies manage cash flows efficiently and reduce transaction costs. 
Mantra for success
Compare yourself to the best and acknowledge that it will never happen without hard work. Surround yourself with people who are better than you.
Aruni is the Head of Corporate Banking of People's Bank
– Compiled by Lourdes Abeyeratne