AMERICAN CHAMBER OF COMMERCE IN SRI LANKA
AMCHAM HOLDS ROUNDTABLE DISCUSSION WITH U.S. DEPT OF COMMERCE'S ASIA HEAD
The American Chamber of Commerce in Sri Lanka held a closed-door roundtable discussion this morning with Mr. James Golsen, Asia Executive Director, US Department of Commerce and its members.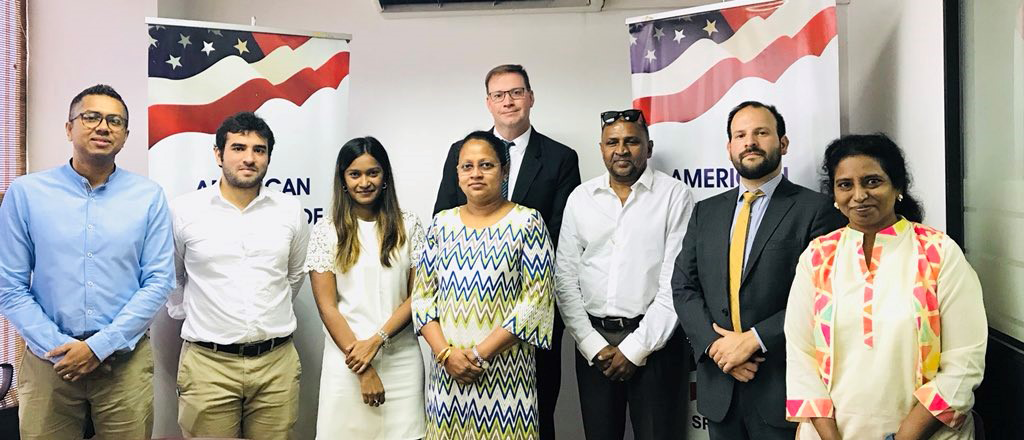 Mr. Golsen's visit to Sri Lanka comes at an opportune time with U.S. trade policy being at the forefront of topical issues. The discussion covered issues such as trade tariffs and remedies, e-commerce, issues facing US companies in Sri Lanka and the current trade/investment climate in the country. In his current post, Mr. Golsen oversees the Commerce Department's operations in 14 Asian posts and manages three Asia-focused policy offices in Washington, DC.
Founded in 1992, the American Chamber of Commerce (AmCham) Sri Lanka celebrates over 25 years of bringing together US companies as well as local companies doing business with the US. AmCham is seen as one of the most dynamic and influential business chambers in the country, promoting activities that would encourage and stimulate investment by US companies, supporting the ongoing business operations of its members and encouraging bilateral trade between the US and Sri Lanka.