VISION CARE
Vision Care Academy celebrates Optometry Day with knowledge sharing sessions and student awards 
03rd July 2019 Colombo: Resolute in its mission to deliver enhanced eye care outcomes to people in Sri Lanka, the pioneering eye care company, Vision Care, successfully concluded its 10th Optometry Day and Annual Scientific Session on the 9th of June 2019, at Galle Face Hotel. The event was organized by the Vision Care Academy, under the theme 'For a Vision with clarity'. In keeping with its sustainable approach to business, Vision Care leverages on such occasions to promote eye care amongst the general public and share best practices in collaboration with eye care experts, so that people may benefit from top quality eye care. The sessions provided the ideal platform for the nation's leading optometrists to discuss and debate the latest scientific advances in Biometry and Ocular Diagnostic, Refraction and Low Vision and Vision Therapy, Contact Lenses and Dispensing, and Hearing Care. This conference was an opportune occasion to gain knowledge about eye care and to feature the creative and artistic talent of students of the Vision Care Academy.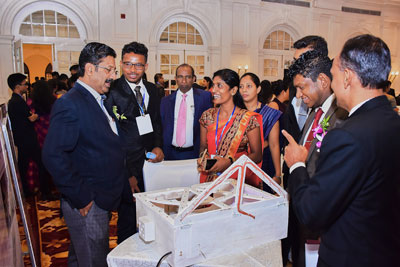 Commenting on the event, Dr. Madhuwanthi Dissanayake, Consultant Eye Surgeon, Special advisor to the Vision Care Academy and Senior Lecturer at the University of Colombo said, "For years, the students and staff of Vision Care Academy have put together a great effort to be the pioneering institution in optometry and visual science education on par with international standards. This academic forum offers an excellent opportunity for research, exchange of views and sharing of information in the field of optometry and visual science." The welcome speech was delivered by Mr. Vidya Jayarathna (Head of Vision Care Academy) while the Guest of Honour was Ms. Rowena McNamara (Head Orthoptist, Imperial College London.)
The keynote speakers at the event included Dr. (Mrs) Maduwanthi Dissanayake, Dr Chameera Bandara, Mr. Shajan Adolph, and Dr. Devanand Jha. The Special Invitees on the occasion were Dr Clifford Parker and Dr Upali Mendis. The luminaries presented awards to the winners and to the students of the Vision Care Academy, which was started by Vision Care Optical Services Pvt Ltd in 2008. The winners of the 10th Optometry Day and scientific session 2019 are Ms. Piyumi Liyanarachchi, Mrs. Isuri Peiris, Mrs. Aloka Prematilake, Mr. Nimantha Viduranga, Mrs. Charika Wijesesna, Ms. Lashani Kaushalya, Ms. Anusha Manel, Mr. Suresh Sulaxan, Mrs. Sai Sumithra Baanushan, Ms. P.G.S Madushani and Mr. Kavipriya Ramesh. The judging panel consisted of Dr. Saminda Paranahewa, Dr. Rohith Jayawardena, Dr Lahiru P Hettige, Dr. Devanand Jha and Mr. Shajan Adolph.
Set up in 2008, the Vision Care Academy provides in-house training for the staff of Vision Care and offers qualifications such as Diploma in Optometry, Certificate for Ophthalmic Assistants, Certificate in Dispensing Optics and Certificate in Audiometry. Winners get the opportunity to participate in international conferences. The Vision Care Academy is training a new generation of eye care specialists who will go on to make a big impact in the eye care industry while carving out a brighter future for themselves.