THE COST OF LIVING
ANY RESPITE IS GOOD NEWS!
The cost of living index edges down following last month's all-time high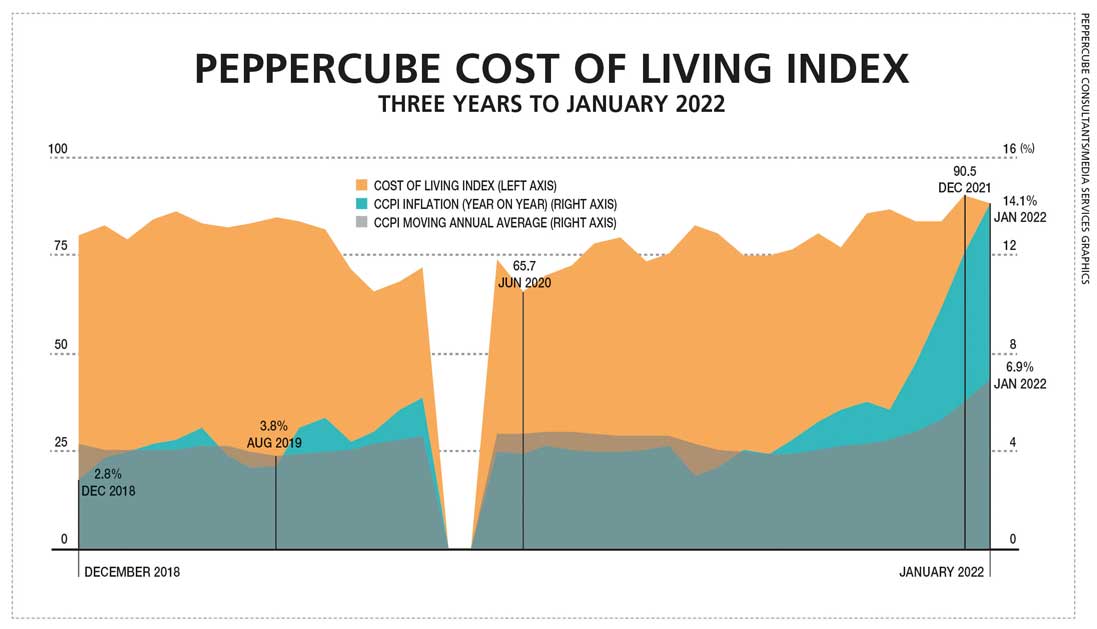 When the barometer of the cost of living vis-à-vis the household burden jumped to an all-time high in December, the signs were ominous – and in many ways they still are, except for a little respite in that the one of a kind PepperCube Cost of Living Index (CLI) nudged down from 90.5 to 88.3 points in January.
However, the CLI is still the second highest on record (i.e. since the unique index was launched back in the third quarter of 2011), which isn't surprising given the state of play on the ground.
Meanwhile, the Colombo Consumer Price Index (CCPI) shot up from 12.1 percent to 14.2 percent year on year in January.
Of survey participants consulted by PepperCube in January, 94 percent (down from 97% in December) say the cost of living of their families has increased moderately or otherwise over the last 12 months. As far as the cost of living in the next 12 months is concerned, slightly over 90% (91% to be precise) of those polled say they expect an escalation of their household expenditure, which is only marginally less than the 93 percent that said so in the previous month.
So what do the people say about the likelihood of hardships ahead – in terms of their capacity to purchase non-food goods and services, by considering their cost of living, economic status and ability to save in the coming 12 months?
The outcome is more or less the same as when they were asked a month ago with 76 percent (vs. 77%) stating that they will 'not have a chance at all' or 'not have a chance.'
FOOTNOTE An index based on a monthly survey, the CLI aims to measure and understand perceptions regarding the cost of living as opposed to reported or official inflation.
– LMD