BREITLING
THE STORY OF THE BREITLING SQUAD CONTINUES THE TRIATHLON SQUAD WITH JAN FRODENO, CHRIS "MACCA" MCCORMACK, AND DANIELA RYF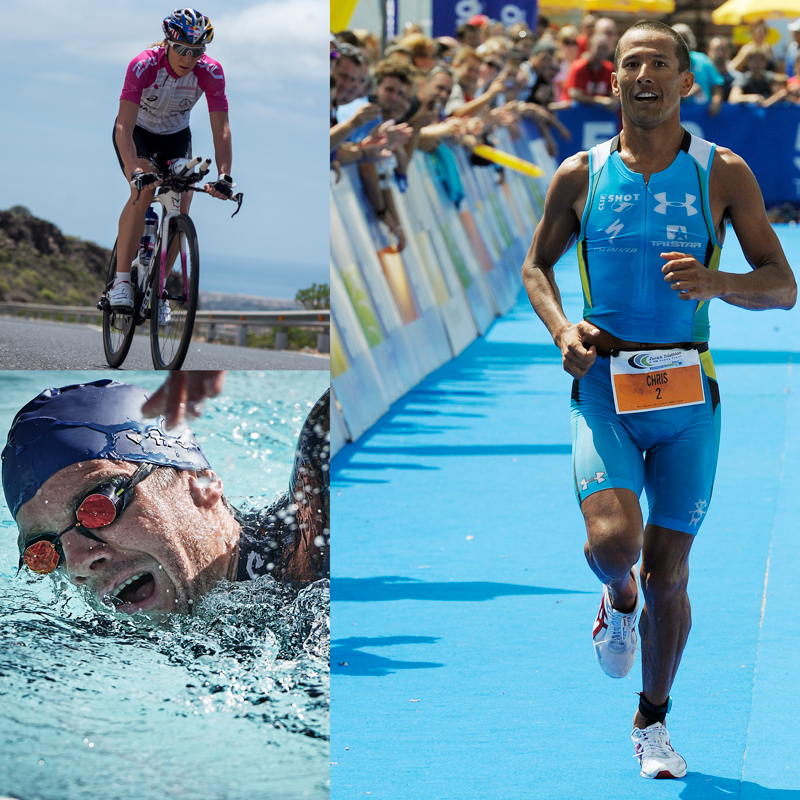 Breitling is excited to introduce three outstanding athletes who together make up its Triathlon Squad. With its new squad concept, the brand has created three-person groups (the squads) whose members are all recognized masters in their respective professions. These three triathletes are certainly worthy of that dis- tinction, and as they have an extraordinary range of talents and deliver incredible performances in a number of disciplines, Breitling identifies with them completely.
The recently introduced Breitling squad concept is based on an imaginative idea: each group (or squad) includes three individuals who have reached the pin- nacles of their professions. As part of a squad, they will be challenged to work together with their colleagues on specially selected endeavors. Rooted in the dynam- ic values of Breitling – action, purpose, and pioneering spirit – the concept focuses on the bond created be- tween people brought together by a shared endeavor and common goal. Breitling has already introduced its Cinema Squad, featuring Brad Pitt, Charlize Theron, Adam Driver, and Daniel Wu, and its Explorers and Surfers Squads. The members of the new Triathlon Squad each add their own unique character and strengths to this ongoing story.
Breitling CEO Georges Kern points out that the squad concept is a perfect fit for the brand, saying: "At Breitling, we believe in the power of a team, the strength of a group, and the mutual identification of a common tar- get, which ultimately leads to success. We've already had the pleasure of introducing some elite squads from the worlds of acting, exploration, and surfing, and I'm particularly excited about the Triathlon Squad. We have already chosen an amazing mission for them and they'll have the chance to do well while doing good."
The Breitling Triathlon Squad
Today, we are pleased to unveil the Breitling Triath- lon Squad and its accomplished members. They have claimed more than a dozen world championships among them in triathlon and Ironman events, and one of them was an Olympic gold medalist. These top ath- letes have set benchmarks in their fields, which makes them a perfect match for Breitling.
Triathletes are among the most remarkable of all ath- letes: at the highest level, they have to be able to deliver world-class performances, not only in a single disci- pline but as swimmers, cyclists, and runners. The mem- bers of the Breitling Triathlon Squad have distinguished themselves both in short- and long-distance triathlons, including the grueling Ironman events. These three superb athletes have proven that they are masters of multiple disciplines, and now, with a specially selected challenge, they will have a chance to show what they can accomplish when they work together.
In fact, their first mission together has already been decided: they will participate in the Coronation Double Century, an endurance road cycling event in Swellen- dam, South Africa, at the end of November 2018. There, along with Breitling CEO Georges Kern and about 30 other Breitling cyclists, they will be raising money for a good cause.
Jan Frodeno
German triathlete Jan Frodeno is one of the sport's greatest stars. He claimed the gold medal at the 2008 Olympic Games in Beijing and won back-to-back Iron- man World Championships in 2015 and 2016. He was the first triathlete – male or female – to win both the Olympic triathlon gold medal and the Ironman World Championship title. Jan set the world record for the long distance in July 2016 with a time of 7:35:39. Some- thing to think about: after swimming almost four kilo- meters and riding a bicycle for 180 kilometers at an average speed of almost 44 km/h, Jan ran a full mar- athon in 2:39:18!
Chris "Macca" McCormack
Chris McCormack is an Australian triathlete who has distinguished himself with two Ironman World Cham- pionship titles (2007 and 2010) and wins in the Inter- national Triathlon Union (ITU) World Cup Series, Olym- pic Distance World Championships, and Long Distance Triathlon World Championships. "Macca" competed in his first triathlon while at college, and won two Aus- tralian Junior Triathlon titles. He started competing internationally in 1996, and, at the end of his first year as a professional, was ranked among the top ten in the world. The following year, he was ranked number one, a position he held for a total of more than 26 months. In 2002, he switched his focus to Ironman competitions and became one of the sport's greatest champions.
Daniela Ryf
Daniela Ryf is one of the world's most successful and celebrated triathletes, having won the Ironman World Championship in 2015, 2016, and 2017, and the Iron-
man 70.3 World Championship in 2014, 2015, and 2017. Alongside her own remarkable sporting achievements, Daniela has worked with the Spirit Academy and Swiss Triathlon to create a performance center committed to providing young athletes with outstanding training while they remain committed to academic develop- ment.
Breitling
Since 1884, Breitling has established a global reputa- tion for high-precision timepieces, its pioneering role in the development of the wrist chronograph, and its uncompromising commitment to design excellence. With the brand's storied association with aviation, Breitling has shared the finest moments in human- kind's conquest of the skies. Renowned for its spirit of innovation, it has also earned a place of privilege in the worlds of science, sport, and technology. Breitling manufactures its own movements in-house and the quality of every watch is confirmed by its status as a COSC-certified chronometer, made in Switzerland.
Follow the #breitlingsquad at #squadonamission
In the years ahead, you will discover more about each squad and its endeavors along with the respective projects of the individual members. All of us at Breitling are excited that more squads will be announced soon.