BOC
The Bank of Ceylon launches a Special GMOA Affinity World Master Card for Medical Officers in Sri Lanka.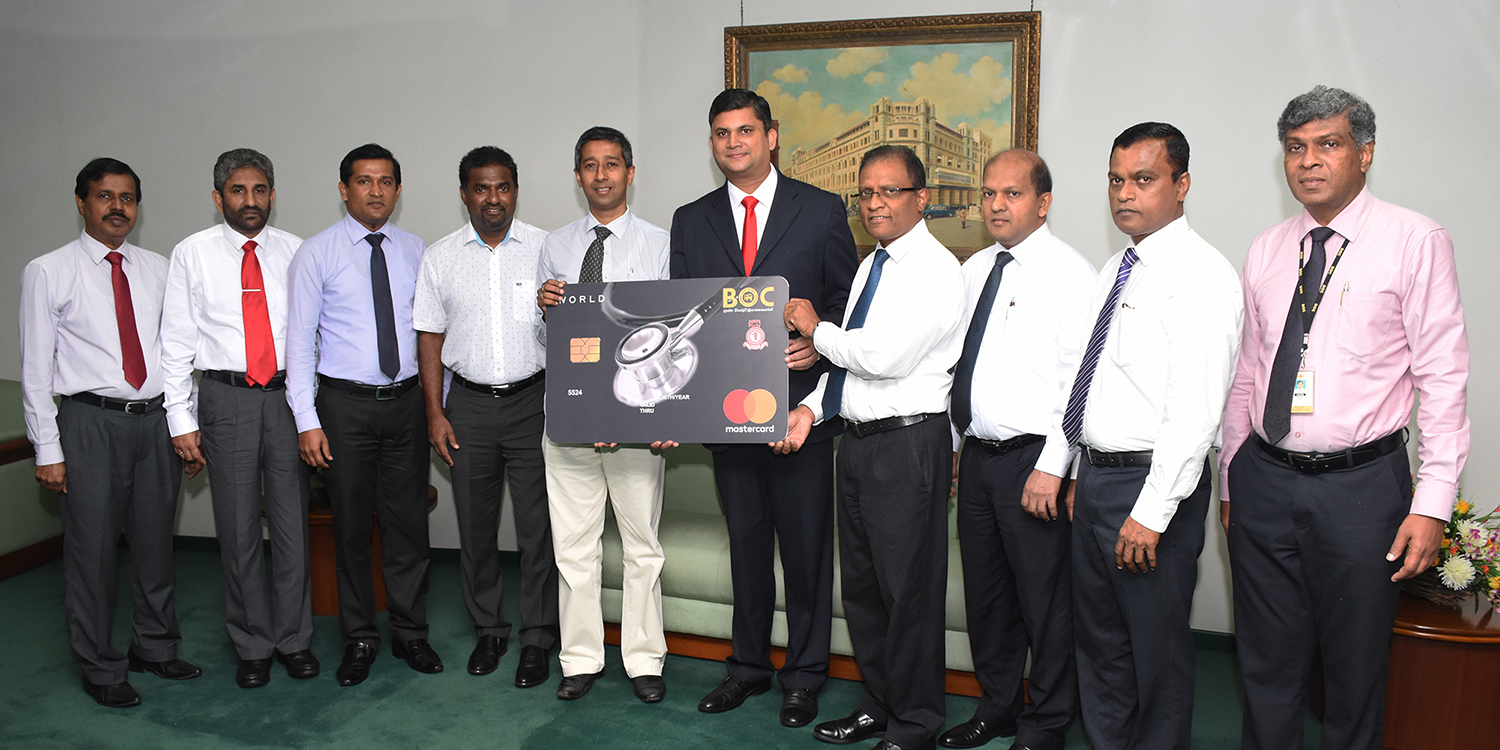 Together with Mater Card International, Country's No.1 Bank, Bank of Ceylon jointly launched the GMOA Affinity- World Master Card for the members of the Government Medical Officers Association (GMOA). The ceremony took place at the Bank of Ceylon Head office Colombo with the participation of the President of the GMOA Dr. Anuruddha Padeniya, CEO Society of Health Research and Innovation Dr. Prasad Colombage, Master Card country Manager Sri Lanka and Maldives Mr. Santosh Kumar, World renowned Cricket Icon Mr. Muttiah Muralitharan, Bank of Ceylon's CEO/ General Manager Mr. Senarath Bandara, CFO/DGM Corporate and Offshore Mr. Russel Fonseka, DGM Product and Banking Development Mr. MJP Salgado, DGM International and Treasure Mr. DPK Gunasekara, members of the Executive Management and Executive officers of the Bank's Card centre. synergizing the financial landscape of the country through technology. With the unmatched strength it posses, BOC has been successful in delivering the benefits of technological advancements to its customers, who come from all walks of life, in a meaningful way.
Embedding a world of travel and life-style including many benefits that arranges flexibility to explore and pursuit what matters most to customers, this joint venture will provide a secured path wherever the card is used, internationally or locally.    Both Master World Card offers a minimum credit limit of USD 250,000/- to customers. Among the array of benefits that are offered; Free joining fee, Free first year annual fee, Cards are accepted at over 30MN merchant outlets and at over 3MN ATMs globally, Local and overseas discount programs, Access to master global services, Access 1000+  airport lounges with "Lounge Key" from master card  (www.loungekey.com/mastercardsa), Interest free credit period up to 52 days (maximum), Free life insurance or permanent disability cover, 50% cash advance on available credit limit once a month, Easy settlement plan (up to 24 months), Supplementary cards for your loved ones, Emergency hospitalization limit enhancement facility. The Mast World Cards special feature can be called as the free insurance cover up to USD 250,000/- that is offered as the personal accident insurance cover. Further USD 100,000/- Emergency accident & medical expenses &evacuation & repatriation of mortal remains, USD 1000/- Lost baggage insurance, USD 500/- dental care, USD 250/- loss of passport, USD 100/- Delay in checked in baggage, USD 2500/- Personal liability, USD 50/- per day (max.of 750/-) Hijack daily allowance, 50/- per 12 hrs (max.of 500/-) Trip delay and USD 500/- missed departure are among the other exceptional benefits attached with MasterWorld Card.