TATA
Step Up to the LEVEL NEX SUV!
DIMO and Tata Motors launch the most stylish Compact SUV in Sri Lanka – Tata NEXON
Key Highlights:
First A.M.T with Multi-Drive modes (3 drive modes – ECO, CITY, SPORT), available in both petrol and diesel variants
'Manual Tip-Tronic' mode to shift gears manually while enjoying a clutch free drive experience
Crawl function with Smart Hill Assist for convenience in 'stop – and – go' city traffic
Intelligent transmission controller with features such as anti-stall, kick-down and fast-off for an enthralling drive experience
Advanced HARMAN infotainment system enabled with a drive mode-based HMI theme.
First-in-class wearable key to aid the active lifestyle
Tata Motors, along with its distributor, Diesel & Motors Engineering PLC (DIMO) announced the launch of its most stylish compact SUV, Tata Nexon in Sri Lanka, today. The Tata NEXON is a revolutionary design of "breaking the box" with an aerodynamic silhouette. This enhances its sporty character and marks an evolution in SUV design by combining the functionality of an SUV with style of a sports coupe.
Tata Motors has also introduced the much-appreciated NEXON with HyprDrive Self-Shift Gears, the AMT version of the vehicle. The NEXON in Sri Lanka will be available in six variants (XE, XM, XT, XZ, XZ+, XZA+) and six colours (Etna Orange, Vermont Red, Moroccan Blue, Seattle Silver, Glasgow Grey, and Calgary White). It will be for sale in 38 DIMO outlets across the island.  Launched at a price of Rs. 1.99 Mn for Petrol and Rs. 4.6 Mn for Diesel (Permit Holder Prices) for the XZA+ (Top Variant),the NEXON is one of the most loved vehicles from the Company's passenger vehicle stable. Setting a new benchmark in safety, the NEXON recently bagged a 4-star adult safety rating by the Global New Car Assessment Programme (Global NCAP), the highest adult safety score (13.56/17.00) amongst all the models tested by Global NCAP in India.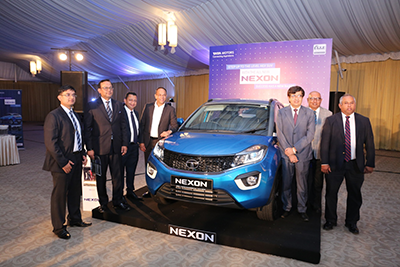 Speaking at the launch, Mayank Pareek, President, Passenger Vehicle Business Unit, Tata Motors, "Combining contemporary design with best-in-class technology and advance features, the NEXON is meant for those who like to make a unique style statement. Since its launch in India, the NEXON has set new benchmarks incompact SUV segment. It has been one of the most loved products from our PV portfolio. We are elated to introduce the manual and the AMT variants in Sri Lanka today. With the introduction of this entire range, we aim to tap a larger market and increase our market share in not only the Compact SUV segment but also the AMT segment."
Unveiling the NEXON, Ranjith Pandithage, Chairman and Managing Director, DIMO, said, "This is our first big step into the Compact SUV segment with Tata Motors. Continuing our long-standing relationship with Tata Motors, we are proud and confident to launch this product in our country and look forward to introduce many more new exciting products to Sri Lanka. Our exceptional DIMO after sales care will complement the success of this product in Sri Lanka."
The NEXON flaunts two new engines, the 1.2L Turbocharged Petrol from the Revotron series and the 1.5L Diesel engine from the Revotorq series, mated to a 6-speed transmission for class leading fuel efficiency. A first-in-segment feature, NEXON's best in class AMT with Multi-Drive modes (Eco, City and Sport) ensure that the vehicle delivers performance as per the driver's requirement – Sport mode is for more spirited driving delivering 260 Nm torque (Diesel), City mode is for cruising swiftly in an urban environment. The NEXON comes with a standard warranty of 100,000km / 3 Years, whichever is earlier.
For more details on Tata NEXON, please refer to adjoining annexures or visit www.tatamotors.lk, www.dimolanka.com/vehicles/tata, www.facebook.com/tatamotorssrilanka
About Tata Motors
Tata Motors Limited, a USD 42 billion organization, is a leading global automobile manufacturer of cars, utility vehicles, buses, trucks and defense vehicles. As India's largest automobile company and part of the USD 100 billion Tata group, Tata Motors has operations in the UK, South Korea, Thailand, South Africa, and Indonesia through a strong global network of 76 subsidiary and associate companies, including Jaguar Land Rover in the UK and Tata Daewoo in South Korea. In India, Tata Motors has an industrial joint venture with Fiat. Engaged in engineering and automotive solutions, with a focus on future-readiness and a pipeline of tech-enabled products, Tata Motors is India's market leader in commercial vehicles and among the top in passenger vehicles with 9 million vehicles on Indian roads. The company's innovation efforts are focused on developing auto technologies that are sustainable as well as suited. With design and R&D centres located in India, the UK, Italy and Korea, Tata Motors strives to pioneer new products that fire the imagination of GenNext customers. Abroad, Tata cars, buses, and trucks are being marketed in Europe, Africa, the Middle East, South Asia, South East Asia, South America, Australia, CIS, and Russia. To know more, please visit (www.tatamotors.com; also follow us on Twitter: https://twitter.com/TataMotors)
About Diesel & Motors Engineering PLC:
Founded in 1939 as a purely automobile sales and repair concern, Diesel & Motor Engineering PLC (DIMO) has since grown as well as in scope of activities. Diesel & Motor Engineering PLC (DIMO) currently has over 1750 employees as at March 2018 with an annual turnover of Rs 43.6 Billion (2017/2018).
DIMO has a record of almost 80 years of experience in the automobile and engineering industry. Over the years, the company has made significant contributions towards the development of infrastructure development and road transportation in Sri Lanka. From a company known for vehicles, DIMO today has diversified into many areas. Medical Engineering, Building Management Systems, Power Generation and Distribution, Material Handling, Storage and Warehouse solutions, Power Tools, Agricultural Equipment, Total Lighting Solutions, Power Systems and Generators, Refrigeration, Ship Repairing and Driver Training Courses are some of the areas into which DIMO has entered during the past few decades. DIMO is currently looking beyond Sri Lanka to expand their operations and have also gone into fertilizer and seeds industry locally. More information can be found at www.dimolanka.com and at www.facebook.com/DimoSrilanka.