LIFE
Tania Polonnowita Wettimuny
In conversation with Ruwandi Perera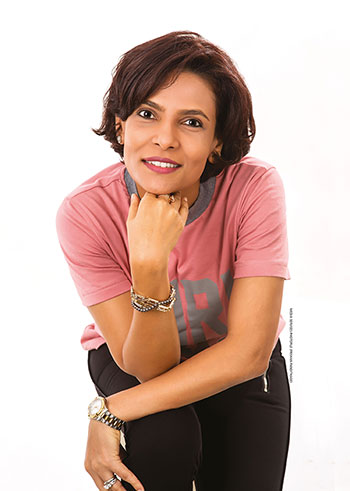 Alma mater
Hillwood College (Kandy)
Family
Married with two stepdaughters (aged 25 and 21), two brothers, four brothers-in-law and five sisters-in-law
Family is
Wonderful
Wanted to be
An air hostess
Didn't want to be
A housewife
Favourite day of the week
Every day!
Worst day of the week
When I have to head back to work after a long holiday
Three must-haves
Clinique face powder, moisturiser and cleansing tissues
Would like to have
Peace of mind
Mantra to unwind
A nice book and movies
Favourite colour
Red – it's vibrant
To drive or be driven by
Definitely to drive
Happy place
Home
Favourite chill out
Home
Cook or foodie
I love to cook and am not so much a foodie – I've been a vegetarian for eight years
Love to cook
Almost anything but I love baking!
Favourite food
Bread, cheese and curry
Favourite drink
It depends on the day – right now it is ambarella juice
Three hobbies
Exercising, reading and working – some say I'm a workaholic!
Like to play
Boxing, squash and football
Like to watch
Football
The glass is half full or empty
Half full – because I like to look at the positive side instead of the negatives
Most unforgettable event
The most recent was the day I became Chairperson of the Sri Lanka Logistics & Freight Forwarders Association
Most forgettable event
There are so many
Favourite local destination
Galle – I love walking around the Fort
Favourite overseas destination
Venice
Ideal romantic date or outing
Chill at home with my husband
Items on the bucket list for the next six months
Take a long break without doing anything
Items on the bucket list following retirement
Travel and enjoy the simple things in life without having to worry about getting up in the morning or rushing to work
Quality or quantity
Quality
Work or play after retirement
Work for worthy causes
Likely retirement destination
Sri Lanka – most probably in Digana (that's where my husband wants to retire)
Obsessed with
I'm a neat freak and am also obsessed with work!
Thing you love most about work
I get to meet lots of different people from different countries and backgrounds – many don't have that opportunity
Worst thing about work
Long hours
Purpose of life
To be happy… and make others happy
Advice to your 20-year-old self
Educate yourself and enjoy life a little rather than jumping into the (fire) commercial world
Regret
Not studying to the next level
Advice to anyone for a successful career
Give your 100 percent and you won't go wrong
Happiness is
Seeing a smile on my parents' faces
Favourite song
So many
Favourite film genre
Classic romantic type
Favourite movie
Serendipity – it has a happy ending
Favourite actors
Kevin Costner, Richard Gere and Tony Goldwyn
Favourite type of music
I really like jazz
Favourite TV series
Scandal
Favourite book
The Girl with the Dragon Tattoo by Stieg Larsson – I love the entire series
Fear
Darkness – I'm afraid of it
Fashion
I like classic outfits and love to dress-up
Favourite local sportsperson
Sidath Wettimuny
Favourite international sportspeople
David Beckham and Lance Armstrong
Colombo in a few words
Oh my God!
Sri Lanka in two words
Happy place
The world in a few words
It's becoming crazy
Role model
Indra Nooyi – the Chairman and Chief Executive Officer of PepsiCo
Most used words or phrases
'Oh my God!' and 'really?'
Yourself in a word
Impatient
Motto in life
Anything is possible
Tania is a Director of Hellmann Worldwide Logistics, APS International, Vinflair Logistics  and IAS Logistics