SRIPALIE
SRIPALIE CONTRACTORS COMPLETES THE YEAR 2017 WITH A BLAZE OF GLORY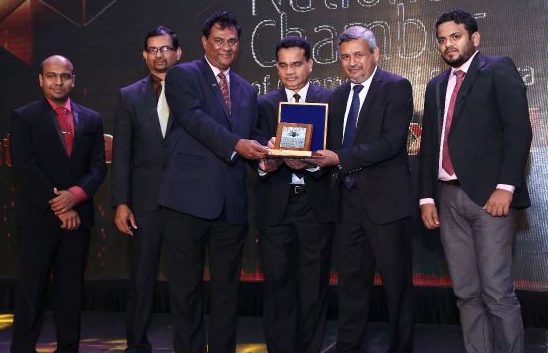 Sripalie Contractors (Pvt) Ltd. completed yet another successful year by registering a robust performance and winning a multitude of awards in various national awards schemes in 2017.
Sripalie Contractors, since its humble beginning in 1971 as a regional, small scale contractor in Galle, has shown impressive growth during the last 35 years to become one of the most admirable and sought after construction companies in Sri Lanka. It is ISO 9001:2008 certified and has been accredited as a C-1 Grade construction company in Sri Lanka.
The company was awarded the Merit award in the Construction Sector category at the prestigious National Business Excellence Awards (NBEA) organized by National Chamber of Commerce. The award is organized by the National Chamber of Commerce annually to identify and recognize business enterprises that have demonstrated excellence in business while contributing to the economic progress of the country. The NBEA follows a stringent evaluation process based on marks scored in six broader areas namely, Leadership, Corporate Governance, Capacity Building, Performance Management, Market Reach, Corporate Social Responsibility and Financial Strength. Speaking on the occasion, The Chairman of Sripalie Contractors, Mr. Ruwan De Silva mentioned "We are proud of the fact that our company has been recognised by one of the most prominent award schemes for businesses in the country. It amply proves our commitment to build a successful company based on the foundations of caring and ethical behaviour. It is heartening to know that all the hard work that our team has put has paid off. This will encourage us to continue our journey towards making Sripalie a world class construction company."
At the 22nd edition of the Sri Lankan Entrepreneur of the Year awards, Sripalie was able to achieve Bronze award in the National Level (Extra Large Category) and Silver Award in the Provincial Level (Extra Large Category). The award ceremony was held on December 11th, 2017 at Hilton Residencies and was graced by the President, His Excellency Maithripala Sirisena as the Chief Guest. This event is organized by the Federation of Chambers of Commerce and Industry in Sri Lanka annually to recognize and reward enterprising business persons from all over the island. Sripalie has been regularly participating in the awards since 1996 and has received Gold awards both in National and Provincial levels in the past. A proud Mr. Ruwan De Silva mentioned "When we entered this competition in 1996, we received the award in the Small category. But, this year we managed to bag the award under the extra-large sector category. This is testimony to the impressive growth that our company has been fortunate to achieve over the years. We are humbled by this recognition and are happy with the fact we as a construction company has been able to achieve this".
The company also received Silver Award in National level and Gold Awards in Provincial level for the Service sector (large category) at the Achiever Awards 2017. This awards scheme is organized annually by Ceylon National Chamber of Industries (CNCI) with the aim of promoting industrial growth in the country by recognizing and rewarding those industrialists who have excelled in their businesses in all processes including quality standards, productivity, employee benefits, labour relations and environmental and social obligations. The fact that Sripalie, as a construction company, has received this award in the services sector competing against organizations from other service sectors such as finance & banking, tourism, education etc., is a matter of pride for the entire construction industry.
National Construction Association of Sri Lanka is the principal body of Construction Industry and its southern branch has been organizing an annual event in order to recognize excellent construction projects carried out in the Southern province. Many construction projects completed by Sripalie Construction were recognised and awarded in the past. This year too, Sripalie received the award for Excellence award in the field of Building Construction.
While commenting on the extraordinary success of the company in 2017, the Chairman Mr. Ruwan De Silva mentioned that "Our achievement is due to our passion for achieving excellence in the business and our mission to conduct our business in a profitable and ethical manner to clients, employees and other stake holders." He went on to thank the Board of Directors for continuously setting high standards for the company, the Management team for their meticulous planning to achieve the goals, Engineers and Project Managers for their technical ingenuity & attention to details and all the staff members for their hard work and commitment. He also recognised the support given by the principal bankers, financial institutions, suppliers, sub-contractors, friends and well-wishers. He added that "Our journey during the last 35 years has been one of team work. Every one of them who were part of our team has contributed immensely in making our company what we are today".
He went on to state "Achieving all these prominent awards and being recognised as one of the foremost construction companies in the country gives me immense satisfaction. However, we cannot sit on these laurels. We will continue to work towards improving our productivity through introducing innovative technologies and new management techniques. Construction industry in Sri Lanka has a negative image. We, at Sripalie have continuously strived to change the perception of the public towards the industry. In this regard, we will be truthful and ethical towards our commitment to our clients and will work towards completing the projects on time. Our aim is not just to satisfy the customer expectations, but to delight them by consistently exceeding their expectations. We will adopt environmental friendly and 'Green building' methodologies to ensure that the impact caused by our construction projects to the environment is minimal. In short, we will build a caring company. A company that cares for its employees, customers and the environment that we live in".