SAYERLACK PU
SAYERLACK PU Brings the Best Protection for your Interior Furniture
Colombo, Monday 01st July 2019: With 25 years of wood coating experience in Sri Lanka, JAT Holdings holds firm to its status as the pioneer in the water base wood coating industry in the island. JAT brings SAYERLACK Polyurethane (PU); by the world renowned premium brand SAYERLACK, a trusted solution for all wooden interior furniture and floors.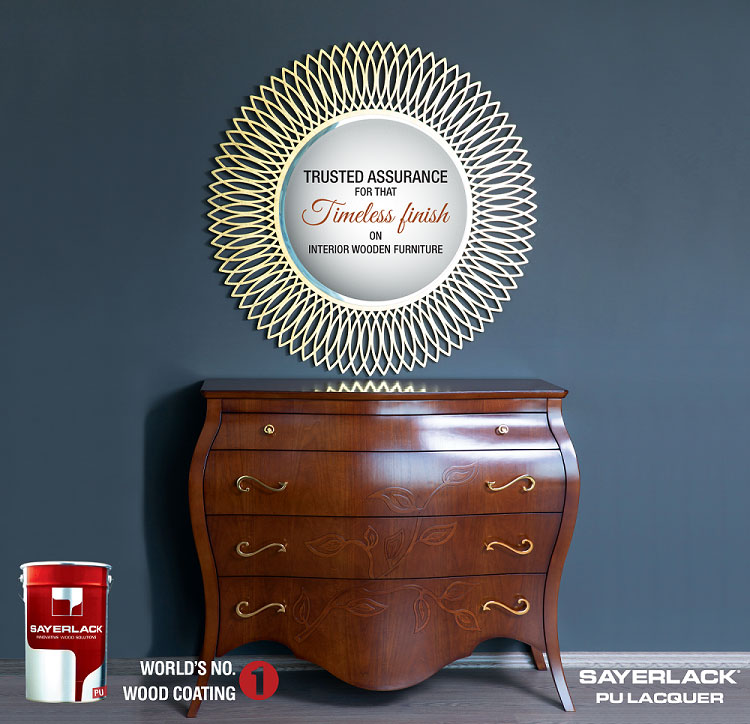 PU coatings are immensely popular worldwide. These coatings are scratch resistant, chemical resistant & can withstand heat and abrasion, while also retaining an excellent glossy finish for a longer period of time. The coatings are also value for money as their durability results in lesser wear and tear of your furniture and wood surfaces.
"SAYERLACK PU is an advance Italian technology to hit the Sri Lankan market. All finishes are ensured to transform wood into any aesthetic design. From the richest natural look, to any coloured stain", said Nalan Rupasinghe – Brand Manager, JAT Holdings (Pvt) Ltd.
SAYERLACK PU has a range of natural finishes to choose from such as, Teak, Mahogany, Walnut, Antique Walnut, Dark Mahogany, Cherry, Walnut Brown, Pale Walnut and other pigmented colours. A range of special effect finishes from Marble, Whitewash finish, Filament finish, Wash finish, Cracklet finish, Dusty glaze finish and many more pigmented colours are also available to choose from. These finishes will help transform any interior wooden furniture to look like an elegant masterpiece.
"The finishes will leave you breathless, owing to the super interesting colors and finishes that you can come up with for your interior furniture. Not only will the coating look extravagant but the benefits are there too. We advise all Sri Lankan customers to visit the JAT Tech Centers in Thalawathugoda, Nawala, Moratuwa, Kolpetty or Kiribathgoda to browse through and understand the finishes available before making a choice on their furniture. Focusing on promoting and uplifting the wood coating industry in Sri Lanka, the Company has commenced the process of partnering with leading furniture manufactures across the island to provide SAYERLACK PU coated interior furniture for our customers." Rupasinghe added.
Celebrating 25 Years of Transforming Spaces and providing quality products and services to Sri Lanka's booming construction industry, JAT Holdings is responsible for introducing world-renowned brands such as SAYERLACK, Borma Wachs, Norton Satin-Gobain, Harris, Herman Miller, SEA Kitchens, Euro-Metallic Ceilings, Armstrong, Lifewood, Dasso, Hormann, Schauffer, Cocif, Horus, Burg Electric Appliances, Adgreencoat and home grown brands such as Masters, JChem, Brush Master and Petal Paint.
JAT Holdings has trained over 25,000 craftsmen on both Water base and PU application techniques all over the country. JAT's team of technicians are also available to educate and help you to choose the right finish for the right type of furniture. For inquiries please call the direct consumer hotline on 011 4 407700 ext. 260 or visit www.sayerlack.lk for more information.