PROMOTING FILMING LOCATIONS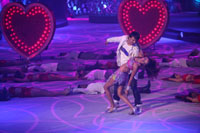 Sri Lanka Tourism showcased the island nation's cultural and natural splendour at the recently held India International Film Tourism Conclave 2017, and promoted the island as the next upcoming film location for Indian movies. The event was attended by advocates of the Indian cinema industry and leading film producers participating from Bollywood, Kollywood and other regional industries.
 Being a compact destination with vast natural beauty and diversity, and closely located to India, Sri Lanka was showcased as a destination that could be an ideal location for a film shoot.
To this end, the frequent flights from all parts of India to Colombo, a dynamic visa process, cultural variety and a rich local film industry equipped with European-standard production equipment, and the arrival of more high-profile Indian film industry representatives to Sri Lanka were listed as the major advantages.