COOL PLANET
Mojo intact, grand new Cool Planet reopens in Pelawatte
Shoppers flock to redesigned three-story edifice 9 months after destruction by fire
Battaramulla and its residents flocked to welcome Cool Planet back into their orbit last week; nine months after fire reduced it to a charred wreck and closed one of the suburb's most beloved shopping locations.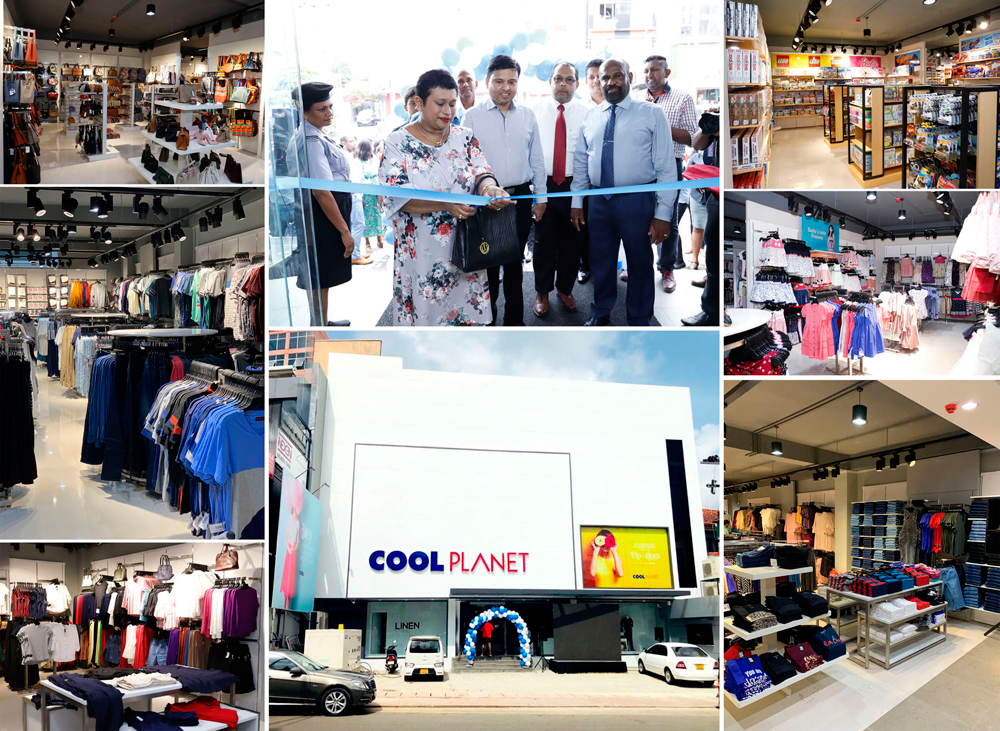 Arising from the ashes like the phoenix of Greek mythology, the re-born Cool Planet, re-designed and resplendent, opened its doors to an eager gathering of loyal customers on Friday 2nd August, its smart and fresh interiors and exciting product range writing a new chapter at the very location where the retail chain's story began, 13 years ago.
A popular landmark and reference point well before Google Maps became vogue, Cool Planet Pelawatte promises to surpass its past credence with the new store, whose 18,000 square feet of retail space on three floors recaptures the mojo that attracted tens of thousands of loyal shoppers over the years.
Speaking at the ceremonial re-opening of the store, Cool Planet Director Mrs Ramma Wickrama expressed the Company's gratitude to the devoted customers and well-wishers, who she said, had waited patiently for the rebirth of the Pelawatte outlet and had sent many messages of support and encouragement during its closure. "We are also thankful to our suppliers, employees, business partners and neighbours whose dedication and support enabled us to recover quickly from the setback of the fire," she said.
"Pelawatte is close to our heart because it is here that the magic of Cool Planet first found expression," Mrs Wickrama added. "As we welcome our loyal customers back to this all-new store we pledge to stay true to the mantra of Cool Planet, even as we look for new and exciting ways to delight everyone that visits our stores."
Redesigned to maximise space, the Pelawatte outlet places greater emphasis on its role as a department store, with improved layouts and displays, aesthetic décor and eco-friendly lighting. A dedicated remote car park in close proximity to the store eases parking concerns, with space for about 60 vehicles at a time.
The store comprises of departments for Men's, Ladies', Kids' and Infants' clothing, Shoes and Bags, Fashion accessories, Toys, Watches, Cosmetics, Travel essentials and Homeware. Popular in-house labels include Kingstreet, MUN, OZONE and Northpole for men; Modano, Andriana and Mantra for women; Tween and OZONE for kids; and Moonstone for fashion accessories.
One of the most popular retail department chain stores in Sri Lanka for children and adults alike, Cool Planet commenced operations in 2006 with its first clothing and fashion store in Pelawatte. Today it has six other branches in Maharagama, Wattala, Kandy, Nugegoda, Colombo 5 (Isipathana Mawatha) and Malabe. Over the years, the retailer has positioned itself as a one-stop-shop, with quality, variety and convenience guaranteed for shoppers.
Cool Planet provides direct employment to 700 people and supports local industry by sourcing the bulk of its clothing products from local manufacturers but also imports carefully-selected items from countries such as Bangkok, China and India. The Company rewards customers through its own loyalty programme 'Sky High' which has more than 120,000 active members.