MERCHANT BANK OF SRI LANKA & FINANCE PLC
Merchant Bank of Sri Lanka & Finance PLC comes on-board the mCash platform to offer greater customer convenience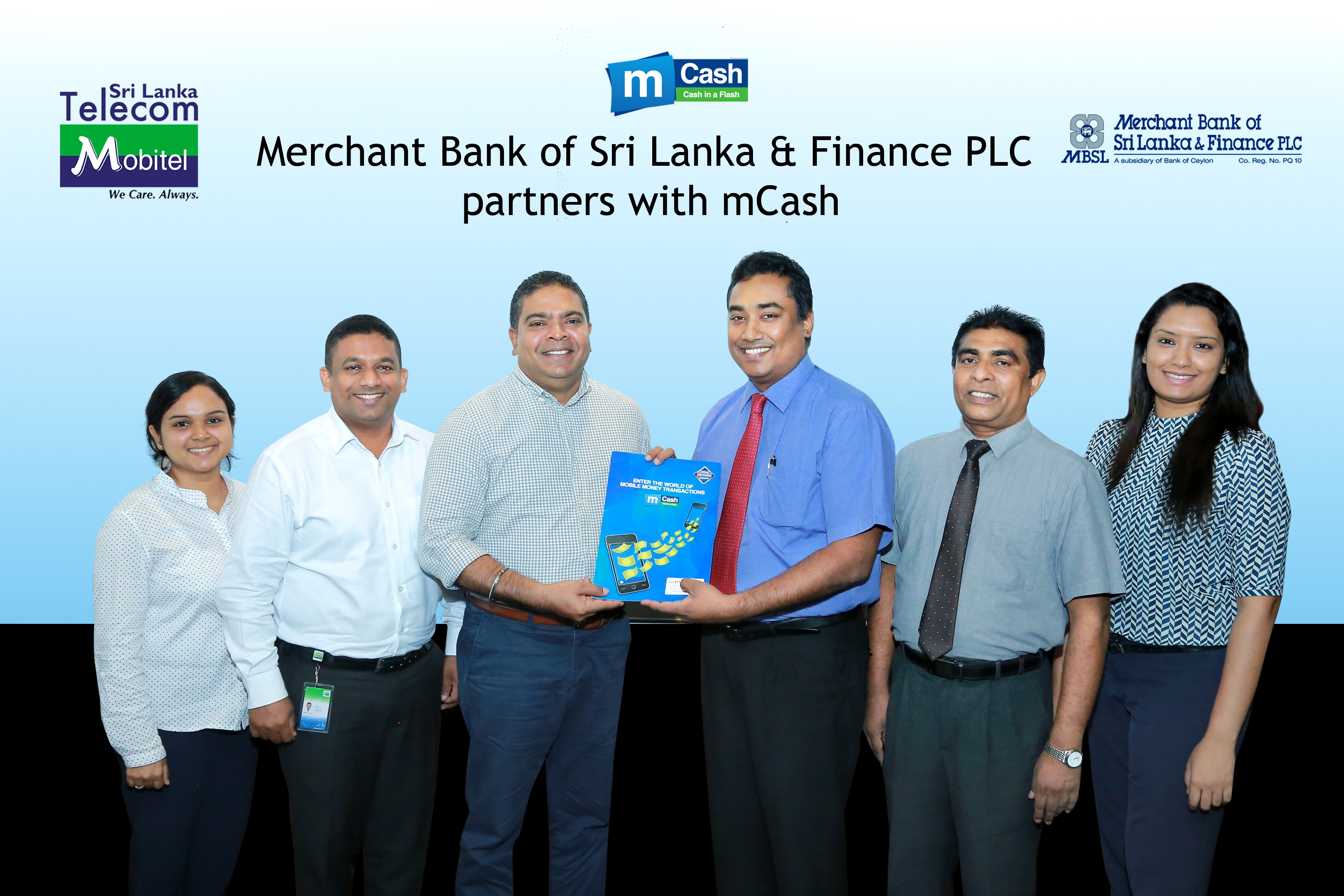 mCash, one of Sri Lanka's pioneering Mobile Financial Services Platform, is partnering Merchant Bank of Sri Lanka & Finance PLC to offer its customers the convenience of making payments via the mCash platform. As a direct benefit of this partnership, customers of Merchant Bank of Sri Lanka and Finance PLC can make their leasing payments via mCash with ease. They need to simply dial #111# or download the mCash App and select Merchant Bank of Sri Lanka and Finance PLC by following the specific instructions given on the menu or visit any of the widespread mCash retailer locations island-wide.
With over 37 years of history, Merchant Bank of Sri Lanka and Finance PLC is rapidly emerging as one of the most stable and fastest growing financial service providers in Sri Lanka. Established in 1982, the Merchant Bank of Sri Lanka and Finance PLC was quoted as a public listed company on the Colombo Stock Exchange in 1991 and a subsidiary of Bank of Ceylon.
At present, MBSL, which functions as a highly successful leading pioneer in Sri Lanka's investment and merchant banking sector, offer customers a wide range of products such as leasing facilities, corporate and retail credit to small and medium scale industries and business enterprises, pawning services and property sales, corporate advisory and capital market, stock market brokerage, savings and children's accounts and fixed deposits.
mCash is a Mobile Wallet conceptualized by the National Mobile Service Provider, Mobitel and approved by the Central Bank of Sri Lanka which was launched in November 2013 capitalizing the telecommunication infra-structure to conveniently, instantly & securely enable financial transactions by using a mobile phone. Mobitel embarked on the journey of providing financial services in the country allowing the entire financial industry to benefit from its core competitive advantages such as the reach to Customers and the distribution network that has spread throughout the country enabling digital financial inclusion to every Sri Lankan.
mCash offers services such as Sending & Receiving Money, Mobile Reloads & Bill Payments, Utility & Institute Payments, Online & In-store Shopping Payments via mCashQR which has been developed to the global EMVCo standards, Bank Deposits and Digital Loans where Customer could apply & get a Loan from the mobile via mCash. To register for mCash simply dial #111# from your Mobitel or Etisalat phone and to start using the mCash Account, Top Up the mCash account using the mCash extensive retailer network that includes small corner shops to leading retail outlets adding up to 16,000+ touch points island-wide including Mobitel Branches, SLT Teleshops, Singer showrooms, Abans showrooms, Keells Super, Lanka Bell, Amana Banks, Pay & Go KIOSK, Sanasa Development Bank or top up mCash from the Bank Account directly via the mCash App or Commercial Bank, HNB, PABC and Cargills Bank Mobile & Internet Banking.