WOMAN ENTREPRENEUR
Judy Wikkramatillake of 'Roccos' receives "Woman Entrepreneur of the Year" Gold Award in the Large Category  
The Women's Chamber of Industry and Commerce (WCIC) presented Judy Wikkramatillake of Rocco's with the prestigious Gold Award in the Large Category at their annual felicitation ceremony followed by dinner held on 4th August at the Grand Marquee, Hotel Taj Samudra, Colombo.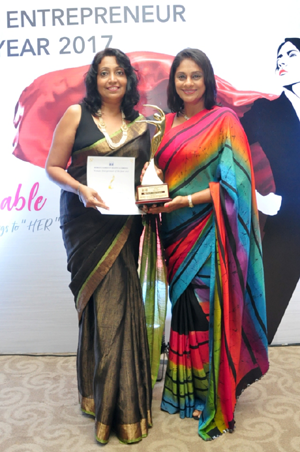 WCIC is a non-profit organization which acts as a powerful voice for change and a platform for improving the business environment for remarkable women entrepreneurs.
The awards recognize women who through their own initiative, ability and effort, have made an exemplary achievement in their field, women who are outstanding role models because of their goals and the way they have achieved these goals. Whether recognized as trailblazers in their field, or a young woman on the rise, all are pathfinders, bringing forth the key issues facing Sri Lankan women.
Chief Guest at the ceremony was the Hon. Prime Minister Ranil Wickramasinghe together with Guest of Honor Lady Mayor Rosy Senanayake and Hon. Minister of Women & Child Affairs Chandrani Bandara.
On receiving her award from Hon. Minister of Sports, Provincial Councils & Local Government, Faizer Mustapha, Judy stated, "I wouldn't be here if not for the support of my friend and business partner, Joint Managing Director Krishanti Perera, whose wholehearted contribution has led to the restaurant's success; nor would it be possible without the firm implementing of our values into its everyday operations. We have a committed team of wonderful staff members, both past and present, who support our vision."   She added, "Celebrating our 6th Anniversary, this accomplishment gives recognition to the hard work that has gone into building the Rocco's brand and acknowledges our passion for good food and people."
Co-owned by two friends Judy Wikkramatillake and Krishanti Perera, Rocco's story began with a pizza oven constructed in Krishanti's garden, subsequently shifting to a main road frontage building in Nawala in August 2013. They both share a passionate love for good food with a penchant for Italian cuisine. Krishanti, with her people's skills in addition to her talents in back office administration, maintains a good rapport with customers and creates that warm and welcoming vibe that has made Rocco's popular. On the other hand Judy, with her eye for detail overlooks the preparation and quality. With their integrity, honesty, faith and trust in each other, they truly complement one other.
Rocco's brand has flourished due to their emphasis on sourcing only fresh, highest quality local and imported gourmet ingredients which are cooked in a home-style fashion. While offering a large product portfolio of traditional Italian and Western fusion food, Rocco's excel in authentic artisan pizzas baked in a wood-fired oven.
Rocco's provides a seating capacity for 60 guests, offering a family-oriented dining experience, combined with a home-delivery service.
Rocco's is open for lunch and dinner from 11am to 10pm Monday – Thursday & 11am to 11pm Friday – Sunday. Home delivery radius covers Colombo 1 to 10 and selected suburbs.   Judy and Krishanti certainly hope to see you at the restaurant soon!