FACETS
FACETS 2019 to be an ambassador of positivity in times of uncertainty
As one of the trademark events of the global gem and jewellery sphere, the FACETS International Gem & Jewellery Exhibition is known to draw much attention from the international community, as such the event caters to its home industry and well as the tourism sector of the country. In the face of the current state of uncertainty prevailing in the country FACETS serves as a beacon of positivity to the nation and the world.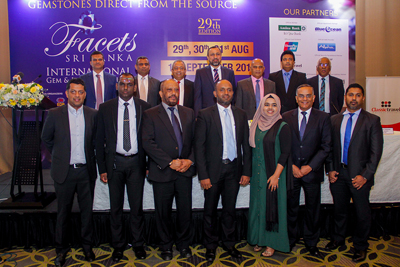 The launch of the FACETS International Gem & Jewellery Exhibition was announced on the 23rd of July at a press conference at the Hilton, Colombo.
What has now become one of the most well-known exhibitions of its kind throughout the world, FACETS first came into existence in 1991 with the purpose of showcasing the very best of Sri Lanka's most precious resources. Thereby, boosting the sale of gemstones and jewellery among overseas markets and attracting more international dealers to the island.
The FACETS International Gem & Jewellery Exhibition is organized by the Sri Lanka Gem & Jewellery Association, and sponsored by the National Gem & Jewellery Authority and the Export Development Board.
The official partners for FACETS 2019 are Amana Bank as Official Banker, Blue Ocean Group of Companies as Official Apartment Partner, Union Pay International as Official Card Scheme and Alpha Safe as Official Safe Provider. Key Jay Securities joins as Official Security Surveillance Partner while Classic Travels and Hilton Colombo join as Official Travel and Hotel partners respectively. The Official Clearing and Forwarding Partner for this year is Brinks – Setmill Cargo, and Hameedia is the Official Clothing Partner.
Ranging from precious stones, gold and silver jewellery and exquisite watches to semi-precious stones, colored stones and costume jewellery, the exhibition features an impressive lineup of items to suit every style and budget. As the value of a gemstone or piece of jewelry only ever increases and never depletes it can be considered as a valuable and beneficial means of investment.
Delegations from the United States and India will be present at the exhibition, as well as individual buyers from China, India, Zambia, Nepal, Kuwait, Israel, the United Kingdom, the United States and other European nations.
The exhibition will also offer guests a glimpse into the lapidary sector of the Gem and Jewellery industry. A number of stalls will feature various pieces of machinery and tools used to cut and polish gemstones and craft jewellery. There will also be a number of laboratory stalls where visitors can get a look at the process of examination that a gem is subjected to. They can even test their own gems and receive a certificate proving the stones' value and authenticity.
The exhibition also boasts the added presence of industry related academic institutes, which cater to the interests of young people seeking to join the industry. Special informational stalls will be set up this year as well to provide knowledge and details about opportunities to be found in the Gem and Jewellery industry of Sri Lanka.