DARAZ
Daraz 2020 doubles 11.11 sale day record!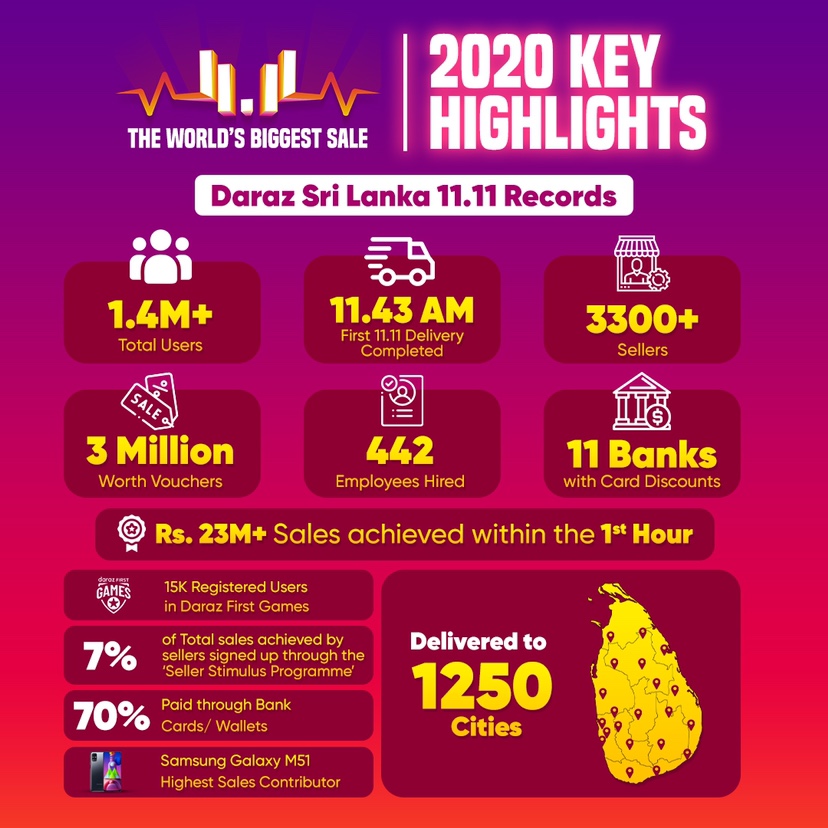 The 11th of November 2020 saw Daraz.lk successfully double its sale day record, with over 300,000 shoppers as opposed to the 150,000 that visited the site on the sale day last year. This record reflected the highest number of visitors to visit the platform on a single day sale. The fast-growing e-commerce platform was ranked as the N0. 1 App on Play Store during this period depicting the popularity of the platform.
With over 3 million products on sale and over Rs 20 million worth of discounts, activity on the Daraz 2020 platform was high. The 11.11 sale was co-sponsored by Samsung, Unilever, Brown and Company PLC, Huawei, Vantage and Reckitt Benckiser along with leading banks that offered further 10% off to their respective card holders.
Among the most popular selling categories were Mobiles and Tablets along with Home Electronics. Samsung, Huawei and Xiaomi had the lead in the Mobile category while Samsung and Innovex were most frequented in the Home Electronics category. Meanwhile, Yamaha and Quantum fitness were the Lifestyle brands that were in highest demand.
With many now accustomed to social distancing and minimal contact, digital payments continued to grow on Daraz and almost 60% of total customer spending was done via digital payment methods (bank cards and contactless Payments at point of delivery). This was further facilitated by Daraz expanding its strategic partnerships with leading payment partners such as Bank of Ceylon, Commercial Bank, Sampath Bank, HSBC, HNB, Seylan Bank, NDB, Peoples Bank, Union Bank and Mastercard.
Commenting on the success of Daraz 11.11 2020, Managing Director, Rakhil Fernando stated, "Indeed it was evident from the beginning of this year that organizing the Daraz 11.11 sale would be a more challenging task as we, as a country, adapted to the new norms dictated by the COVID-19 pandemic. Nevertheless, Daraz has been able to achieve record numbers, connecting buyers and sellers across the country. This is a testament to how e-commerce is becoming more accepted and wide spread in Sri Lanka. We, at Daraz, are proud to have played a major role in facilitating e-commerce in Sri Lanka and will continue to increase digital inclusivity at the forefront of our endeavors."
The increase in demand for online shopping was evident by the high number of downloads. The enthusiastic participation from a wide spectrum of buyers and sellers spanning multinational brands to small and medium sellers across Sri Lanka is a reflection of the Daraz community and the sustainability of the ecommerce platform.
In spite of the unforeseen pandemic and the resultant repercussions, Daraz has been able to successfully double its records reflecting its buoyance and flexibility in times of adversity.