SAMSUNG NOTE
Ardent Samsung fans share their journey with the Samsung Galaxy Note 
Wednesday, 07th August 2019, Colombo: The Samsung Galaxy Note series a top favourite for users, since the product was first introduced in Sri Lanka.  Offering a combination of advanced features and leading premium hardware, the Galaxy Note series has been one of Samsung's high value product lines, offering the best in terms of seamless design and optimal functionality much to the delight of loyal Samsung users. Whether you are a busy career person who is always on the go, or an entrepreneur with countless tasks to tick off your checklist – the Galaxy Note series lets you do it all. In the run-up to the launch of the next Galaxy Note, consumers from all walks of life share what they love the most about the device and series.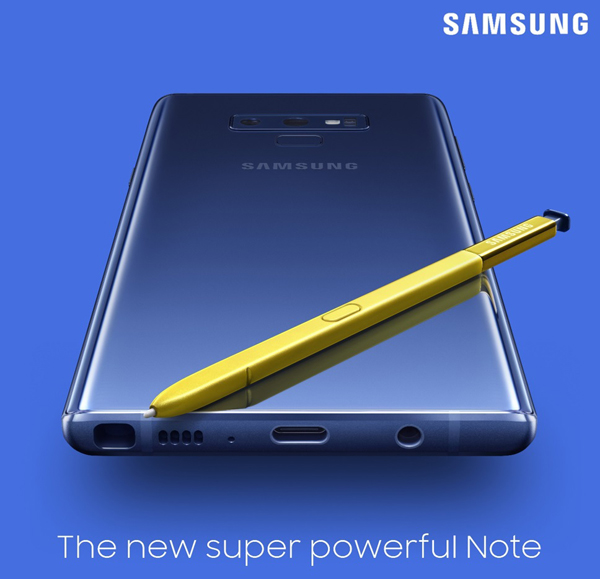 Sadesh Abeysinghe who thoroughly enjoys the impressive specifications of his Galaxy Note stated: "I am a medical students and a huge fan of the Samsung Galaxy Note series. I've been using the Samsung devices since 2012 and I love the creative flexibility that the Note series offers. Alongside intense study requirements, the phone has really given me an outlet and enabled me to discover my creative side as I am very active on social media and love to take photos of nature, animals and action figures from time to time. My phone has enabled me to explore this hobby and really excel at it – I get a DSLR experience, but on my compact device. The dual 12 MP cameras also shoot crisp and vibrant images and videos and if I ever go on a trip, the 128 GM storage is sufficient for all my photos, notes and content viewing needs.
Saluka Dahanayake, a long-standing and loyal Samsung user added that: "The Galaxy Note 9 has everything that I need in a phone – this is my dream phone and I am thrilled that the Note 9 has met and exceeded all my expectations. I was attracted to the visual appeal of the phone and its outstanding features including the S-Pen, scene optimizer and flaw detection. I find the S Pen very handy to take long-distance pictures when travelling, and it helps to take down notes faster and easily instead of typing. I rely on my Note 9 to help me get through the day and it has never failed in delivering the support I need. I did not hesitate to make a pre-order from an authorized dealer of Samsung, as I loved all the features offered on the phone and I trust the brand."  The impressive after-sales service of Samsung is commendable, and I shall continue to remain a Samsung user."
Adding further, another fan of Samsung Yogeswaran Yogaratham said: 'I am truly amazed by the features offered by the Galaxy Note 9, such as the large storage space it offers. I have always loved the Galaxy Note series, and this is the future of smartphones for sure! I also have added peace of mind making my purchase from an authorized dealer as they offer a good after-sales service and the assurance that I can buy a high quality phone without any doubts. The camera is beyond excellent and I am excited to capture more pictures on the go. Overall, I am thrilled with my phone, and the Samsung after-sales service ensures that solutions are provided in a prompt manner."
Equipped with Bluetooth Low-Energy (BLE) support, the S Pen is one of the signature feature of the Galaxy Note series and exemplifies how Samsung has expanded the notion of what a smartphone can do.
Highlighting the hype that surrounds the Galaxy Note series, ardent Samsung fan Upul Abeywarna states that: 'Having been a big fan of Samsung for a long time, I was looking forward to the Galaxy Note 9 release with much enthusiasm. The excellent battery performance that can last for days and great storage that the Note series provides are great for meeting my needs, as I don't have to charge my phone at mid-day. The S Pen and the internal storage aspect are truly distinctive features of Galaxy Note 9 that makes it stand out from the rest of the product line of the Samsung Note series. I am very happy with the Note 9 and the original Samsung warranty for the phone covers the key areas that I need."
Commenting on the expectations for the upcoming launch of the next Samsung Galaxy Note, Dr Gauthaman stated: 'I look forward to pre-ordering the next Galaxy Note, as I anticipate a truly brilliant performance and enhanced and improved features, with exceptional touch-points supporting superior user engagement. I am already a fan of the Note series and I really look forward to the new innovations and upgrades that will be made to elevate the overall user experience even further."
With a vision to offer an enhanced user experience and fulfilling a popular request by the Samsung community at large, Samsung will be launching an app for all of its loyal patrons called "Samsung Members". The app will be pre-installed on the latest Samsung devices and will be available on Playstore as well. Bringing together all Samsung users on a single interactive platform, the app will provide a range of exclusive features comprising Samsung community updates, customer service, news, updates, promotions and offers. This one-stop platform will allow Samsung fans to share pictures, videos and questions to be a part of Sri Lanka's active Samsung community.
With Samsung users showing tremendous loyalty towards the brand, Samsung Sri Lanka has now extended its customer service center operations from 8.00 a.m. – 8.00 p.m. from Monday to Sunday where customers can call on 0112 7267864 for product and service related queries.