LIFESTYLE
Fouzul Hameed
In conversation with Ashwini Vethakan
JOURNEY OF LIFE
Born
26 March 
Alma maters
Zahira College and Isipathana College 
Family members
My wife (Nuha) and children (Najath, Habiba, Mikail and Alif) 
Wanted to be
A designer; and thanks to our family business, I was able to get on the right track to reach where I wanted to be
Drives
A Toyota Harrier 
Would like to drive
Any simple vehicle 
Moments you would like to go back to
My childhood days to be with my friends and relations 
Best advice received
Be honest, have integrity and be ready to help everyone – words of advice from my parents
INTIMATE AND INSPIRING
Happy places
Home and my country Sri Lanka 
Likes to play
Football and cricket – and I also like a good workout in the gym 
Likes to watch
Any sport related show 
Most unforgettable events
Being a judge and designer in England for the Mr and Miss England contests
Most forgettable events
The 2004 tsunami and the COVID-19 pandemic
Purpose in life
To live happily, peacefully and help others
Items on the bucket list for the next six months
To survive this pandemic, keep building my business and begin making plans to take it overseas 
UP CLOSE AND PERSONAL
Mantra to unwind
Playing sports, going to the beach and reading
Hobbies
Reading anything on fashion or biographies of entrepreneurs
Most hated chore
Cleaning 
Pet peeves
Racists, cheaters and people who are out to cause destruction 
Impressed by
Quality, simplicity and elegance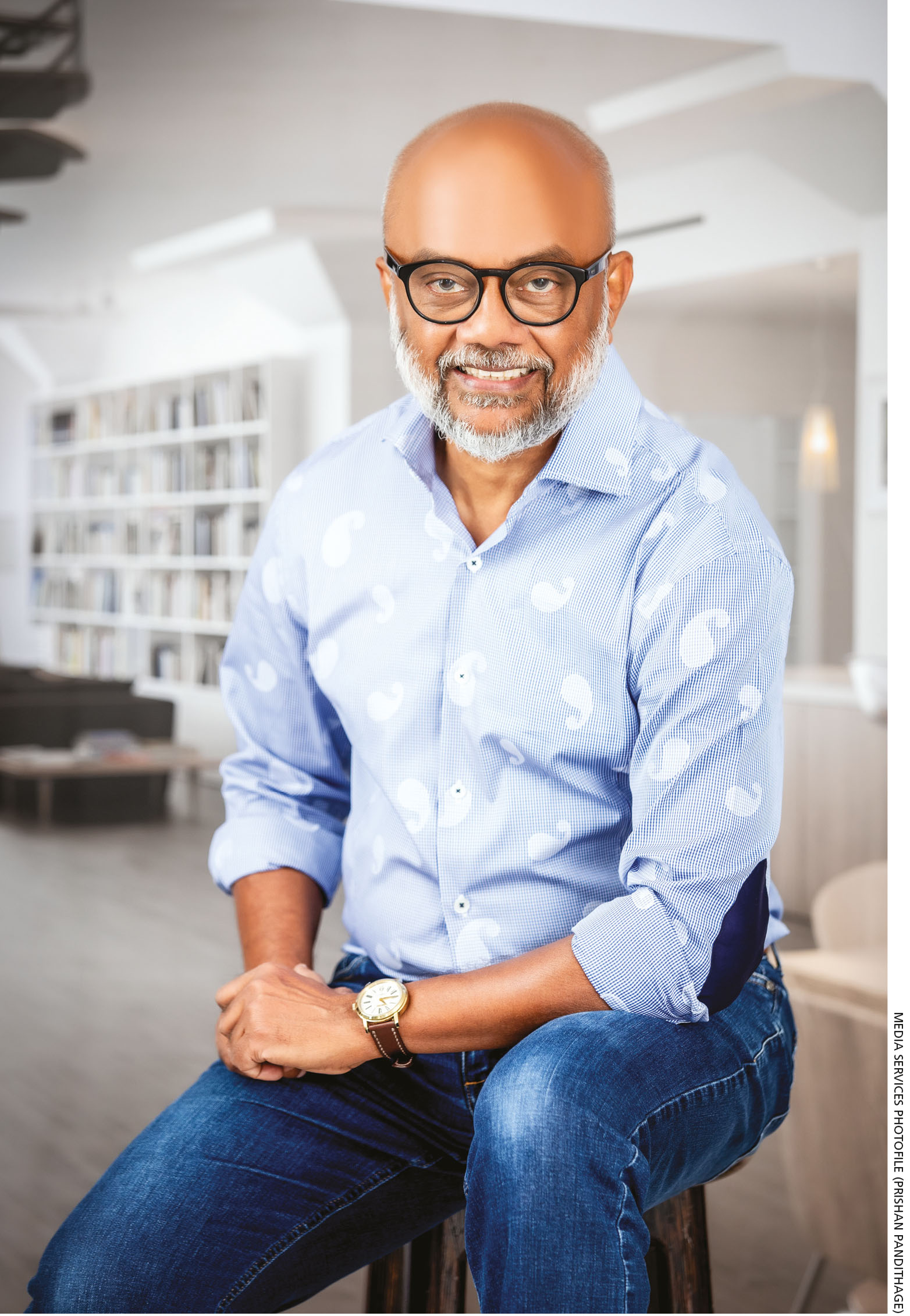 What you think about when you're in the car
I usually take a nap while being driven around – it's also the time I usually call my friends
The best thing about working in the fashion industry
Fashion is constantly evolving so you always need to be on your toes and work towards delivering first; there is also the thrill of creating new styles
Items on the bucket list following retirement
Enjoy life, continue my fitness regime and help those around me
Three must-haves
Mobile phone, wallet and glasses
What you would like to have
Peace of mind, a healthy life and the ability to help everyone
A little-known fact about you
I dream too much – and tend to expect everyone around me to also work towards that same dream and at the same speed
FAVOURITES  
Day of the week
Every day is a favourite day 
Colours
All shades of blue – I believe a gentleman should always wear a range of blues
Work wear
Semi-formal or formal
Leisure wear
Casual, linen and comfortable
Brands
My very own Envoy London and FH
Drinks
Anything that is natural, fresh and healthy
Local holiday destinations
Any seaside resort or around the cool hills of upcountry
Overseas holiday destinations
Italy, Malaysia and the Maldives
Chill out spot
Home
Work out preferences 
The gym
Restaurant to eat at
Cafe Bagatalle or any beachfront seafood restaurant
Actors
Shah Rukh Khan, Brad Pitt and George Clooney
Genre of movies
Comedy
Musicians
Sir Elton John and Michael Jackson
Books
Biographies of Sir Richard Branson and Tom Ford
Favourite international civil servant
Former Prime Minster of Malaysia Dr. Mahathir Mohamad, former Prime Minister of Singapore Lee Kuan Yew and Prime Minister of Canada Justin Trudeau
Qualities you look for in a friend
Honesty, integrity and simplicity
Likely retirement destination
Sri Lanka
COMPLETE THE SENTENCE
The first thing you need when you wake up
My cup of tea
The first thing you notice when meeting someone
His or her first impression 
Recently laughed out loud when…
I tend to joke around and keep my days lighthearted so there's quite a few times a day when you'd catch me having a good laugh
Saddened by
Death, sickness and when people fall sick
You're challenged by
Competition 
Children are…
My world
Colombo in a few words
A good place with a lot of potential
Sri Lanka in a few words
Filled with lovely people who are divided by politics
The world is…
A beautiful place that's divided by politicians
PICK ONE
Memory skills on a scale of 0 to 10
It's really a 50-50 sort of thing
Computer ability in a few words
A little below average
Most productive in the morning, noon or night
24 hours a day
A leader or follower by nature
Leader (at least that's what people tell me!)
Cook or foodie
I'm a cook (in training)
Quality or quantity
Quality
The glass is half full or half empty
Half empty
Work or play after retirement
Both
The most delightful word you can think of
Beautiful
Do you consider yourself to be a student or teacher?
Teacher
A technology that you think will transform the future
I would really appreciate if someone could create a tech-nology that would allow the finer stitching of an outfit or suit in a few seconds
Why something so specific?
It usually takes about 24 hours to create a suit; imagine the hours that could be saved if we had the technology able to do it for us in even half that time?
Your most used word or phrase
Quality! And focus! 
Role models
Tom Ford and my mother
Yourself in a few words
Simple, sporty and I'd like to say honest 
Motto in life
Be simple, be honest, care for and help those around you