TURRET
TURRET Flags 5 Years of Serving Excellence
TURRET, the sole authorized agent of Montblanc, Baume & Mercier and Raymond Weil, highly renowned, internationally acclaimed luxury brands in Sri Lanka,celebrated five years of serving luxury and elegance to Colombo's glitterati and cognoscenti. Celebrating the event TURRET hosted a luxury event "An evening at TURRET" and displayed several novelties that were launched recentlyat theTURRET Flagship Store at Dharmapala Mawatha. The event was attended by several dignitaries from Ambassadors to Directors, CEOs and Executive Personnelof up-market, high-end corporates along with the VI clientele of TURRET.
TURRET, displaying internationally customized luxurious brands, is an ideal destination to search for a corporate gift, a gift for a loved one, to extend gratitude, appreciation or adoration with a memorable token for anyone in your life or above all to give yourself a treat.At TURRET, the staff believes that their service is not just to help someone buy an item, but to help someone own a legacy that could be passed on from generation to generation.
Most notable among the brands at TURRET is MontBlanc, a reputed luxury brand with German origins that dates back to 1906, is globally revered for exquisitely handcrafted writing instruments, timepieces and leather products exclusively for men. The iconic MontBlanc emblem is a symbol of excellence, the very pinnacle of luxury writing instruments, wristwatches and such accessories of classy sophistication.
The internationally famous Baume & Mercier is the seventh oldest watch brand in the world and is artfully designed and crafted in Switzerland, in the Swiss Jura, while Raymond Weil is one of the last remaining Swiss independent family-owned watch making companies where music is its true source of inspiration. These brands are revered for watch making excellence with aestheticism being a prime factor in their production process. The timepieces are handmade using materials of the highest quality and contain unique designs renowned the world over.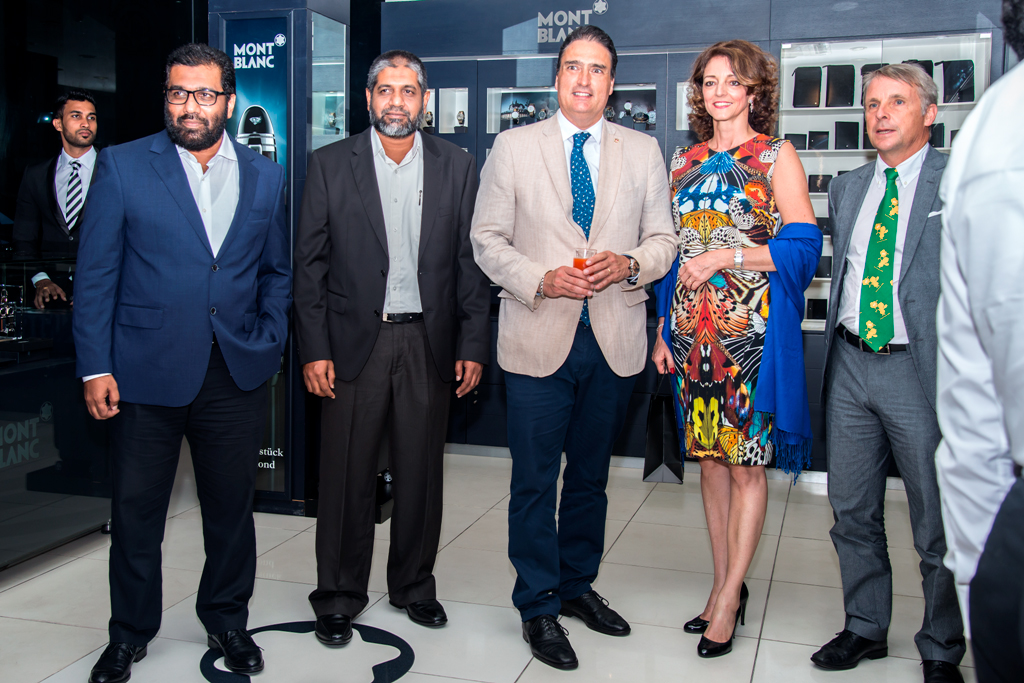 Commenting on the event, Jawzi Dastakeer, the Managing Director of TURRET mentioned "TURRET extends its warm gratitude to everyone who has been a part of this journey of five years, especially our loyal brand conscious customers who hold our name with dignity and prestige. And we would like to welcome everyone to visit the TURRET luxury flagship store, feel the elegance and speak with our brand executives who can help you make the perfect choice for any occasion."
He further added that "having understood the paramount importance of customer satisfaction, we at TURRET strive to attain higher levels of excellence in service and delivery through improved customer service and to maintain a consistently strong relationship with our customers."
The TURRET Flagship store at Dharmapala Mawatha further holds the United Colors of Benetton clothing range, an international brand of clothing and also TURRET's very own signature brand Jewel Laurel which promotes gem studded jewelry and different precious and semi-precious gem stones to collectors. To add to the quality experience of TURRET'scustomers, a state-of-the-art workshop is available within TURRET along with a trained technician where international standards are stringently adhered. With this augmented facility, everyone who is a customer of TURRET can experience customized luxury products at their finger-tips. A wide array of customization such as engraving is done depending on the requirements of the clients because TURRET is all about "helping you mark your own sense of elegance wherever you take your legacy to".