THE SRI LANKA STORY
SLOW!

ROADWORK AHEAD
Tharindra Gooneratne takes the congested path to progress
Golfing legend Arnold Palmer once said that "the road to success is always under construction." A glance at social media on any given day illustrates how Colombo's 'roads to success' are eternally under construction – both literally and metaphorically.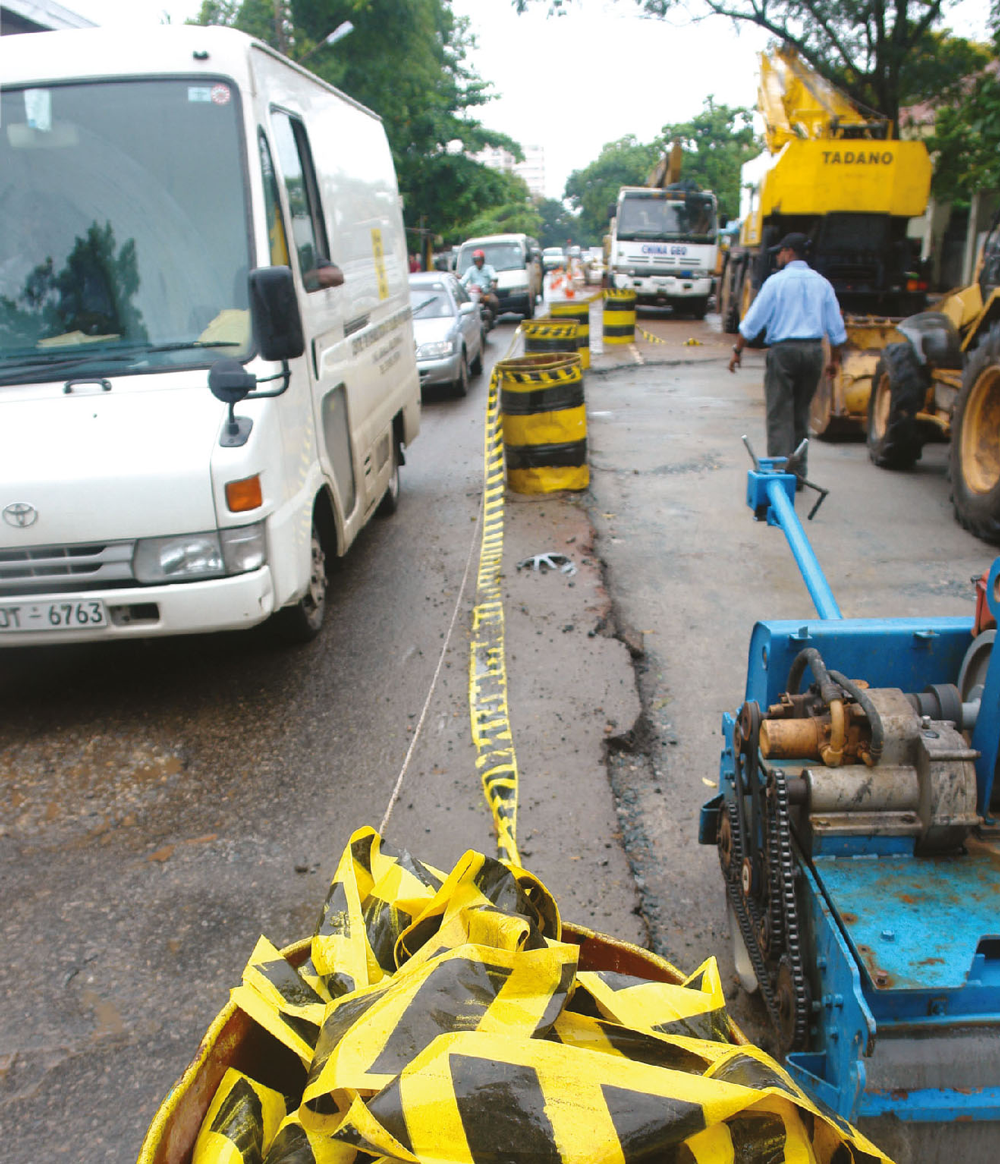 In fact, traffic congestion in the city is so acute that commuters don't bother complaining anymore. Instead, most resort to levity by concocting hilarious memes and witty one-liners. My favourite is: 'On a scale of zero to traffic in Colombo, how bad is your day?'
Current solutions have proven inadequate in addressing transportation woes in the commercial capital where population density was over 10 times the national average in 2016.
Traffic congestion in Colombo is so severe that the average speed of a vehicle in the city was only eight kilometres an hour in 2016 with a forecast decline to six kilometres an hour by 2020. If current trends continue, the fastest mode of transportation may end up being a brisk walk!
This is not a problem to be taken lightly.
As far back as in 2009, it was estimated that the economic loss incurred due to traffic congestion in the Greater Colombo area was Rs. 32 billion a year – this figure has undoubtedly increased substantially since then.
A recent study on road traffic found that average vehicular noise levels in Colombo ranged from 76.6 decibels (dBs) to 84 dBs, which was well above the World Health Organisation's (WHO) recommendation of 55 dBs.
And last year, Colombo ranked 124th of 140 cities in the Economist Intelligence Unit's Global Liveability Index with 20 percent of the rating based on infrastructure, which included the quality of road networks and public transport.
Today, over one million people enter Colombo on a daily basis. A study conducted by the National Transport Commission (NTC) in 2012 revealed that private vehicles carrying less than two people on average accounted for over 85 percent of traffic entering the city. Therefore, improving public transportation both in terms of quality and accessibility is critical.
The government has taken an important step in this regard by commencing land acquisition for the proposed Colombo Light Rail Transit System from Malabe to the Colombo Fort, which is expected to be completed by 2024.
In addition, it should seriously consider an overhaul of the bus service, which has been long overdue. Upgrading buses remains a priority with the government taking a small yet important step by purchasing 50 electric buses earlier this year. A park and ride service is another interesting idea even though the first such project launched by the NTC in 2009 ended up being a failure.
Bus priority lanes (BPLs) may be another solution even though recent reports indicate that the BPL in Rajagiriya reduced the average speed of traffic flow by three to five kilometres an hour. Such projects are logical in theory but have been doomed by a failure of execution. It is conceivable therefore, that a more strategic approach may deliver better results.
Whilst improving the public transportation system, steps should also be taken to better regulate traffic in the city. In May, it was reported that there's a shortage of approximately 350 traffic police officers in Colombo with the Minister of Public Administration, Management and Law & Order assuring that the problem would be addressed immediately.
In addition, plans are underway to electronically connect the police, Department of Motor Traffic and the courts, which is a prerequisite for the implementation of the demerit points system. Such ideas are commendable – assuming that they come to fruition.
Colombo will undoubtedly remain Sri Lanka's economic hub in the foreseeable future. Whether the country marches to prosperity at a brisk pace or slow crawl may very well depend on Colombo's roads.