REGIONAL MARKETS
Asian markets lower as quarter draws to a close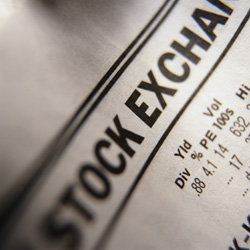 Hong Kong, China | AFP | Friday 3/31/2017 – Asian markets sank Friday as the quarter drew to a close with dealers ignoring better-than-expected US economic growth data, while South Africa's rand plunged after President Jacob Zuma sacked his respected finance minister.
Wall Street cheered news that growth hit 2.1 percent in the last three months of 2016, which was 0.2 points better than first thought, with crucial consumer spending seeing a strong increase.
The result provided some much-needed support to markets, after President Donald Trump's failure last week to push through his healthcare bill stoked fears he would have trouble with his promised tax cut and spending promises – a key driver of a global rally since November.
"It's only a small upgrade but the marginal increase… seemed to have an outsized impact on sentiment," said Greg McKenna, chief market strategist at AxiTrader.
"That and the fact that the consumption component was upgraded seem to have been the key to reinforcing the strength of the US economy. We haven't really seen any US data printing worse than expected for some months now. But for the moment, the economy is supporting stocks in the US."
But while Wall Street enjoyed advances, Asian investors were not so impressed and positioned themselves as they closed their books before the end of the quarter.
Tokyo ended 0.8 percent lower as the yen reversed early losses against the dollar, while Hong Kong also slipped 0.8 percent.
Seoul closed 0.2 percent down and Sydney was off 0.5 percent, while Taipei, Manila, Jakarta and Bangkok were all off.
Shanghai edged up 0.4 percent, rebounding from early losses, following a forecast-beating reading on Chinese factory activity.
In early European trade, London fell 0.4 percent, Frankfurt shed 0.3 percent and Paris eased 0.2 percent.
"The market continues to be devoid of a clear direction," Yoshihiro Okumura, general manager at Chibagin Asset Management, told Bloomberg News.
"It's up one day, down the other on overseas factors. Economic data, hopes over corporate earnings is a plus but politics remains a minus factor, which will likely be the case for the new quarter."
The dollar surged five percent against the rand after Zuma sacked finance minister Pravin Gordhan, who had enjoyed the support of many international investors and had campaigned for budget discipline.
He was also widely admired by ordinary South Africans and veterans of the anti-apartheid struggle, and there are fears his removal – along with several top cabinet members – could precipitate a split in the ruling African National Congress, the party of Nelson Mandela.
The decision comes as the government struggles to get a grip on the once-booming economy of South Africa, one of the continent's biggest and part of the so-called BRICS grouping that includes China.
The South African currency has plunged almost eight percent since Monday when fears were first sparked by Zuma ordering Gordhan to return to the country from an overseas trip.
"Market reaction to the cabinet reshuffle and what looks to have been a clean sweep of the Treasury top team is going to be a significant negative," Razia Khan, chief Africa economist at Standard Chartered, told Bloomberg News.
"Given past volatility in the rand when a cabinet reshuffle was even suggested, the expectation is that the impact may be more pronounced now."
Oil prices dipped in Asia but held above US$ 50 a barrel after Thursday's gains of more than one percent, which came after Kuwait suggested agreed output cuts by OPEC and Russia could be pushed past a June expiry.
"It looks like they will potentially extend the cuts," Mark Watkins, at US Bank, said.
"Even though there's been scepticism about OPEC and its partners, the signs are pointing toward their success."
Investors will be keeping an eye on next week's meeting between Chinese President Xi Jinping and Trump in Florida hoping for a clearer idea about the outlook for global trade after the US leader's protectionist rhetoric.