ICT INDUSTRY
KNOWLEDGE SERVICES
AN ISLAND OF INGENUITY
Indika De Zoysa yearns for Sri Lanka to achieve its full ICT potential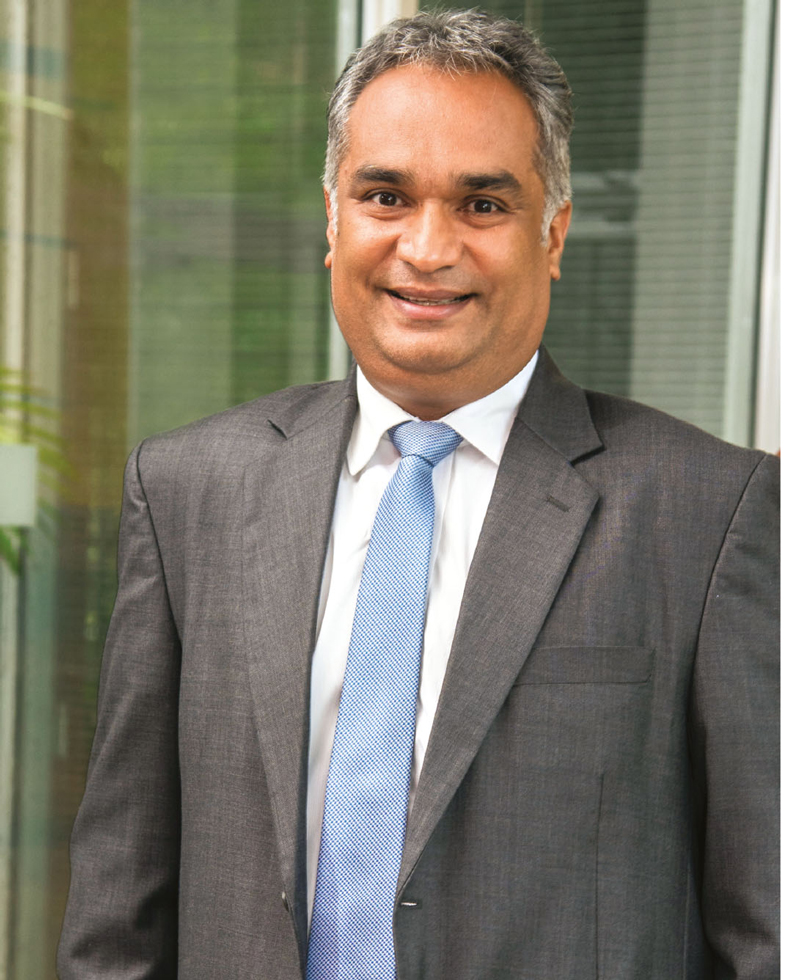 Envisioned, created and backed by Sri Lanka's national unity government, Vision 2022 has set an ambitious yet achievable target for export revenue of US$ 5 billion, a skilled and competent workforce of 200,000 and 1,000 new startups. So any investor hoping to set up IT or business process management (BPM) operations in Sri Lanka can expect state endorsed benefits.
HUB POTENTIAL Sri Lanka's attractiveness as a global destination for IT/BPM services has been gaining ground with the industry winning many awards and accolades from reputed international industry related bodies.
The IT/BPM industry in Sri Lanka currently hosts over 400 companies employing more than 80,000 people with a 17 percent year on year employee growth rate. Export revenue generated by the industry stands at one billion dollars, which represents an average annual revenue growth of 12 percent.
Commenting on whether Sri Lanka can be a knowledge hub, Indika De Zoysa – Senior Consultant of the Information and Communication Technology Agency (ICTA) of Sri Lanka – asserts that "the knowledge services sector, which encompasses IT software development, knowledge process outsourcing (KPO) and business process outsourcing (BPO), IT and IT enabled services, and IT training centres has tremendous potential to emerge as a key growth sector in Sri Lanka."

He adds: "Given the quality of students, level of English and literacy, and proximity to India, Sri Lanka is in an ideal position to develop into a high value added IT/KPO service provider."
De Zoysa goes on to note that "while larger countries will continue to dominate the global industry, several smaller nations – including Costa Rica, Ireland, Israel and Singapore – have established themselves as significant knowledge hubs by focussing on the quality of their skills base, infrastructure and business environment. Sri Lanka clearly has the potential to do the same."
CARVING A NICHE According to A. T. Kearney, Sri Lanka – with its highly skilled workforce and cost competitive business environment – is emerging as a hidden gem for IT and BPO/KPO. The island is uniquely positioned to compete in the KPO space because it is home to large numbers of certified professionals including accountants, lawyers, doctors and architects.
KPO/BPO is an emerging sector in Sri Lanka. Although it's still at a nascent stage, the sector in its short history since 2000 has come a long way while attracting some BPO/KPO giants of the world.
Sri Lanka is gaining a reputation in niche areas such as financial and other professional services, transaction processing and document management, and legal processing and call centre services – thanks to a high literacy rate (approximately 92%) and the growing pool of accountancy graduates. Incidentally, Sri Lanka boasts the largest pool of UK certified accountants outside the UK.
Commenting on the awareness of opportunities in this sector, De Zoysa observes: "Given the local situation of ICT education providers, it's quite evident that youth are provided with numerous opportunities. A lack of awareness among parents and young people – as well as a lack of monitoring and evaluation of the quality of relevant courses – are the main problems identified so far."
OPTIMISING PROSPECTS De Zoysa espies promise in the digital arena, affirming that "digital technology provides teachers with the flexibility to personalise learning and engage with kids with different learning styles. In addition, there is great potential for developing literacy and communication skills."
He elaborates: "Also, the demand side of the industry requires young people who are literate and numerate – skills that underpin ICT expertise. Developing that expertise is vital if we're to build a world-class education system and compete in the global market. It is essential therefore, to strengthen the foundation of ICT education from a young age."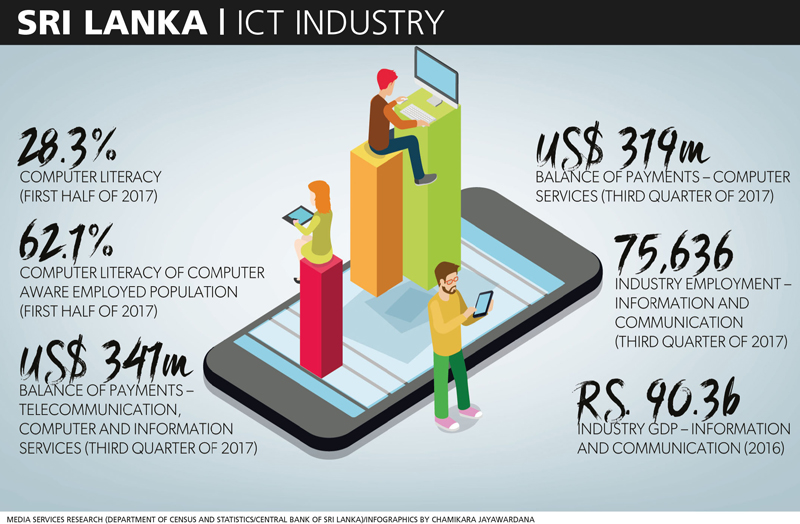 CT as a subject from Grade 1. The 'INIT CODE' project lays a better foundation to ensure that students reach the required standard. According to De Zoysa, "fostering STEM (Science, Technology, Engineering and Mathematics) education is one of the core strategies that the Ministry of Education is planning to implement with the objective of attracting kids' interest in IT and innovation."
He admits that the Sri Lankan startup ecosystem is at a very early stage at present: "We have close to 300 technology startups in Sri Lanka and this number is growing. But we need many more. We need to have a minimum of 1,000 active startups to be noticed. That is also an industry goal to be achieved by 2020."

BUDDING OPPORTUNITY De Zoysa continues in similar vein: "Compared to five years ago, there are many more funding sources available today. Traditional banks and lending institutions continue to find it difficult to support startups but angel investors, venture capitalists and private funds are supporting them. Some startups have even raised a million dollars locally."
He asserts that a robust ICT industry can generate substantial value for the nation: "A strong ICT industry will generate foreign revenue through business and investment. It will provide knowledge centred job opportunities and lead to indirect employment – for example, in catering, cleaning and maintenance."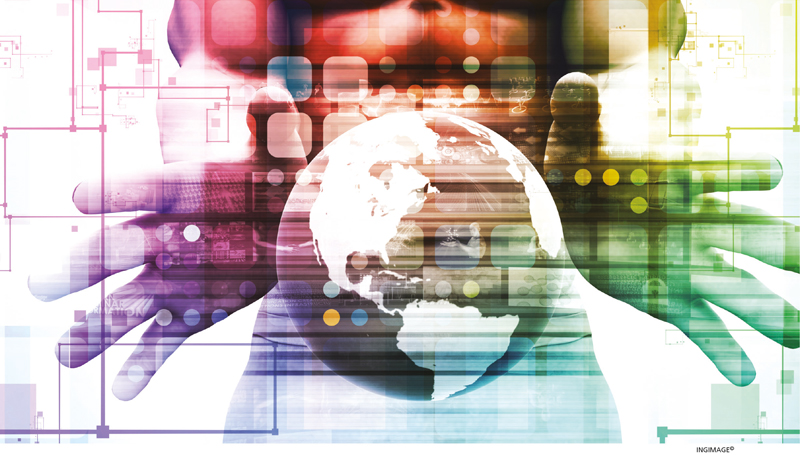 Moreover, De Zoysa believes that the development of IT SMEs "could result in quality technology being affordable for consumption in the domestic market, which will accelerate digitalisation in the country."
With automation replacing certain jobs in the IT industry, new roles are opening up as De Zoysa observes: "We're witnessing the convergence of all that we call STEAM (Science, Technology, Engineering, Aesthetics and Mathematics) in order to bring about innovative solutions. Branded the 'Island of Ingenuity,' the industry is providing innovative solutions for niche problems and moving into building software products – our own IP creations!"
De Zoysa remarks: "The ICT industry is being stereotyped as a men's club with women making up only 30 percent. This ratio must change. More women in the workplace can lead to greater profitability while bringing in a different perspective to problem solving."
"Even though there is a 50:50 male-female ratio in schools and higher education, only three in 10 in the ICT workforce are women. There's a stigma attached to IT as a career for women – and this must be eliminated," he concludes.
The interviewee is a Senior Consultant of the Information and Communication Technology Agency (ICTA) of Sri Lanka